I can't really believe how time has flown this past few months and Imogen is now almost 6 months old. A couple of weeks ago we decided the time was right to start on our weaning journey. After doing A LOT of reading about weaning, traditional vs. Baby Led, we decided that for the first few weeks we just wanted to give Imogen her first tastes of different foods, in pureé form. When she is past 6 months we are going to introduce finger foods alongside, but for the first 2-3 weeks it was to be pureés only, mainly for playing with and tasting without any real desire to actually make her eat any!
So at the start of January I began playing around with my new toy – the Tommee Tippee Steamer Blender.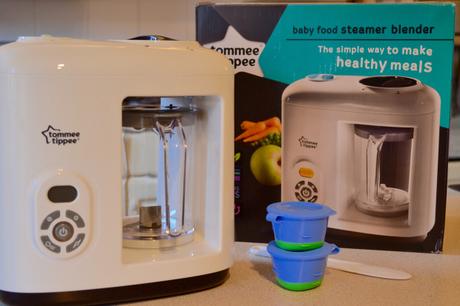 The blender comes with two freezer pots, for storage of the food when blended and a small spatula. I liked the design – sleek and not too large and fits in nicely with other tommee tippee products that we already have like the Perfect Prep Machine. It also comes with handy guide on timings for steaming and blending. One of the most attractive features it advertises is the fact you can steam then blend all in one cycle, no need to transfer or change any pots or add any more water.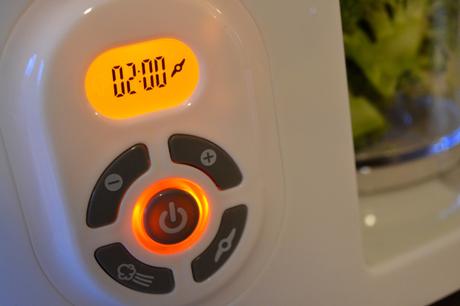 The control panel is super easy to use. You simply press 'steam' then the '+' and '-' to input your time then press the blend and input the time again, then press the main middle button to start. You can also steam or blend separately if you wish. Pretty foolproof even for me that often has to read instructions over and over before I get it!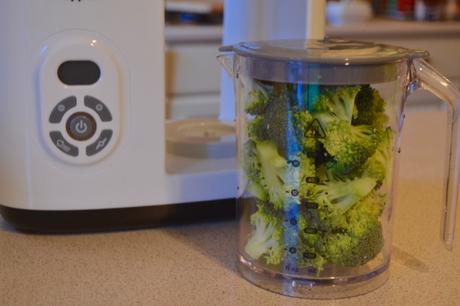 You can put up to 200g of 'food' in the blender jug at a time, which is about 1/2 large head of broccoli and this makes about 6 small pots or ice cubes of food. This capacity is possibly the only slight negative – 200g really isn't much to cook at one time. But that's the compromise for a small non intrusive machine.
I was a bit concerned that it wouldn't blend as well as a standard blender and not produce the greatest consistency, but actually I've been pretty impressed with this, especially with foods like carrot, butternut squash, cauliflower, it's been really smooth which is what you need for the very beginnings of weaning. Have a look at a few 'action shots' below.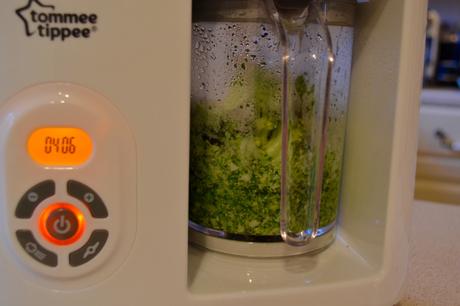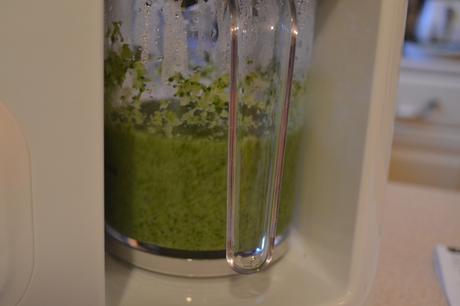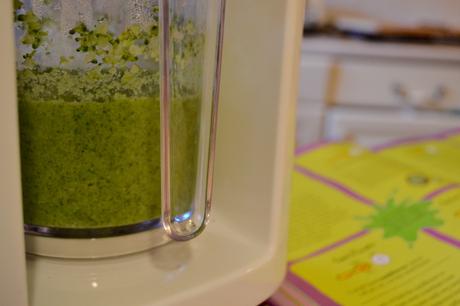 When finished the puree is hot, so its easy just to leave it to cool down a little before serving, or pour it into whatever pots you are using to store it in and leave it to cool in these before freezing. And then all that's left to do, is let the chaos commence…..!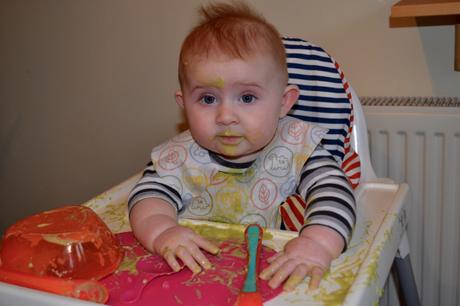 So far we've really enjoyed using the Tommee Tippee Steamer Blender. We've tried broccoli, cauliflower, carrot, butternut squash, parsnip, spinach, peas, pear, sweet potato and sweetcorn all of which have turned out really well. It's simple to set up and use and pretty discrete and non bulky for your worktop too – a good investment if you decided to go down the traditional weaning route.
---
Disclosure: PR sample – all views and thoughts are our own.