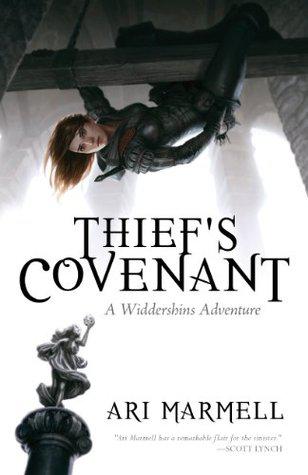 Thief's Covenant
by Ari Marmell
Publication Date:
February 21st, 2012
Publisher:
PYR
Page Count:
240 pages
Format:
Hardcover
Source:
Publisher
Amazon |
Goodreads
| Indiebound
* I received a copy of this book from the publisher in exchange for an honest review *
Once she was Adrienne Satti. An orphan of Davillon, she had somehow escaped destitution and climbed to the ranks of the city's aristocracy in a rags-to-riches story straight from an ancient fairy tale. Until one horrid night, when a conspiracy of forces—human and other—stole it all away in a flurry of blood and murder.
Today she is Widdershins, a thief making her way through Davillon's underbelly with a sharp blade, a sharper wit, and the mystical aid of Olgun, a foreign god with no other worshippers but Widdershins herself. It's not a great life, certainly nothing compared to the one she once had, but it's hers.
But now, in the midst of Davillon's political turmoil, an array of hands are once again rising up against her, prepared to tear down all that she's built. The City Guard wants her in prison. Members of her own Guild want her dead. And something horrid, something dark, something ancient is reaching out for her, a past that refuses to let her go. Widdershins and Olgun are going to find answers, and justice, for what happened to her—but only if those who almost destroyed her in those years gone by don't finish the job first.
I went into this book with basically no expectations. I honestly didn't have a clue what I was getting myself into, I just knew it sounded awesome. A YA Sci Fi? Yes please! I've been looking for some good YA Sci Fi so I was really excited to pick this one up. While the actual plot is fast-paced and exciting, the way it is executed had me confused a number of times as well as made it feel like things were dragging. Widdershins is a strong female protagonist, but there's nothing particularly relatable about her. I didn't feel connected to the story, nor the characters, but I definitely enjoyed it.
Thief's Covenant
is a quick and exciting read, with a slew of interesting characters, but the execution of the story fell a little short.
While I liked Widdershin's character (she's smart, spunky, brave, and tough) I didn't really connect with her on any level. There are also a lot of secondary characters in the story which made it difficult for me to keep track of who was who. There isn't a lot of character development, making it harder for me to really grow to care about anyone in particular. Also, there's no romance. As you know, I'm a huge romance junkie, but there are only flickers of romantic interests here and there, but nothing substantial. I really wish that some romance had been incorporated.
In addition to there being so many characters the focus jumps from character to character throughout the story making it hard for me to really get into what's happening in one situation. I also found this confusing at times; I had a hard time remembering what was just happening and following the plot line, or I would have to back track just to figure out what happened. The story is definitely mysterious and intriguing, it kept me guessing. The ending is also incredibly exciting, and I can't wait to start
False Covenant
!
Although I did have some issues with
Thief's Covenant
, for the most part it was an enjoyable and quick read. There are some confusing moments, and I would have liked more character development, as well as romance, but I am definitely looking forward to the next book! If you're looking for a good Sci Fi/Fantasy YA, pick up
Thief's Covenant
!