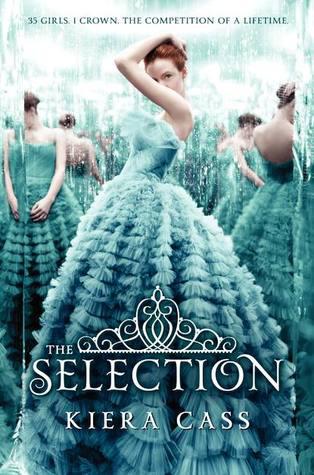 The Selection
by Kiera Cass
Expected Publication Date:
April 24th, 2012
Publisher:
HarperTeen
Page Count:
327 pages
Format:
ARC
Source:
Borrowed
Purchase:
Amazon
For thirty-five girls, the Selection is the chance of a lifetime. The opportunity to escape the life laid out for them since birth. To be swept up in a world of glittering gowns and priceless jewels. To live in the palace and compete for the heart of the gorgeous Prince Maxon.
But for America Singer, being Selected is a nightmare. It means turning her back on her secret love with Aspen, who is a caste below her. Leaving her home to enter a fierce competition for a crown she doesn't want. Living in a palace that is constantly threatened by violent rebel attacks.
Then America meets Prince Maxon. Gradually, she starts to question all the plans she's made for herself- and realizes that the life she's always dreamed of may not compare to a future she never imagined.
I first fell in love with this book because of its gorgeous and striking cover. That girl in a blue dress is just so fantastic and so refreshing compared to all the girls in red dresses that have been around lately. I wasn't too sure about the concept at first, because it sounded a bit cheesy, and the comparison to "The Bachelor" made me cringe since I really dislike that show, but for some inexplicable reason I was so drawn to it! I eventually borrowed a copy from my friend Molli and I couldn't put it down! America Singer is a fantastic and strong female protagonist who will do anything for her family and who doesn't let the world choose for her. The story enveloped me in a blanket of romance, friendship, and competition that has me so excited for the upcoming CW show!
America Singer is on the lower end of the social ladder and her boyfriend Aspen is even lower. When she enters the lottery for a coveted spot in the competition for Prince Maxon's heart she never dreams she'll be chosen. And then she is. Even though America resists the entire situation completely, she decides she's going to make her own decisions. I loved how passionate she is about her family and taking care of them, but also about not being something that she's not. There is a bit of a love triangle, but I actually enjoyed the way it played out. Honestly, I can't really choose between either of the boys, I liked them both so much!
The story itself is rather a loose form of what we know as dystopian. I would say it's definitely a fluffier dystopian novel, but it works. Most of the novel just focuses on Maxon choosing a bride and his relationships with all of the girls. The competition definitely gets heated, and I loved all the catty behavior that goes down! It almost made me want to start watching "The Bachelor"!!! The story itself is pretty fast paced, but there are some slower parts that had me skipping a few pages. Overall, though, I definitely enjoyed what was happening and I can't wait for the next one!
The Selection
by Kiera Cass isn't a work of art, nor is it a life changing story, but it's entertaining and the characters are well written. The world building is minute since most of the story takes place in the actual castle, but America isn't afraid to speak her mind and the men in her life are glad to listen. I'm definitely excited to see where Cass is going to go from here, and I'm eagerly awaiting the upcoming CW show! Fans of The Bachelor, softer dystopian, and romantic stories will definitely love
The Selection
!