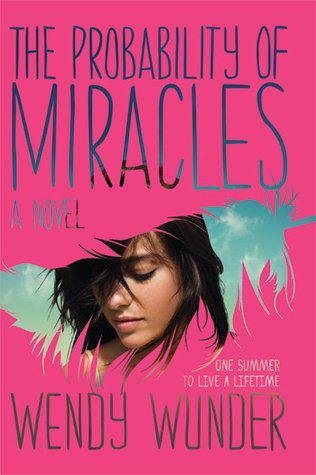 The Probability of Miracles
by Wendy Wunder
Publication Date:
 December 8th, 2011
Publisher:
Razorbill
Page Count:
360 pages
Format:
ARC
Source:
Publisher
* I received a copy of this book in exchange for an honest review. All thoughts and opinions expressed are my own *
Dry, sarcastic, sixteen-year-old Cam Cooper has spent the last seven years in and out hospitals. The last thing she wants to do in the short life she has left is move 1,500 miles away to Promise, Maine - a place known for the miraculous events that occur there. But it's undeniable that strange things happen in Promise: everlasting sunsets; purple dandelions; flamingoes in the frigid Atlantic; an elusive boy named Asher; and finally, a mysterious envelope containing a list of things for Cam to do before she dies. As Cam checks each item off the list, she finally learns to believe - in love, in herself, and even in miracles.
A debut novel from an immensely talented new writer, The Probability of Miracles crackles with wit, romance and humor and will leave readers laughing and crying with each turn of the page.
I just finished
Probability of Miracles
about 3 minutes ago (this was on January 23rd!!!), but I really wanted to write this review while my emotions were still fresh. At first, I thought this book was going to be incredibly depressing, considering it's about a girl who gets cancer, but it was actually so inspiring. Wunder is a wonder with words (teehee!) and I can't wait to read more by her!
Cam is an awesome female protagonist. She's so strong, despite having battled cancer for most of her life. She's also seriously hilarious and snarky. I just loved her sarcastic attitude and how she doesn't let herself get down just because she has cancer. And Asher.. ohh Asher. He is one of the sweetest guys I've read about in a long time. The relationship between him and Cam develops really slowly and naturally, which is fantastic because you know how I hate insta-love.
Wunder is an amazing writer and the way she develops her characters and her settings really made me feel like I was in the story and that Cam and her friends were all my friends as well. The way she describes the town of Promise is just breathtaking. And have you seen that cover? It's so eye-catching and just pops!
Probability of Miracles
is a fantastic read that I enjoyed from beginning to end. Despite Cam's struggles with cancer, she really understands the need to live life to the fullest, and she doesn't let people make her feel bad for being sick. Despite the fact that I thought this book was going to be a heartbreaker, it really made me look at the way I live life, and helped me understand that life is short and we should all appreciate the time we have. If you're a contemp fan you'll fall head over heels in love with this one!!