The Man Behind the Curtain in Leeds has seen a lot of press this year. A quirky venue on the top floor of a department store, it has seen praise from ciritics and diners alike. Heavily tattooed chef Michael O'Hare might be a bit out there, but he's certainly doing something right. With abstract art on the walls and epic tunes on the stereo this is one cool place.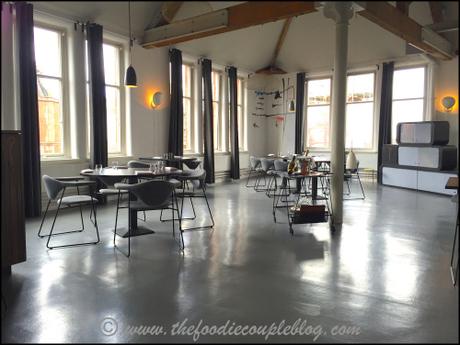 For lunch there is a choice of a shorter lunch menu, or the full 'experience'. Obviously we chose the latter.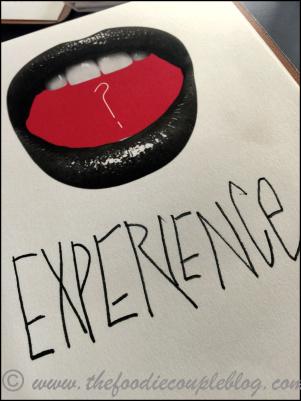 The wine & drinks list is well thought out. We chose a carafe of red which was well priced. I always like to see a few carafes on a menu –  a great option if you're both driving.
We started off with a few snacks.
Bag of pork rinds seasoned with yuzu and olive powder
Langoustine (raw), marinated in honey and lavender, pata negra, grated frozen apple
Thai Crab Parcels
Ethical foie gras mousse,pickled daikon
From the outset of the presentation of the snacks we knew were in for a meal that was a bit special. The pork bags came pegged on a wire, the crab parcels on a block of ice in a space age white tube. But it was the fresh clean flavor of the raw langoustine, delicate sweet honey and floral hint of lavender that was the standout of these to me. A close run thing with a bite size morsel of the foie gras wrapped in crunchy sharp daikon. Oh yes, and the bag containing the pork was edible. Heston eat your heart out!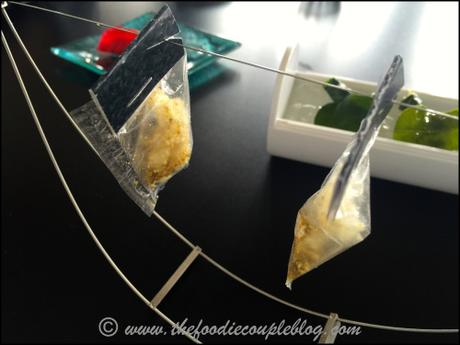 \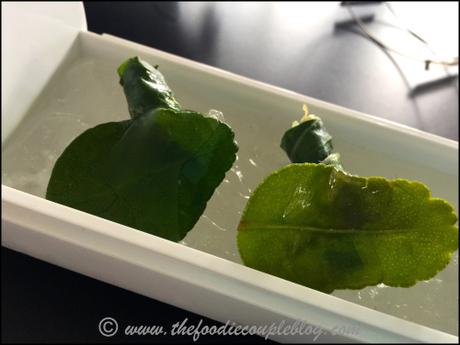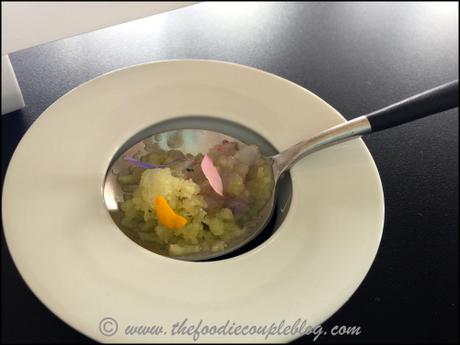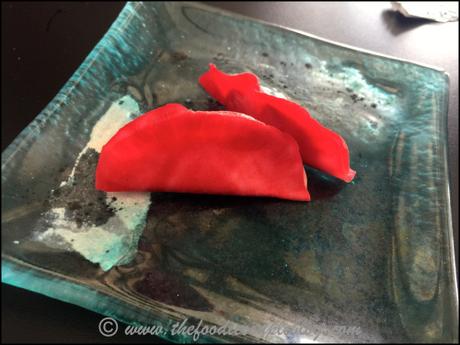 Up next was an Oyster – Cooked in shell to absorb its own juice and served chilled,Mock pearl made from a puree of oyster, Escabeche sauce, oyster leaf and vinaigrette. Again, a sight to behold with its presentation. I'm not really one for oysters, but I could appreciate it's beauty when prepared so well as this one.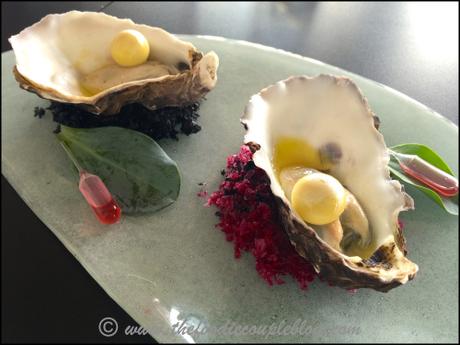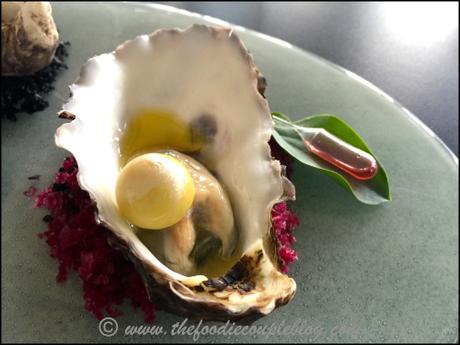 After this came Hake, Pil Pil. A lightly cooked hake cheek with a deeply garlicky sauce.A tasty little morsel and pretty as a picture but not something that blew me away.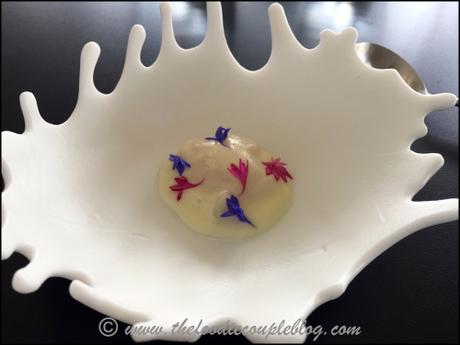 It was at this point that I began to given up on getting any bread. Now, I know bread shouldn't be a prerequisite with a meal, but I do really love some good bread. Never mind, onto the next course which was one of the standouts of the night – Veal throat, sweet and sour Hong Kong style with beef consommé. The consommé was subtly flavoured with asian flavours and had some serious depth which contrasted the sticky sweetbread perfectly. I would have killed for a bigger portion of this one.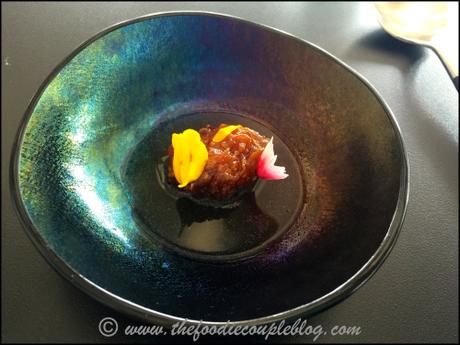 The choices of plates and cutlery continued to be fantastic. The one above was my favorite of the night. Next was what is fast becoming their signature dish according to our waitress, the Cod Loin, Salt and sugar cured Crispy potatoes, dashi of toasted cod skin, ink and vinegar. A beautifully cooked piece of cod and harmony of salty and tangy elements made this a joy to eat.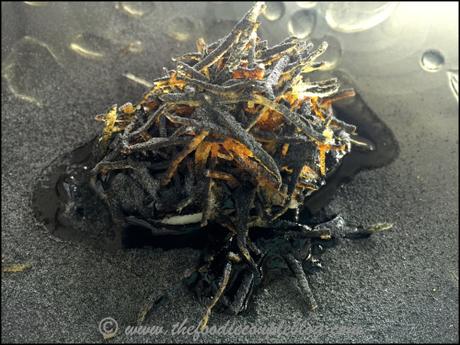 A taster of lamb came next; Iberian milk fed-lamb, juice of Gordal olive, Seville orange, ras-el-hanout. An unusual dish and the lamb was so pale you could believe it to be pork or chicken. Delicious, but again the flavours were so complex that the 2-3 mouthfuls just didn't seem enough to savour it properly. Can I have some more please sir?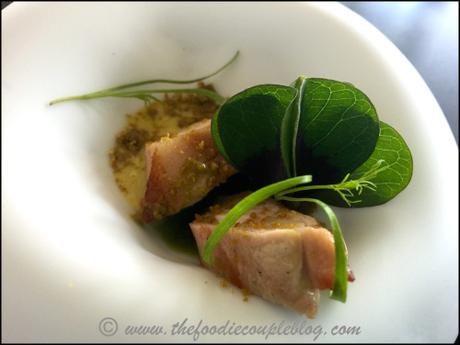 The 'main' course of the evening swiftly followed this, and wow what a stunner of a dish this was. We could smell it coming before it arrived and were amazed with the presentation. There were hints of Noma, and the creations of Massimo Bottura all the way through the meal for me, but especially here. Secreto Ibérico, ajo blanco and BBQ cinders, Presa Ibérica, sauce of roasted trotters and Fino sherry, mustard.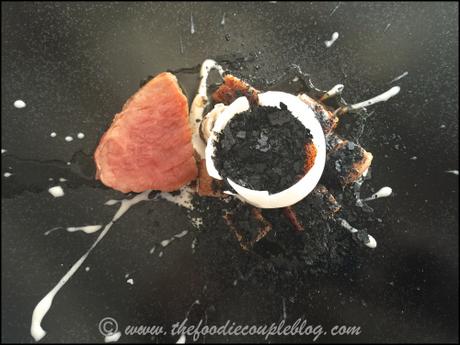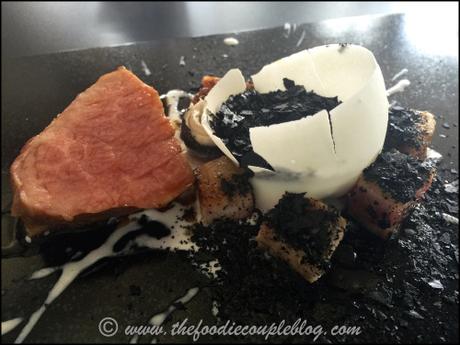 Even the shell of the egg was edible! Definitely a case where my pictures just do not do it justice.
Three desserts rounded off the meal. The first of these was Lemon curd, fresh sherbet, white chocolate, honey and cascara water. So refreshing, a beautiful combination of ingredients.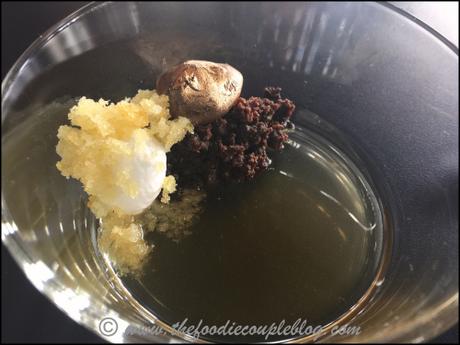 Next a combination that just really should not work. Milk Chocolate Violet ice cream, potato and vanilla custard, salt and vinegar rice, beetroot vinegar. You know what I'm going to say don't you. It did work. And that's putting it mildly.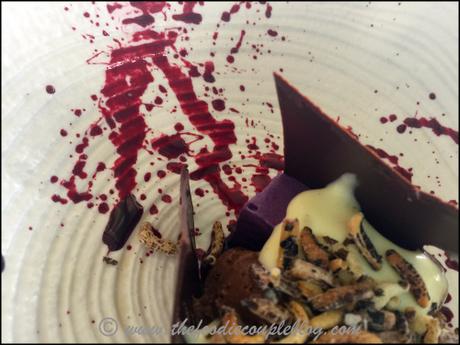 We finished with a Praline and passion fruit cupcake, freeze-dried berries. Eaten in one bite the center oozes with passion fruit, crunches with flecks of praline and then you get the creamy icing and shocks of freeze dried fruit. Possibly the most perfect cupcake in the world.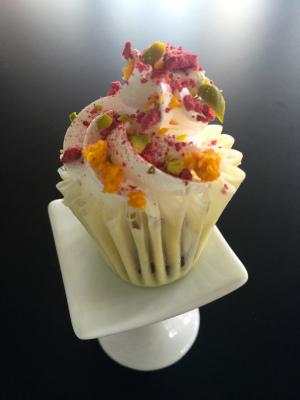 We ended the meal sipping tea form the quirkiest of china and nibbling on Coffee, cep and white chocolate Bon Bons.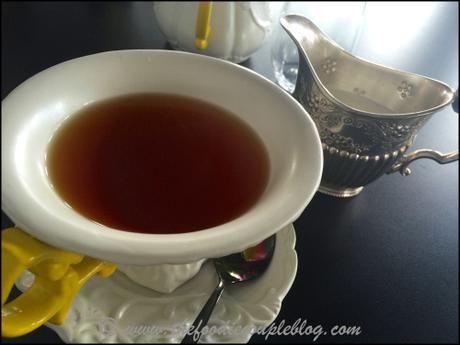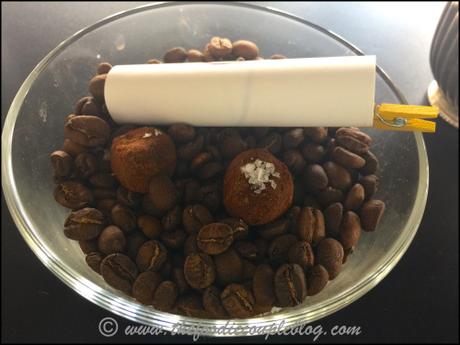 We absolutely loved the flavours that Michael O'Hare brought to the table along with the creativity and presentation that was second to none. We would have loved a few more bites on some of the courses and a bit of bread, but it was still one of the most exciting meals of recent times. The tasting menu costs £65pp.
http://www.themanbehindthecurtain.co.uk
Disclosure: We paid in full for the meal