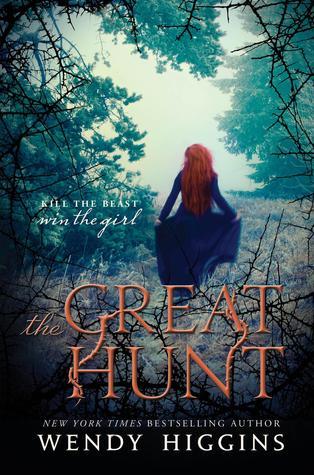 The Great Hunt by Wendy Higgins
Publication Date: March 8th, 2016
Publisher: HarperTeen
Page Count: 416 pages
Format: ARC
Source: Borrowed from BookaliciousPam
Genre: Fantasy, fairy-tale retellings, romance
Ages: 14+
Goodreads | Amazon | Barnes and Noble | IndieBound


"Aerity…" Her father paused as if the words he was forming pained him. "I must ask you to sacrifice the promise of love for the sake of our kingdom."



She could only stare back, frozen.



When a strange beast terrorizes the kingdom of Lochlanach, fear stirs revolt. In an act of desperation, a proclamation is sent to all of Eurona—kill the creature and win the ultimate prize: the daughter of King Lochson's hand in marriage.




Princess Aerity knows her duty to the kingdom but cannot bear the idea of marrying a stranger…until a brooding local hunter, Paxton Seabolt, catches her attention. There's no denying the unspoken lure between them…or his mysterious resentment.




Paxton is not the marrying type. Nor does he care much for spoiled royals and their arcane laws. He's determined to keep his focus on the task at hand—ridding the kingdom of the beast—but the princess continues to surprise him, and the perilous secrets he's buried begin to surface.




Inspired by the Grimm Brothers' tale "The Singing Bone," New York Times bestselling author Wendy Higgins delivers a dark fantasy filled with rugged hunters, romantic tension, and a princess willing to risk all to save her kingdom.

Wendy Higgins' The Great Hunt is loosely based on the Grimm Brothers' "The Singing Bone" a tale of two brothers who set off to kill a wild boar terrorizing the kingdom in hopes of winning the hand of the princess. There are some additional similarities, but this is where the main connection ends. 


The Great Hunt

focuses on Princess Aerity, the eldest daughter of King Charles, King of Lochlanach. In an attempt to free his kingdom from this enigmatic creature's violent attacks, King Charles promises Aeirty's hand in marriage to any man who can kill the beast. Now, you may think this isn't that big of a deal, especially for a story based off a Grimm tale, but in Lochlanach, they strongly believe in marrying for love. Aerity is not thrilled about the idea of marrying a complete stranger, but she understands that this is what is best for her kingdom.




I absolutely loved Aerity. Wendy Higgins has this way of writing female characters that are complete badasses while still maintaining their femininity. Aerity is a princess, she's not a fighter. She can definitely handle a bow and arrow, and she is fit and strong, but this isn't the focus of her abilities. She's smart and kind and seeks the good in people. I absolutely loved her. The witty banter she and Paxton share is hilarious and quick.




And Paxton. Gird your loins, ladies. He's an absolute ass, but not an asshole. He's somehow broken and he holds people at arm's length. He wants to kill the beast for his family, not the princess. However, he's also willing to look at people in different lights and he's willing to accept when he may be wrong about someone.

The story itself is fabulous. Everything about Higgins' world is magical and well-built. The magic that the Lashed Ones use can both help and harm and this plays a huge role in the character development. I think I've told everyone to read this book; whether you're a fan of the Sweet Evil series or you've never heard of it before, this is a great place to jump into Wendy Higgins' writing. 

The Great Hunt

has a drastically different premise and one I think any fan of fantasy or fairy-tale retellings will enjoy. The characters and writing style still have the same feel of Sweet Evil making this story accessible to those who are already fans of Wendy Higgins. Overall, The Great Hunt was a delightful read from beginning to end and I had a hard time putting it down!