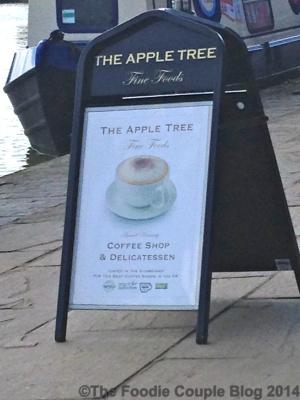 The Apple tree is a gorgeous coffee shop located on the waterfront at Barton Marina, between Lichfield and Burton-upon-Trent in Staffordshire. Amongst other it boasts the accolades of the UK's best Hot Chocolate, and listed in the Guardians top 10 coffee shops in the UK.
They run a menu for breakfast and lunches as well as extensive drinks, cakes and also an afternoon tea. We popped in last summer, on a gloriously sunny day, when both no coat AND sunglasses were called for. The location really is lovely in the sun, especially if you can grab one of their outside tables.
The coffee shop also boasts a small delicatessen which is great for a quick browse after your stop, but if that's not enough, next door there is a really fab Farm Shop – The Butcher The Bake The Ice Cream Maker.
We were there for lunch and there were lots of hearty and delicious looking options to choose from, from the standard paninis and jacket potatoes to more complex dishes. The difference between these offerings and your standard coffee shop fayre is that everything is made fresh on the premises, and you can really tell which is great.
My husband went for a 'Bargemans' ( think Ploughman's …..) and I went for one for their homemade patés – the venison, with crusty bread. As it happened we pretty much shared both the dishes as I was totally lusting after the Chicken and Ham 'Pork Pie' on his plate and had to give him something in return! The Bargemans also came with some lovely local roasted ham and cheese, some pickled balsamic onions, and both dishes had a little pot of one of the nicest piccalillis I have tasted.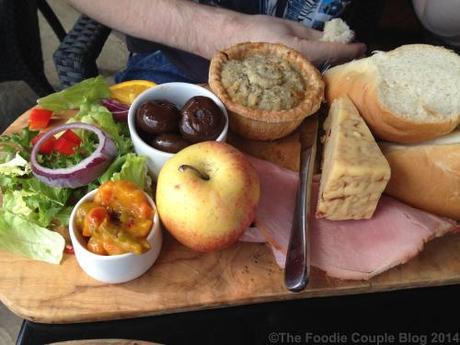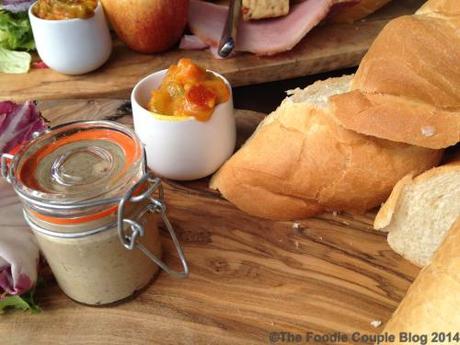 The meal was rustic, served on boards but was one hell of a tasty lunch. Having a peek at a few other dishes that were going out, the jacket potatoes were loaded to the brim with fillings, and that days soup had the most wonderful aroma.
The Apple tree is definitely one to try out if you're in the area, and Barton Marina has a lovely few little shops as well as it's foodie offerings to make a lovely afternoon out.
http://www.bartonmarina.co.uk/
http://www.theappletreefinefood.com
Disclosure: We paid for our own meal, and all opinions expressed are honest and our own