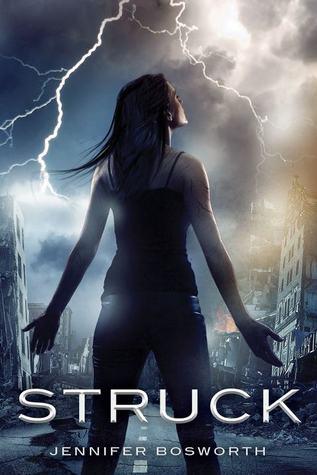 Struck by Jennifer Bosworth
Publication Date:
May 8th, 2012
Publisher:
FSG BYR
Page Count:
373 pages
Format:
ARC
Source:
Publisher
Purchase:
Amazon
* I received a copy of this book from the publisher in exchange for an honest review. All thoughts and opinions expressed are my own. *
Mia Price is a lightning addict. She's survived countless strikes, but her craving to connect to the energy in storms endangers her life and the lives of those around her.
Los Angeles, where lightning rarely strikes, is one of the few places Mia feels safe from her addiction. But when an earthquake devastates the city, her haven is transformed into a minefield of chaos and danger. The beaches become massive tent cities. Downtown is a crumbling wasteland, where a traveling party moves to a different empty building each night, the revelers drawn to the destruction by a force they cannot deny. Two warring cults rise to power, and both see Mia as the key to their opposing doomsday prophecies. They believe she has a connection to the freak electrical storm that caused the quake, and to the far more devastating storm that is yet to come.
Mia wants to trust the enigmatic and alluring Jeremy when he promises to protect her, but she fears he isn't who he claims to be. In the end, the passion and power that brought them together could be their downfall. When the final disaster strikes, Mia must risk unleashing the full horror of her strength to save the people she loves, or lose everything.
I was immediately drawn to the cover of
Struck
; it's absolutely gorgeous in a dangerous and alluring kind of way. The girl is covered in red scars and the world is in tragic disarray. When I read the synopsis I knew that this book was going to be high on my wish list and I literally did a dance of joy when it showed up on my porch.
Struck
 is the electrifying debut from Jennifer Bosworth that examines human's reactions in the wake of a natural disaster. There are a lot of religious elements, but I found them intriguing and enjoyable to read about. Overall, I really enjoyed
Struck
 and I can't wait to see what Bosworth comes up with next!!!
The characters in
Struck
 are all really well written. I feel so bad for Mia because of everything she's had to go through due to her addiction to lightning. I do wish that her past experiences with lightning (how it all started, what it's caused by, all that jazz) were examined a bit more, because I think it would shed a lot of light on her as a character. Despite the ragged scars covering her body, she's not that different from any other teenage girl which makes her incredibly easy to relate to. I'm not a lightning addict, but of course there are parts of my body that I am embarrassed about and that I wish to hide, and I can definitely relate to Mia on that level. Jeremy is definitely the tall, dark and mysterious type that we love in YA romance so much. His relationship with Mia is an interesting one, but I like the way that Bosworth develops it. Many of the supporting characters are also really intriguing, and I'd like to read some spin-off novels about some of them, especially Katrina!
For being a debut author, Bosworth's writing is incredibly elegant and because it's written from Mia's point of view we definitely see the way she's been unhinged due to, not only her addiction, but the earthquake that's shattered her family as well. I will say this, there are a lot of religious elements within this book, but not in a preachy or uncomfortable way. I am a huge fan of Dan Brown's
Da Vinci Code
 and the rest of the books in that series, and I always enjoy reading a new take on a biblical story. I think that Bosworth's incorporation of the apocalypse and the religious cults that have been at odds for years is very well done. Considering how many speculations are going around about the end of the world in 2012, these aspects are perfectly appropriate. I can see how someone might be put off by the fire and brimstone, but I thoroughly enjoyed it.
Overall, I really enjoyed the originality that 
Struck
 brought to the table. Mia Price is not only a lightning addict, but perhaps the remaining catalyst that will either save or destroy humanity. Her strong-willed attitude and ability to care for her family in the aftermath of a horrible earthquake that's destroyed her mother's sanity pushed me to connect with Mia on a very emotional level. The romance is just enough to satisfy a romance junkie like me, and the mystery and intrigue surrounding the biblical elements gave me goosebumps. I would definitely recommend
Struck
 to fans of Dan Brown, apocalyptic books, action, and adventure.