Many years ago when we lived in Sheffield a restaurant called Strada opened in Leopold Square, which was quite the cool hip place to go in Sheffield back in 2006. We loved eating at the Strada there, but when we moved back to Birmingham for some reason we didn't go! There are two Stradas in Birmingham city centre, one within the ICC which I have been to once for a works do, and one in the sophisticated Mailbox development, which was the venue for our most recent meal.
We visited on a Saturday lunchtime, when it was packed with families, couple and groups of friends. We had a great table by the window looking out in the the Mailbox – great for people watching! I started with an ELDERFLOWER SPRITZ – St Germain liqueur, Prosecco and Limonata on ice.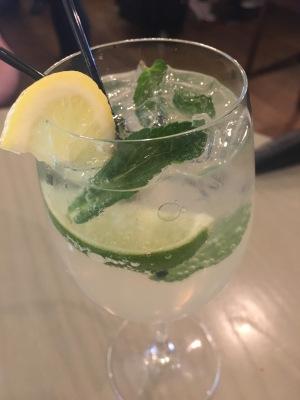 The menu features some classic Italian dishes. Lee chose the ARANCINI – Crispy rice balls stuffed with melting mozzarella. Served with spicy tomato passata and aged Parmesan. He was pretty impressed with these, and the sauce had a lovely kick to it. I also really enjoyed my starter; I'd plumped for the SEARED KING PRAWNS – Toasted ciabatta and shell-on king prawns. Fried with chilli, parsley and garlic in a lemon and white wine sauce. My only complaint being that I could have done with more bread to mop up all the sauce!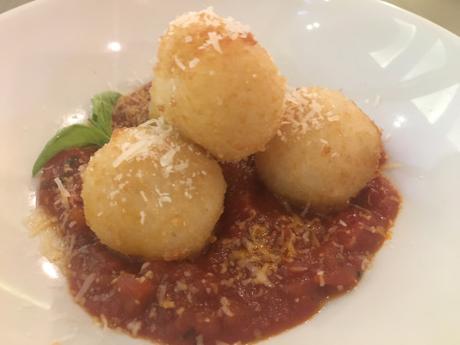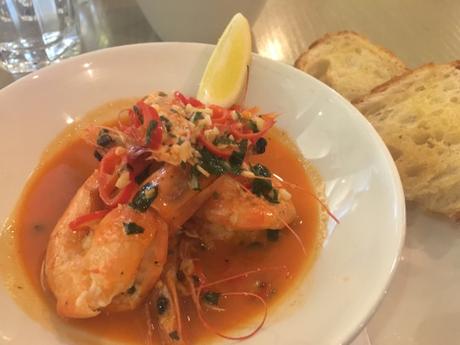 For mains Lee had one of the Chefs specials – the Saltimbocca. He enjoyed the flavours of the salty pancetta and the sage, but did feel that the meat and accompanying beans were a bit overcooked for his liking.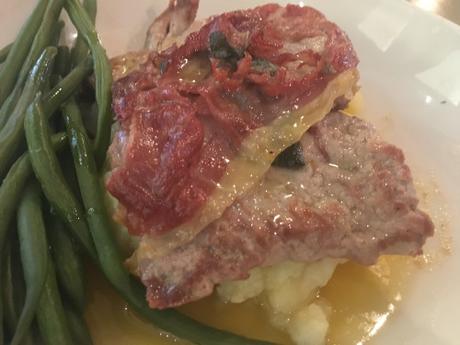 I went for a pizza. Strada do a great range of Pizzas and have even named Mondays 'Pizza Mondays' where they sell pizzas for just £5! This one was the RUSTICA – Tomato, buffalo mozzarella, roast sausage, caramelised onions, capers and artichokes. I really like this combination of flavours, the tangy salty capers, meaty sausage and sweet onions.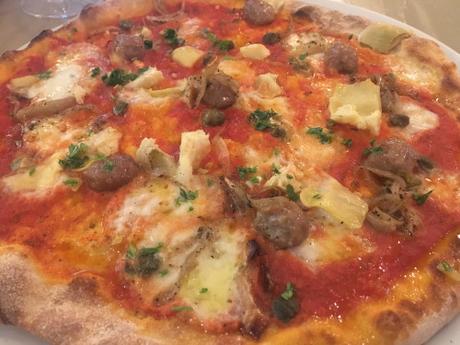 Overall, we enjoyed our meal at Strada and they seemed very accommodating for little people too – something very important in our book now! I'd definitely return for some more of those prawns!
---
Disclosure: Our meal was complimentary in return for an honest review.