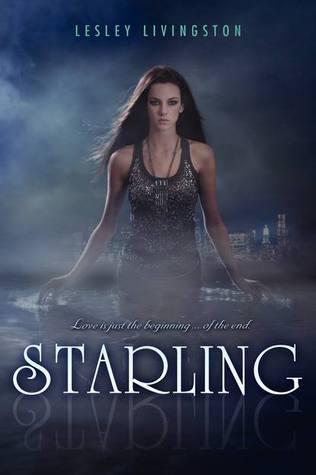 Starling
by Lesley Livingston
Expected Publication Date:
August 28th, 2012
Publisher:
HarperTeen
Page Count:
352 pages
Format:
ARC
Source:
Publisher
Goodreads
|
Amazon
|
IndieBound
*I received a copy of this book from the publisher in exchange for an honest review*
"Love is just the beginning... of the end."
Mason Starling is a champion fencer for Gosforth Academy, but she's never had to fight for her life. Until now. When a ferocious storm rips through Manhattan and unleashes terrifying creatures onto Gosforth's campus, Mason barely escapes alive. Without help from the mysterious stranger who appeared in the midst of the storm, she might not have made it at all. But now, in the aftermath, Mason's life begins to spin dramatically, mystically out of control, and the only one who seems able to help her is the stranger who can remember nothing but his name: Fennrys Wolf.
As Mason and Fenn uncover more about Fenn's past and the strange events that surround them, they realize that Mason's family — and its dark allegiance to the ancient Norse gods — is at the center of everything. A predetermined fate seems to be closing in on Mason, but is it possible to change one's destiny?
Readers who fell in love with Lesley Livingston's Wondrous Strange trilogy and those who love Cassandra Clare's Mortal Instruments series will be captivated by the sweeping romance and pulse-pounding action of Starling.
Lesley Livingston's
Starling
 is an epic adventure filled with Norse mythology and fantastical elements. I've always been a fan of mythology, but Norse mythology is a rarity in YA fiction. Livingston did a wonderful job uniting the fantastical with reality. Sometimes mystical creatures are hidden right in plain sight! There was little that I didn't like about
Starling
. It's an epic adventure filled with strong characters and intriguing new ideas. Norse mythology based stories are definitely a new favorite of mine, and I can see them rising in the ranks of YA fiction. I am so incredibly excited to read the next one and find out what's going to happen with Mason and Fenn!
Mason Starling is such a strong female protagonist. She's an amazing fencer (yes! fencing!) and she doesn't let anyone tell her what to do. She's strong, independent, and she can easily take care of herself and the people around her. Fenn is the perfect match for her; equally strong and protective, but doesn't see Mason as an inferior female. He is incredibly protective of her, but he respects her and teaches her how she can take care of herself, treating her like his equal. Although I haven't seen the movie yet, Fenn really reminded me of Thor (maybe just the looks?). All of the side characters are equally as exciting, whether they're good, evil, or just watching from the sidelines. Mason is incredibly easy to relate to even if she is being thrust into such a fantastic world.
Livingston's writing style is gorgeous and elegant, filled with intricate metaphors and similes. The way she builds things up is just amazing, leading to spine-tingling moments of realization. Even though Norse, Greek, Roman, and other types of mythology are all mentioned, it is explained
how
 they're all connected which I really appreciated because it's a huge pet peeve of mine when several types of mythology are just thrown together without any explanation. The one problem that I did have was Fenn's language. He's supposed to come from some magical other world, although I suppose he's been living in our world, but his language constantly fluctuates between the modern and formal which drove me nuts. I honestly think that a more formal language style would have suited him better.
Overall, I absolutely
loved
Starling
 and everything about it was just so new and refreshing.
Starling
 is definitely spawning a new love for Norse mythology and I can't wait to see what's coming next. I definitely recommend this one to fans of fantasy, adventure, and mythology. I remember comparing this story to that of
Lord of the Rings
,
Harry Potter
, and
Chronicles of Narnia
 and I definitely stick by that. If you're looking for something new and exciting you definitely need to pick up
Starling
!