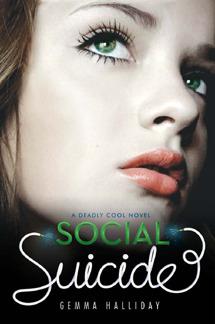 Social Suicide
by Gemma Halliday
Expected Publication Date:
April 24th, 2012
Publisher:
HarperTeen
Page Count:
272 pages
Format:
ARC
Source:
Publisher
Purchase: 
Amazon
 | 
Books Inc.
 | 
Hicklebee's
* I received a copy of this book from the publisher in exchange for an honest review. All thoughts and opinions expressed are my own. *
* This is the second book in the series; this review may contain spoilers! *
Twittercide [twit-er-sahyd]: the killing of one human being by another while the victim is in the act of tweeting.
Call me crazy, but I figured writing for the Herbert Hoover High Homepage would be a pretty sweet gig. Pad the resume for college applications, get a first look at the gossip column, spend some time ogling the paper's brooding bad-boy editor, Chase Erikson. But on my first big story, things went... a little south. What should have been a normal interview with Sydney Sanders turned into me discovering the Homecoming Queen-hopeful dead in her pool. Electrocuted while Tweeting. Now, in addition to developing a reputation as HHH's resident body finder, I'm stuck trying to prove that Sydney's death wasn't suicide.
I'm starting to long for the days when my biggest worry was whether the cafeteria was serving pizza sticks or Tuesday Tacos...
I just can't get enough of Hartley Grace Featherstone! That girl has me in stitches! Gemma Halliday's novels are so fantastically written and her ability to understand the complicated minds of teenagers is just a thrill! Also, it doesn't hurt that Hartley allegedly lives in Lost Gatos, which is about 10 minutes away from my home town. I love that I can personally connect with this story! Social Suicide is a laugh a minute investigation into the Twittercide of one of Hartley's classmates and I loved every page of it!
As always, I loved the characters in Halliday's story! Hartley is such a smart and go-get-it kind of girl! She doesn't let anyone tell her "no" and she works so hard to do the right thing. If I was back in high school I would definitely want a friend like her around! Chase, as always, is totally swoon-worthy. I always go for the bad boys and he is SUCH a bad boy, I was drooling all over him the entire time I was reading
Social Suicide
! Seriously, could that boy BE any hotter? And him and Hartley are just so great together, and I love how slow and realistic the romance is. All of the characters are really well written, and I can definitely imagine myself hanging out with all of them in high school.
The writing is just fantastic, as always. Gemma Halliday's writing tends to be witty, sarcastic, and hilarious which are three things that I love most. I tend to forget that I'm reading a book written by an adult, because Hartley's actions and thoughts are just so genuinely teenage. The fact that the story is set in the Bay Area also makes things so wonderful for me to read about. At one point, Hartley was even standing in my old work place! When she talks about Oak Meadow park and the little train station that's there? Yeah, I worked there. MADE MY LIFE. I just absolutely adore Gemma Halliday and I can't WAIT to see what she's coming out with next.
When I first read
Deadly Cool
I knew that
Social Suicide
was going to be a new favorite! I adore Gemma Halliday's writing style, and her ability to draw me into a story, if only for a short time, is wonderful.
Social Suicide
was hilarious, thrilling, and exciting all in one! Although, the ending was a bit predictable, I enjoyed the story and I was definitely guessing about who the killer was going to be multiple times. I can't wait to see what Gemma Halliday comes up with next! Fans of Clarity will definitely enjoy this one! If you haven't already pre-ordered your copy, DO IT RIGHT NOW!!!