Hello everyone and happy Saturday!
It's a dreary chilly day today, so I figured it'd be a great time to catch up with the latest line of skincare I've been testing out.
Most recently I had the opportunity to try the new African Black Soap line from Shea Moisture!
For those of you who aren't familiar with Shea Moisture products, they are a brand that is organic and use all natural ingredients (read: no parabens, yay!).
Here are the two products I tried:
The Balancing Moisturizer and the Problem Skin Facial Mask:
(Note the kleenex box background.. oops)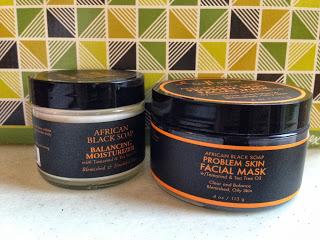 Even though my profile picture and boy-like shape may delude you into thinking that I am actually a 6th grader, I can assure you... I am not. 
Then why might you ask do I lack a certain womanly figure in some areas (if you catch my drift) and have the skin of a pre-pubescent boy? 
Well, I assume the first one has something to do with genetics, but the second, well.. thats a little more difficult.
Even though I am certainly long past the puberty years, my skin never quite grew out of it. I still get breakouts and have oily skin and blackheads and whiteheads and purpleheads (kidding) and clogged pores. Hence my interest in these products. 
So how well did they work? Well lets take a look!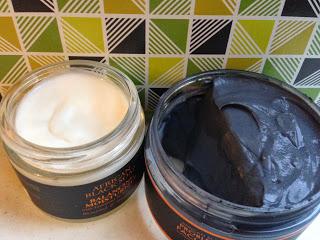 Let's start with the moisturizer!
On the front, it says its formulated for blemished and troubled skin, and it also contains Tamarind and Tea Tree Oil, two natural ingredients that are used to fight blemishes.
The consistency is quite thick or even slightly jelly-like - its like one big glob and you actually have to scoop some up. One swipe and your finger will likely just slide around on the top. Once applied though, it feels very light. It smells quite natural, and is non-offensive (to me). 
As for the blemish fighting ability, I can't say whether this is the holy grail of acne products, but I do feel like it helps. Its very moisturizing without being oily, and it leaves my skin super soft and supple. In combination with the other acne products I use, I'd say this was a great addition as a moisturizer, and it definitely seemed to subdue some of the redness and overdrying caused by the other spot treatments I use.
It feels lovely and works well as an addition to an already established acne routine, but don't count on this product to be your only means of fighting blemishes!
I like it, and I would repurchase. It's $11.99, which I think is very reasonable, and you can find it at Target! 
On to the mask...
I've used this a couple times now, and once with my boyfriend who has perfect skin and uses Dial hand soap as his face wash (uh, what?). We've both come to the conclusion that we really like it. 
First impression - it smells exactly like play-doh. Exactly. 
Upon application (the scary application pictures are on my boyfriends phone, which just broke today. Sad face.), it dries nicely - not tight and hard, but more smooth and thin. A little goes a long way!
And after washing it off, my skin feels much smoother, silkier, my pores seem smaller, and overall my skin just looks nicer. 
I'm not a huge mask user to begin with, and I've never really found anything revolutionary about a face mask, but I did like this one and I would repurchase. Like the moisturizer, I think this would be a good addition to an already established routine, but again, don't count on this to be your miracle working blemish fighter. 
It's a great mask to have, one that didn't irritate my skin and made my skin look clean and a lot less oily!
I'd definitely recommend both of these products, and this has me interested for the rest of the line, which you can also find at Target!
Let me know if you've tried any of the line!
Love,Belle