Hello everyone! I'm back today with a review of the Enzo Milano 32mm Clipless Curling iron from
Folica.com
!
Now let me just preface this by saying that I have tried
a lot
of curling irons. Some I like, some I love, and some end up in the two storage drawers that I have personally reserved for curling irons that just don't make the grade.
So how did this one perform? Let's look!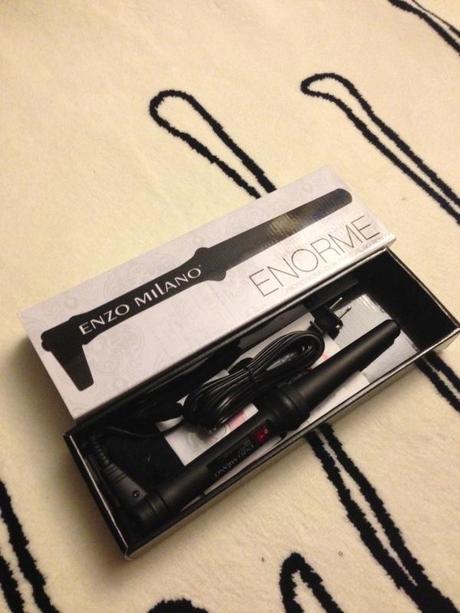 First, let's get the details:
Features:
31mm barrel
-Heats up to 320 degrees Fahrenheit
-Ceramic heating non-stick barrel
-Heat resistant glove and styling DVD included
I've never had a curling iron of this size, so thats what peaked my interest at first, clipless or not! Generally I gravitate towards smaller barrels because the tightness of the curls helps them to last longer in my hair, but I thought this would be an interesting experiement! I love the look of second day curls that have fallen into waves from the previous day, and I hoped this would provide the same results.
As for the heat, I wasn't too impressed; many of my other curling irons go into the 450 degree range! My hair is very long and thin, and generally anything less than 380 or so just won't keep a curl in my hair.
The glove and dvd are nice accessories to have, especially if you've never used a clipless iron before. I would highly highly recommend you start with the glove because you can seriously injur yourself if you're not careful! (Been there, done that, don't want to do it again!)
Otherwise, the wand is nice and light to hold, and the swivel cord makes it really easy to reach around and turn the barrel.
So then, how did it actually perform?
Wellll.... not great. on me. My hair is pin straight and measures to my lower back, so curling hair is a struggle,
especially
with big barrels and lower heat. Which unfortunately is exactly what this product is. But I was dying to achieve those second day curls/beachy waves with a curling iron and pretend I was just born with it. A girl can dream, right?
Unfortunately, I have little to say about the results. I first used about 1 inch sections, and slowly started thinning it out to 1/2 inch and even 1/4 inch sections, holding it on for about 8 seconds, the amount of time I usually use for a normal curling iron. A tiny beginning of a wave, every time. 10 minutes later, nothing even there!
I even meant to take pictures, but by the time I got my camera out and ready, my hair looked like it hadn't even been styled. Just slightly more wavy, but not beachy or cute. Just.. awkward and if anything, unstyled.. as if I had gone back to bed, rolled around and got up again. Not really my thing. br>
So unfortunately, this will be joining the other curling irons in the dark abyss of my storage drawer. Sad face.
I think this baby has a lot of potential for people with thin, easy to curl, and shorter hair - shoulder length and above. It just can't handle longer hair like mine, and I can't imagine it working on thick hair either.
If you've tried this clipless out, please let me know how it worked for you in the comments below! Am I using it wrong? Is there some sort of secret to get it to work? I'd love to hear your tips! Have a great day everyone! Love, Belle