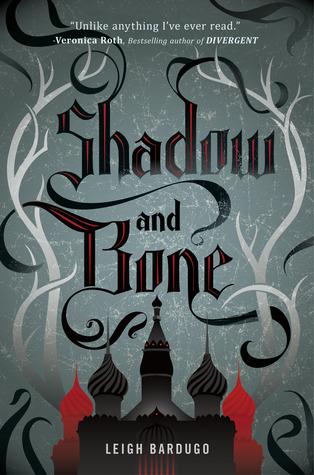 Shadow and Bone
by Leigh Bardugo
Expected Publication Date: June 5th, 2012
Publisher: Henry Holt and Co. (BYR)
Page Count: 368 pages
Format: ARC
Source: Maggie from NYMBC
Amazon
|
Goodreads
Surrounded by enemies, the once-great nation of Ravka has been torn in two by the Shadow Fold, a swath of near impenetrable darkness crawling with monsters who feast on human flesh. Now its fate may rest on the shoulders of one lonely refugee.
Alina Starkov has never been good at anything. But when her regiment is attacked on the Fold and her best friend is brutally injured, Alina reveals a dormant power that saves his life—a power that could be the key to setting her war-ravaged country free. Wrenched from everything she knows, Alina is whisked away to the royal court to be trained as a member of the Grisha, the magical elite led by the mysterious Darkling.
Yet nothing in this lavish world is what it seems. With darkness looming and an entire kingdom depending on her untamed power, Alina will have to confront the secrets of the Grisha…and the secrets of her heart.
When I first picked up
Shadow and Bone
, I didn't know what to expect from it. I had heard from a lot of my fellow blogger friends that this was a homerun, and I can say for a fact that I was not disappointed with it in the least. Leigh Bardugo kept me hooked from page one, and I managed to read it easily in one sitting. Not only did the characters capture my heart, but the world-building is impeccable, despite the crazy Russian names that were incredibly hard to pronounce for awhile. I think I probably loved everything about this book, from the plot-line to the world the characters live in, and I can't wait to see where Bardugo takes us next.
Alina is such a great heroine. She's stubborn, smart, witty, and an all around likable character. I think there's something very relatable about her as well, she has a lot of insecure moments that reminded me of myself, but her ability to move past it and conquer her fears and frustrations really had me excited for her. I had the feeling that, if she can do it, I can do it. The Darkling is a mysterious character all on his own, but he was definitely the kind of man I like in my YA romance. He's mysterious, edgy, and there's just something dangerous and alluring about him. The moment I met him I was drawn to him and I hoped and prayed there would be some kind of romance between Alina and the Darkling. Of course, I'm not going to spoil it for you.
The world that Bardugo has created is so vivid and so spectacular I felt like I was actually in it. At first, I didn't even realize that this was classified as fantasy (other than the Volcra and magic....) because Ravka was just so real to me, I couldn't imagine a world without it. Bardugo is an amazing writer, everything she creates is so real and so original. I have to say I don't think I've ever read a story that's quite like this one. I was really impressed with both Bardugo's writing style, as well. It's incredibly elegant and descriptive, while still keeping the plot fast paced and exciting. There were times when I was so engrossed in the story that I found myself cheering and screaming for Alina and her accomplishments, as well as crying over her heart break. There's something special about an author who can put you through that much emotion and connect you to a character on such a deep level.
Overall, I really loved
Shadow and Bone
and despite taking me only 5 short hours to finish it, it felt like time just flew by while I was reading. Alina is an amazing protagonist and I really connected with her on an intimate level. The romance is sweltering as well as sweet, but I do have to admit I wasn't completely happy with how it turned out.
Shadow and Bone
is a fast-paced-high-fantasy-thriller that had me on the edge of my seat from page 1, and guessing until the very end. I'd recommend this one for fans of stories like Graceling, or really just anyone looking for something original, fresh, and exciting.