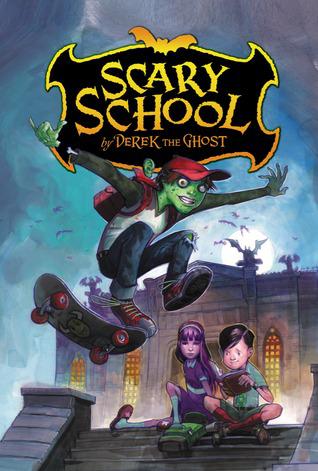 Scary School
by Derek the Ghost
Publication Date:
June 21st, 2011
Publisher:
HarperCollins
Page Count:
237 pages
Format:
Hardcover
Source:
Author
Purchase:
Amazon
*I received a copy of this book from the author in exchange for an honest review. All thoughts and opinions expressed are my own.*
You think your school's scary?
Get a load of these teachers:
"Ms. Fang," an 850-year-old vampire
"Dr. Dragonbreath," who just might eat you before recess
"Mr. Snakeskin"--science class is so much more fun when it's taught by someone who's half zombie
"Mrs. T"--break the rules and spend your detention with a hungry "Tyrannosaurus rex"
Plus
Gargoyles, goblins, and Frankenstein's monster on the loose
The world's most frighteningly delicious school lunch
And
The narrator's an eleven-year-old ghost
Join Charles "New Kid" Nukid as he makes some very Scary friends--including Petunia, Johnny, and Peter the Wolf--and figures out that Scary School can be just as funny as it is spooky
Scary School
was a fun and quick read, but despite the fact that I enjoy some Middle Grade novels this one just didn't do it for me. The book is made up of a bunch of short stories about the different people/monsters that are at the school, plus there are fun illustrations involved, which were my favorite part.
The characters were all fun, the principal is a T-Rex, one teacher is a Dragon, another teacher is a Vampire, one student is a Werewolf, etc. I did like how all of the characters had something to do with each other and if they were talked about in one chapter we got to learn more about them in another.
The story itself was ok, I had some issues with the writing. A lot of the time, the author would write things like, "But we'll talk about that later..." and then the topic would never come up again. In most cases, I was left wondering about that situation. Or he would write, "That'll come up in the next book…" but I wanted to know about it right then! That definitely bugged me. Otherwise, the book was pretty fun and entertaining.
Overall,
Scary School
managed to entertain me for an afternoon, but I wouldn't recommend it to others unless you enjoy reading anthologies or Middle Grade books. I would probably give this to a 5
th
or 6
th
grader, especially if they're a reluctant reader, because of all the pictures and the quick speedy read. Sadly, I just didn't enjoy it as much as I would have liked to.