The Reading Chest is a book rental service delivering books directly to your home, learn to read books to aid your child's learning journey between the ages of 4 - 9 years old. Reading Chest was started up by a mom who is also a teacher, and she found a lack of available reading books readily available at her home, and to purchase the reading books was an expensive option, thus the Reading Chest was born.
If you are like me, I have tons of books at home, but they are all story books, and unfortunately I have zero books that help your child to learn to read - I have always relied on the children bringing them home from school, which they get to change once a week. So what I like about the Reading Chest is the flexibility and the convenience of having tailored reading books delivered to your home and to be able to swap the books as and when needed. 
The books are delivered to your home, by first class post and then when you are ready to exchange them, you return the books with the supplied first class stamped envelopes. It is so simple, and easy to use, I found the new batch of books were quickly delivered.

There are three package choices available:
Bronze package - At the start of the subscription you will be sent 4 books. You are allowed 2 swaps per month - Costing £9.95 per month.
Silver package - At the start of the subscription you will be sent 4 books. You are allowed 4 swaps per month - Costing £12.95 per month.
Gold package - At the start of the subscription you will be sent 6 books. Unlimited swaps. Costing £15.95 per month.

Once you have decided on the package you want, you then set your preference to make your book list -
>Choose your child's reading level.
>You can choose some options of fiction or non-fiction, or a mix of both.
>Or maybe you want to pick a particular reading scheme.
Then you sit back and wait for delivery of your first batch to arrive.

In the welcome starter pack you receive your first batch of books, you also receive a book bag, stickers and chart, book-mark and an information leaflet.  Everything to get you started, and receiving the books through the post, which was posted to Jacob, captured his interest and enthusiasm.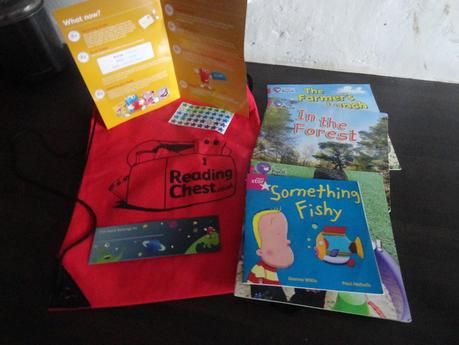 Of course you can go to the library instead but this involves a lot of time and effort, and as very busy mum, that is not always possible for me, so I find the Reading Chest postal subscription services, is an excellent alternative.
Overall it was a positive experience and I would highly recommend anyone with children between the ages of 4 to 9 years old.If you would like to give the Reading Chest a go, why not take advantage of this discount code – HAPPY2014.  This voucher is for £5 off your first month's membership.  (There is no minimum membership period)Disclaimer: I was given the silver package for free for 2 months for the purpose of this review.