Hello ~

♥
Today I will review my Queen Eyes Aqua Blue Circle Lenses. I bought these lenses in Japan, so I am not entirely sure whether you can get them anywhere else. I have seen them being sold in Japanese online stores, but not anywhere else so far.
Very often circle lenses get repacked and renamed for the Japanese market, so if you recognize these lenses and know them under a different name, please let me know.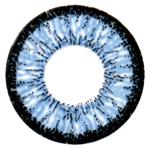 Type: Soft Contact Lens
Diameter: 14.5mm 
Water Content: 38%
Base Curve: 8.6mm
Manufacturer: Queen Eyes
Disposable: 1 Month
This kind of packing in a box and then in separate blisters is the typical packing you will find circle lenses in in Japan. Circle Lenses in bottles, like they are most common in the west, are rather rare there. You will also never find one year-disposable lenses in Japan. They are usually for 1-3 months (even for GEO lenses which you can also buy labelled as "one year disposable" outside of Japan). But I have written a lot about this before and why you should never wear your circle lenses for more than 3 months.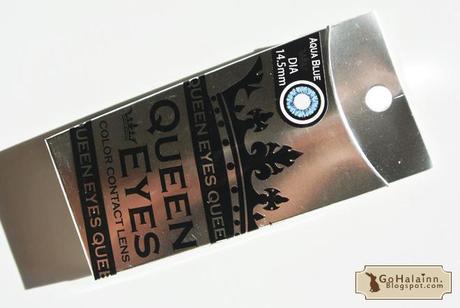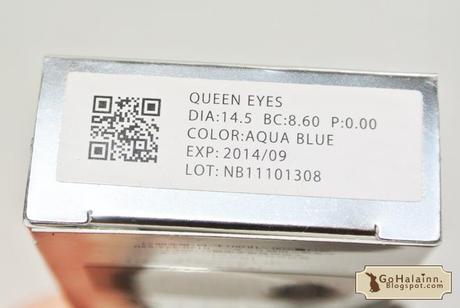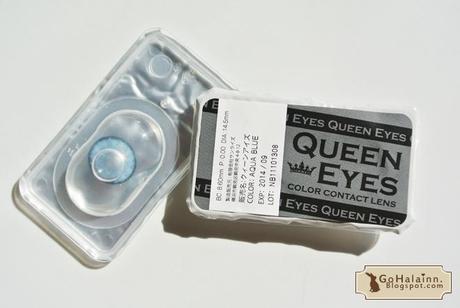 Design: The design is a very "classical" circle lens design, nothing too fancy and a bit similar to GEO's Angel line. There is a dark circle around the lenses, but it is disconnected by fine blue lines, which, in my opinion, takes away a bit of the harshness of the circle. What I like a lot is that there are fine transparent lines in the design, which will make your own eye color shine through. This probably can help a lot to make the lenses match with your eyes, if you have blue eyes. Sadly these lenses' color doesn't fade in the middle, so there is a abrupt spilt between the color of the lenses and your eye color and makes the lenses very obvious when you don't have blue eyes. Only view lenses have this fading color, even though it makes such a huge difference.
Color: These are my very first blue lenses. Usually I go for green or brown. My natural eye color is green, but green lenses often have a weird and very artificial green that looks very alien in my eyes. Brown usually give me the most natural result. The blue color of the Queen Eyes Circle Lenses is a really pretty shade and not too bright. I could imagine that it would look noticable, but not too weird on naturally blue eyes. I like the color a lot.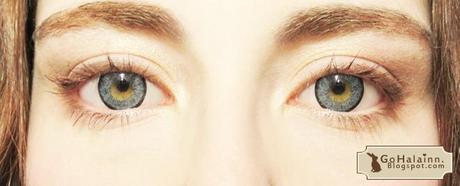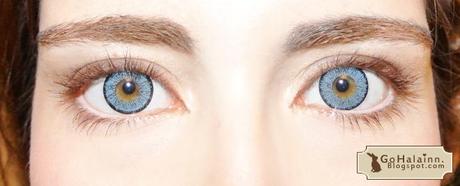 Enlargement: It surprises me how hard it is to find oversized lenses in Japan. Most have a diameter of 14.0, which just isn't enough for me. 14.5 is really the minimum for me. I think the enlargement effect of these is okay. Your eyes will appear a bit bigger, but not very noticeable alien-like. For my personal taste there could be a few more millimetres, but it's still okay for me like this. 
The Queen Eyes circle lenses come in two versions so that each lens is available in a 14.0 diameter (golden packing) and a 14.5 diameter (silver packing) version.
Comfort: Amazing! I don't think I ever gave any lenses full rating for this, even though I had some with fairly good comfort before. But these are absolutely the best! I have very sensitive eyes and the Queen eyes Circle Lenses are the very first circle lenses where I can actually forget that I am wearing  them, because I do not feel them at all for most of the time. After a few hours I might need to take them out and refresh them with new lens solution, but other than tha

t they are perfect.
I only wore them like maybe 3 or 4 times during a month and hoped I could possibly use them a bit longer than a month as they were so amazing, but sadly the comfort did wear down a lot after that time, even though I had worn them so rarely, so

I

guess

they really have a short

s

hort

life-span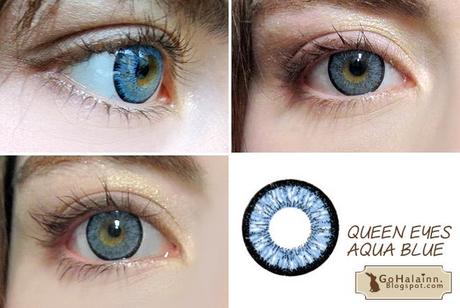 Comfort: ♥♥♥♥♥ Design: ♥♥♥♥○ Color: ♥♥♥♥○ Enlargement: ♥♥♥○○