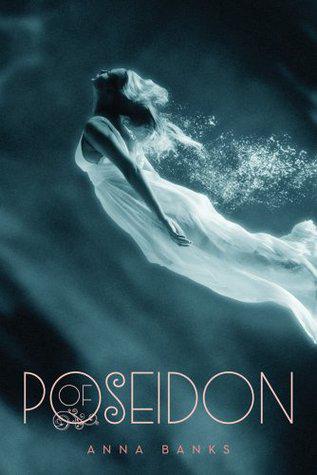 Of Poseidon
by Anna Banks
Expected Publication Date:
May 22nd, 2012
Publisher:
Feiwel & Friends
Page Count:
324 pages
Format:
ARC
Source:
Publisher
Purchase:
Amazon
* I received a copy of this book from the publisher in exchange for an honest review. Any thoughts and opinions expressed are my own *
Galen is the prince of the Syrena, sent to land to find a girl he's heard can communicate with fish. Emma is on vacation at the beach. When she runs into Galen—literally, ouch!—both teens sense a connection. But it will take several encounters, including a deadly one with a shark, for Galen to be convinced of Emma's gifts. Now, if he can only convince Emma that she holds the key to his kingdom . . .
Told from both Emma and Galen's points of view, here is a fish-out-of-water story that sparkles with intrigue, humor, and waves of romance.
As I've said countless times, I'm a huge fan of mythology and
Of Poseidon
is no exception. I also really love books that are written in multiple POVs and Anna Banks did a wonderful job of pulling that off well. Everything about this story is unpredictable, which made reading it so fun and enjoyable.
Of Poseidon
 is a quick, fun read with a feisty female protagonist and a clueless romantic interest, but it kept me interested all the way until the end. Now, I'm impatiently waiting for Anna Banks to publish another book in this series.
While some books can't pull off different POVs in one book, I could easily make the distinction between Galen and Emma. It did help that Emma's parts are written in first person while Galen's are in third person, but the voices definitely change. Emma is definitely a difficult girl; while Galen does everything he can to protect her she's constantly going behind his back and doing whatever she wants, even though she knows she's in danger. It definitely made her an independent and more relatable character though, I can't say I'd let a guy tell me what to do all the time ;) I definitely liked the relationship between Galen and Emma, it's well developed and very emotional. They had me shedding a few tears a couple of times.
The story of
Of Poseidon
 is something I've never read before; the idea that Emma can talk to fish was quite humorous at first. I remember thinking, "What, this girl can talk to fish? What's the point of that??" And even after it's been explained to me, I'm still not quite sure why it's so important. I mean, they explain it in the story, but I wish that there was a bit more to it. I definitely enjoyed a lot of the humor that's incorporated. Some scenes had me laughing so hard I was crying. Banks could work part time as a comedian if she really needed to.
Overall, Anna Banks has written a fun, quirky story that incorporates a great deal of romance and mythology that I thoroughly enjoyed reading. The characters are all fun and exciting, especially the girls who are strong-willed and independent.
Of Poseidon
 is a fast-paced, fun, and quirky story that had me laughing, crying, and sitting on the edge of my seat. As far as I know, a sequel is in the works and I cannot wait to find out what is going to happen with Emma and Galen next!