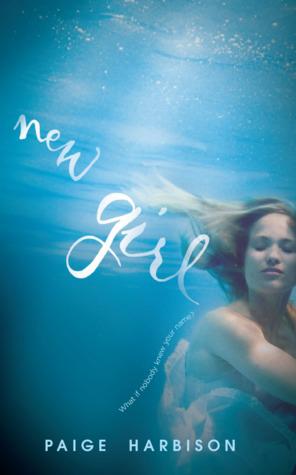 New Girl
by Paige Harbison
Publication Date:
January 31st, 2012
Publisher:
Harlequin Teen
Page Count:
304
Format:
E-ARC
Source:
Netgalley
Purchase: 
Amazon
 / 
Books Inc.
*I recieved a copy of this book in exchange for an honest review. All thoughts and opinions expressed are my own*
They call me 'New Girl'...
Ever since I arrived at exclusive, prestigious Manderly Academy, that's who I am. New girl. Unknown. But not unnoticed—because of her.
Becca Normandy—that's the name on everyone's lips. The girl whose picture I see everywhere. The girl I can't compare to. I mean, her going missing is the only reason a spot opened up for me at the academy. And everyone stares at me like it's my fault.
Except for Max Holloway—the boy whose name shouldn't be spoken. At least, not by me. Everyone thinks of him as Becca's boyfriend but she's gone, and here I am, replacing her. I wish it were that easy. Sometimes, when I think of Max, I can imagine how Becca's life was so much better than mine could ever be.
And maybe she's still out there, waiting to take it back.
Let me start by saying I absolutely LOVED the cover of this book. That's all I liked. Maybe the plot was okay, but that's just because it's a retelling, so that doesn't score any originality points. The only thing that kept me reading was that I just had to know what happened to Becca! And I finally found out, but at that point I didn't care anymore.
The "New Girl" character is so boring, I felt really bad for her, because everyone just hates her (which is incredibly unbelievable) but her friends back home aren't really that great of friends anyways. She has it pretty hard. And the Becca character was just a total b*tch. I'm sorry, but who acts like that? She reminded me of Rachel McAdam's character in Mean Girls. I genuinely hated her. There are a couple love interests as well, but they're not swoon-worthy or anything. One of them is kind of tool.
The story is pretty interesting, mostly because it's a retelling, and it's told in alternating perspectives between Becca and "New Girl" (we don't learn her name until the very end) and Becca's perspective is from the past, while "New Girls" is from the present. While the story was creepy, a lot of things really put me off this book. There's a lot of casual sex going on, and a lot of swearing, which doesn't really bother me per say, but when you're thinking about this being a YA book, that's just a little unacceptable.
Overall, this book fell so flat for me, it's buried in the ground. I'm sorry, I really wanted to like this one, but it just didn't work. I liked the creepy aspect, but the characters were horrible people, and there is basically no romance, just sex. If you were planning on reading this one, I'd avoid it. Also, if you're not a fan of a lot of swearing and sex, then don't open this one!!