I've never really been a fan of running shoes before. Traditional running shoes always caused me pain, discomfort, my feet felt like bricks and I constantly got blisters from them. Not a very pleasant combination. However, after reading about and trying on barefoot or minimalist shoes I knew I had to get a pair. They were feather light and I could wear them straight away without any transition or walking in period! I was sold, and still am.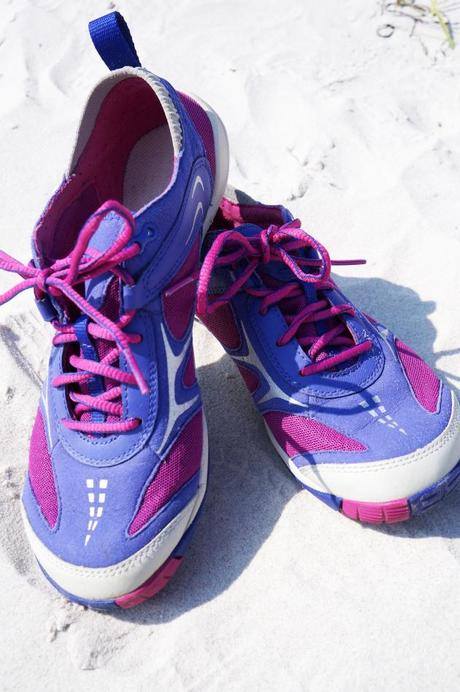 I got my hands on these colourful pair of shoes while visiting my cousin in Arizona in December. I've had my eyes on Merrell's Barefoot Pace Glove running shoes for quite some time, but I wasn't able to find the right size for me as there are no half sizes here in Sweden. A half size can make a lot of difference. Especially when they tamper with the width of the shoes. When I read on Merrell's facebook page that they had recently opened up an outlet store in Phoenix I was overjoyed. Little did I know that I would leave the store with 3 pairs of shoes. My cousin thought I was crazy!  To my defence, two of them were Merrell's Wonder Glove – incredibly comfortable and simply adorable ballerinas. Unfortunately most of the running shoes in my size were sold out. Not too surprising when most of  them were approximately 50% off! However, I was lucky enough to find a pair of the Dash Glove. They were a half size bigger than my regular size, but they fit like a glove! Oooh I love puns.
Despite of the fact that these shoes are discontinued (you may still find them on Amazon), I do believe there is a newer version out there and Merrell offers plenty of other great barefoot options that may suit any of your shoe needs. Nevertheless, these shoes have been with me on my journey from being a couch potato to soon being able to do a 5K run. I'm delighted to bring you the following Merrell Dash Glove review.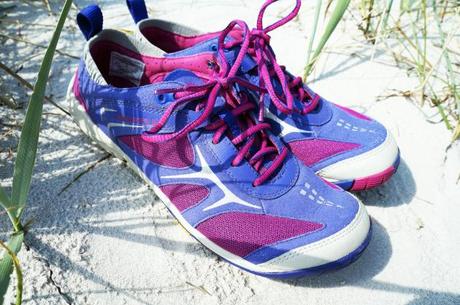 SPECS
Upper/Lining
Synthetic leather and mesh upper
DWR-treated upper repels water and resists staining
Reflective details for increased visibility in low light
Washable upper
Integrated microfiber footbed treated with Aegis antimicrobal solution
Sole
0 mm drop
11 mm standing height
Vibram Barefoot sole
2 mm maximum lug depth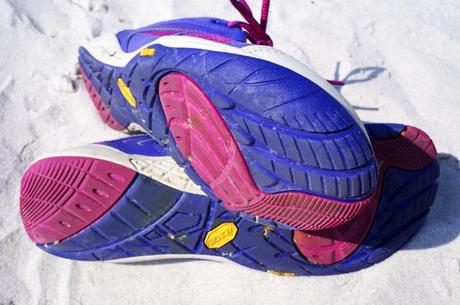 MY THOUGHTS
The first thing I always pay notice to when I put on new shoes is the heel area. Most shoes tend to be too loose for my small heels (I have very narrow feet) and if they fit right in heel they are usually a size too small. It's very annoying! With the Dash Glove I don't have this problem. They are still a bit loose but not that much that it would really bother me. I'm not sure if it's the elastic bit at the back or the lacing system (that comes higher up) that gives these shoes such a good glove-like fit.  Either way, I really like the fit of these!
Another thing that I appreciate about these shoes is that they are slightly cushioned. They are perfect if you are looking for a shoes that will ease you into barefoot running. Please bare in mind that if you haven't run in barefoot/minimalist shoes before, you need to take it easy on your first runs. If you generally run a 5K, 10K or more, you're feet won't appreciate if you run a race that long in barefoot shoes and you might end up hurting yourself. So make your first few runs shorter so that you're muscles can built up strength and flexibility, and then you'll be set to go.
As much important it is to have a good back and mid fit, there's nothing worse than having your toes squashed in a pair of shoes. The Dash Glove is no exception when it comes to barefoot shoes. The toebox has plenty of room for my toes to splay during my runs and allows room for foot swelling during those longer runs.
The DWR-treated mesh has not disappointed. It has repelled mist, moist grass and light rain, leaving my feet dry and happy. However, I wouldn't trust these shoes in heavy rain. They would be soaked. But then again they are probably not created to repel a huge amount of water, there are other shoes out there designed to deal with that issue.
I have really appreciated the flexibility in these shoes. The sole being Vibram is of a minimal nature and best suits for road running. I did a test run on some "light" trails with these and they did manage to hold up. They weren't the best option and I wouldn't dare taking them for real trail running, I would probably just injure myself on all the rocks and roots as the Dash Glove misses a rock-plate and proper luggs. Other than that, these shoes are really versatile.
With no seams visible on the inside it's possible to wear them sockless, though I do prefer to wear thin or toe socks in these. The fabric on the inside isn't as smooth as it is in other barefoot shoes and the top fabric left a red mark on my feet when I tried to run barefoot in them. This is probably the only negative remark I have on these shoes. I'm not sure I could manage to run barefoot in these for a longer run…but then again I have incredibly sensitive feet, so most of you won't even notice it. I also need to point out that I don't have this problem with any of my other Merrell shoes, I can wear them barefoot for an entire day without having  any issues.
Overall, these shoes have saved me on many troublesome runs and I love them to bits, I just need to wear them with socks that's all. :)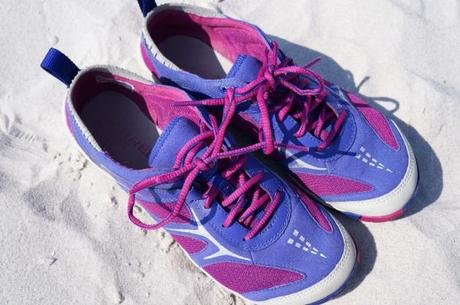 Now that summer is just on the doorstep, I will need to switch up my Dash Gloves for a lighter and more breathable pair of shoes.
What kind of shoes do you run in during the summer? Have you ever tried barefoot/minimalist shoes?