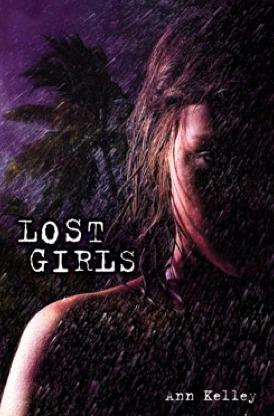 Lost Girls
by Ann Kelley
Publication Date:
July 10th, 2012
Publisher:
Little, Brown Books for Young Readers
Page Count:
336 pages
Format:
Hardcover
Source:
Publisher

*I received a copy of this book from the publisher in exchange for an honest review*
No parents. No rules. No way home.
Fourteen-year-old Bonnie MacDonald couldn't be more excited for a camping trip on an island off the coast of Thailand with her fellow Amelia Earhart Cadets-the daughters of the men and women stationed there during the Vietnam War. But when a strong current deposits the girls on what their boatman calls the "forbidden island," things take a turn for the worse: A powerful storm comes to destroy their campsite, the smallest of the junior cadets is found dead, and their boatman never returns. What once seemed like a vacation in paradise has become a battle against the elements.
Peppered with short, frantic entries from Bonnie's journal, Lost Girls is a page-turning, heart-pounding adventure story about a group of teen girls fighting for their lives.
There were two things that drew me to this book. (1) I am a huge fan of
Lost
and (2)
Lord of the Flies
 is one of my favorite stories from high school. However,
Lost Girls
 in no way measures up to either of those amazing stories. Not only did the characters grate on my nerves, but the writing style and setting bored me to tears. I have to admit, I strongly disliked most of this book. The problem is, I didn't know why I wasn't enjoying it for quite some time. Sure, I had an issue with the writing but I figured I'd get used to it. I assumed the characters would grow on me and eventually become heroes of some sort. Also, I had to know how it was going to end. I had to know who else was going to die and whether or not they would all be saved. Regardless of what I had
hoped
 would happen, I disliked
Lost Girls
 even more by the time it was over.
Bonnie is, at best, a soldier's daughter with some great survival skills. At worst she's a brat without many leadership skills. I highly disliked Bonnie for most of the story. I found she was just really boring and I hated her attitude. It seemed like she was always trying to be the hero while putting everyone else down. On her trip, she's taken a book with her. Something about motorcycles. She continually references this book and the main character in order to solve all of her problems on the island. Really?? I was unaware that a fictional story about a guy and his motorcycle would provide any survival tips when stranded on an island. Eventually, Bonnie loses her mind and starts referring to her motorcycle guy as if he were a real person.
I just have to point this out: I wrote down the word
boring
 four times in my notes. I guess I had to remind myself how boring this book was. Albeit, there were a few interesting moments, but most of the time I was just flipping pages waiting for something good to happen. For a survival story, there was not nearly enough blood, death, gore, death, bullying, death, or death. Did I mentioned I would have liked more death? Maybe not death. Maybe just some maiming. At least that would have livened up the story line. And the writing was such a mood killer. The story is written in first person present and I am pretty sure the narrator is a twelve year old. The sentence structures are choppy and redundant and the inclusion of journal entries is pointless since the entire book is basically a journal. Even the parts that should have had me cringing or screaming didn't. Everything was too sugarcoated.
Lost Girls
had a lot of potential, but it just fell flat for me. I struggled to even finish it at all. The characters are all pretty bland and dislikable and the writing style is so distracting and simplistic that it was hard for me to concentrate on the story. I kept reading because I had to find out what was going to happen, but even the ending was a bit of a let down. When it comes to survival stories, the more realistic the better. If you're looking for a great story about young people in dire circumstances you're better off picking up
Ashfall
 by Mike Mullin or
Lord of the Flies.
 Overall, I'd recommend skipping this one.