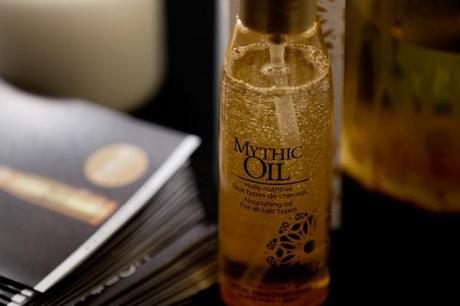 Source: Head Studio

About a year or two ago I jumped on the Moroccan Oil bandwagon. This was my first step into the world of hair oil treatments. Since then I have tried
Argan Oil
and Coconut Oil treatments. The latest addition to my haircare routine is the L'Oreal Mythic Oil. 
Mythic Oil is a lovely light hair oil with a very herbal smell. If you have ever tried the Matrix Biolage range it smells exactly like that!
Mythic Oil would be perfect for those who have very fine, limp hair that is easily weighed down by products or those with very minimal dry/dull hair issues. If you are someone has dry and damaged hair due to hair processing you'd be better off starting with something like Moroccan Oil. 
The main difference I have noticed with the Mythic Oil is the light consistency. Moroccan Oil in comparison is quite thick but penetrates deeply to restore softness and manageability to my hair. I haven't seen these benefits to the same extent using Mythic Oil.
Mythic oil however is great for styling particularly on dry hair. It works well to smooth flyaway and tips of my hair when styling. I am really enjoying using this product on second day hair where is needs just a little something extra to stop it looking dull and dry.
You can find Mythic Oil at Hairhouse Warehouse or Price Attack stores throughout Australia.