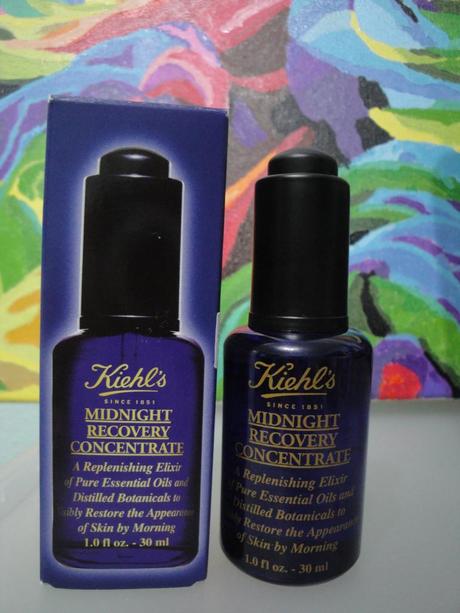 It has always been a great pleasure blogging for Kiehl's because they have awesome products! As someone with sensitive skin, their products are mild enough to not cause any redness or reaction on my skin, yet effects are visible on the skin.
I have almost forgotten how Kiehl's Midnight Recovery Concentrate feels on the skin until I receive it as part of their new year gifts for me. Back in 2012, I have blogged about how this face oil has given radiant and glowing skin in just two nights time. Two drops are all you need for a rested skin. The lavender scent is also very soothing and it is good if you want to feel more relax at night.
What I like about it: 
Natural, soothing, hydrating …. and gives me the rested look even though I'm extremely tired. Also, the bottle is going to last me a very long time, super value for money!!!
What I don't like about it: 
Because it is oil, I can't use it in the morning. But other than that, there is absolutely nothing I hate about it!
Vivi's Rating:


This January, Kiehl's Singapore is partnering with Action for AIDS (AfA), a non-governmental organization (NGO) committed to AIDS prevention, advocacy and support
Beginning 1 January 2014, for every bottle of Special Edition Midnight Recovery Concentrate sold, SGD$5.00 will be donated to AfA. As a token of appreciation, each customer will receive a limited edition key charm. The funds collected will go towards helping AfA's Pregnant Mothers' Fund where work is done to prevent mother-to-child transmission of HIV and assist diagnosed HIV-positive children to seek immediate medical treatment.
Do more by joining "Smile with Kiehl's" Instagram Photo Contest!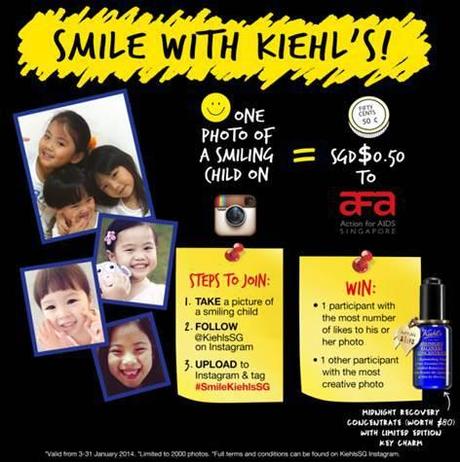 In this campaign, Kiehl's would like to collect photos of "smiles from children". They hope that each smile can brighten and inspire the lives of the mothers and children. For every photo submission to Instagram with #SmileKiehlsSG from today till 31st January 2014, SGD$0.50 will be donated to the AfA.
This is why I love Kiehl's! =)