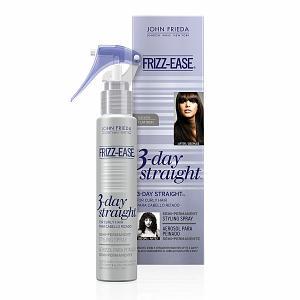 One of the most exciting haircare products to be released last year was John Frieda's 3 Day Straight. This is a product which claims to maintain your straight hairstyle for up to 3 days or until the next wash.
Here's what
John Frieda
has to say:
Weightless spray with heat protection blocks out frizz as you straighten. Proprietary blend of polymers with keratin protein wraps each strand, sealing in straight styles for up to 3 days.* Keeps hair glossy, smooth, and swinging with body.
Apply the product to freshly washed and towel dried hair and then blow dry till the hair is dry enough to be flat ironed. I use my GHD to seal the product in, starting with small sections at the back of my neck and working through till it's all completed.
I have never tested its "3 Day Straight" claim as I generally like to wash my hair every second day, however it must be said I love this product! It makes straightening my hair a much easier task and it leaves a lovely glossy shine to the hair which doesn't leave my hair looking like a greasy mop.
I highly recommend giving this product a go. You can pick it up at your local Priceline or supermarket, and at $16.99 it is well worth the money.