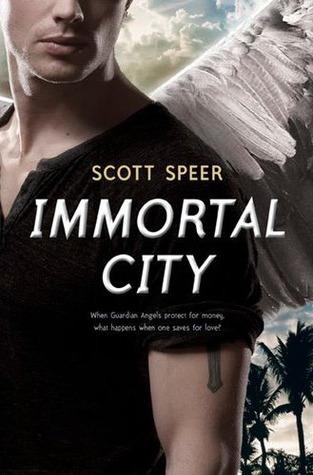 Immortal City
by Scott Speer
Expected Publication Date: April 3rd, 2012
Publisher: Razorbill
Page Count: 336 pages
Format: ARC
Source: Borrowed
Purchase: 
Books Inc.
 |
Amazon
| 
Hicklebee's
Jackson Godspeed is the hottest young Angel in a city filled with them. He's days away from becoming a full Guardian, and people around the world are already competing for the chance to be watched over by him. Everyone's obsessed with the Angels and the lucky people they protect--everyone except for Madison Montgomery.
Maddy's the one girl in Angel City who doesn't breathlessly follow the Angels on TV and gossip blogs. When she meets Jackson, she doesn't recognize him. But Jackson is instantly captivated by her, and against all odds the two fall in love.
Maddy is swiftly caught up in Jackson's scene, a world of glamour, paparazzi - and murder. A serial killer is on the loose, leaving dead Angels' wings for the police to find on the Walk of Fame. Even the Guardians are powerless to protect themselves in the face of this threat … and this time it's up to Maddy to save Jackson.
I have to admit, when I started this book I wasn't expecting something so brilliant. Speer's concept about angels is something I've definitely never read about, and it's so intriguing and well thought out. The idea that angels are money grubbing narcissists who save people's lives only when they can afford it is so original and thought provoking that I was hooked from the very beginning! Speer is an amazing author and I can't wait to see what he comes up with next!
The characters in Immortal City are all really well written. Maddy is just so much like me that I couldn't help but be drawn to her right from the beginning. I love how innocent, yet strong she is, and I love the way she really connects with Jacks. For some reason, despite his ego, I loved Jacks from the very start. Although he does throw his money and fame around a few times, I was glad that he found Maddy to keep him grounded. The way their relationship develops is so fantastic and so real and I ended up getting shivers on more than one occasion.
Speer is an awesome writer and I loved the world he drew me into. Everything about the angels is really well developed and Maddy even takes a "History of Angels" class which actually helped me understand where the angels came from and why they were being paid to save people. There was never a moment where I was confused about what was happening, unless of course it had to do with who the murderer was! Although some things were a bit predictable, I didn't figure out the most important things until the right moment and I think Speer did a fantastic job of keeping me in suspense.
Immortal City is a fantastic take on angels and angel stories and if you're an angel lover you're going to want to get your hands on this one as soon as you can! Speer takes you into the glamorous world of the elite immortals and provides fans of romance, paranormal, thriller, mystery, action - almost all genres! - with something to enjoy! I highly recommend this book, it is an exciting and entertaining read that had me up late into the night!