B.B bee bee B.B beeeeeeeee beeeeeeeeeee meri padosan ki biwi ...I said B.B  :P ... !
Yea so thats how the B.B cream ad went a couple of months ago . B.B on beach , B.B on coffee ,B.B on bag ,B.B on hoarding , B.B on Deeeeeeeeeeeeeeeeeeeeeepeeeeeeeeeeeekaaaaaaaaaaaa !!! Padukone  I mean ! 
Then , the rest is history . People were falling over each other at the stores to get this miracle product . As for me , I had a really bad experience with the Maybelline BB Cream , so I knew I was skipping this at all costs . 
But you know how life is . You go to Health and glow to pick up some really random stuff ( nail enamel remover ) , and you head to the counter to settle the bill . There at the counter they strategically place stuff that your hands just itch to buy . Yeah so one such days there was the " Garnier BB Cream " at the counter cooing "come to me , girl ....you over there am talking to you ... " .Yeah and I fell for it . And billed it along with the nail enamel remover .#storyofmylife. 
So , how was my experience with the much touted "miracle" product . Read on to find out :) .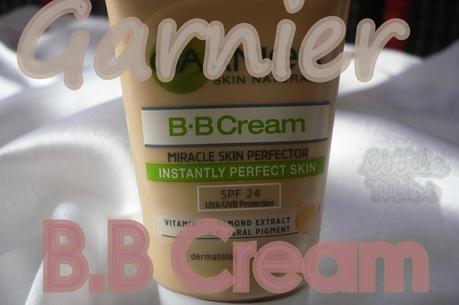 About the Garnier BB Cream : 
If you want to have skin that is aglow with health, then you should take proper care of it. The Garnier B-B Cream Miracle Skin Perfector is capable of giving you a lovely skin tone with ease. Imbibed with the goodness of ingredients like Almond Extract and Vitamin C, the Garnier B-B Cream Miracle Skin Perfector gives you visibly fairer and healthier skin in no time. By dislodging the dirt and free radicals from every pore of your skin, the Vitamin C content in this natural Skin Perfector Cream keeps your skin cleansed and free of acne and blemishes. In addition, the B-B Cream also eases away the imperfections present on your skin to make it appear even toned.
Your skin will be made radiant, as the Garnier Miracle Cream has Almond Extract which improves cell rejuvenation, while it also keeps skin aging at bay by reducing fine lines. Additionally, this Garnier Perfector serves as a hydrating agent by moisturizing your skin. Your skin will also receive protection from UVA and UVB rays, as it comes with SPF 24.
Read more....Click here ...Read more....