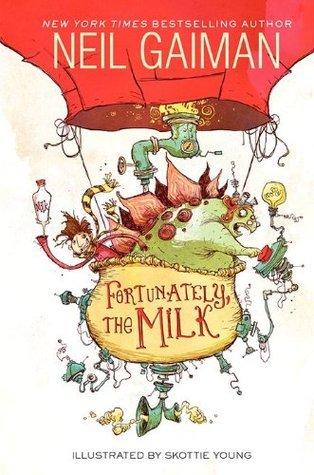 Fortunately, the Milk
 by Neil Gaiman
Publication Date:
September 17th, 2013
Publisher:
HarperCollins
Page Count:
114 pages
Format:
ARC
Source:
Work
Age Recommendation:
7+; but also perfect for reading aloud!
Goodreads
|
Books Inc.
"I bought the milk," said my father. "I walked out of the corner shop, and heard a noise like this: T h u m m t h u m m. I looked up and saw a huge silver disc hovering in the air above Marshall Road."
"Hullo," I said to myself. "That's not something you see every day. And then something odd happened."
Find out just how odd things get in this hilarious story of time travel and breakfast cereal, expertly told by Newbery Medalist and bestselling author Neil Gaiman and illustrated by Skottie Young.
Have you ever told your parents a ridiculous, outrageous, completely unbelievable story about something that happened to you, only to have them look at you like you're a crazy person? We all have. As kids, when our parents asked us what we were doing, we would tell them things like, "I'm flying in space with aliens, mom!" or "I'm a wizard practicing magic at Hogwarts with Harry, Ron, and Hermione!" or we'd spend the whole day at a friend's house and come home and tell our parents that we were actually sailing the high seas with pirates and eventually discovered an unknown island on which dinosaurs still roam. 
When Mom goes out of town, it's up to Dad to take care of the house. That means doing things like picking up the dry cleaning, taking the kids to school, paying a couple bills and, oh, getting some milk, because they are almost out. When the next day rolls around, the kids get up to have their morning cereal only to realize that there's no milk left. Who wants to eat dry cereal? The idea of pouring orange juice on their Suagr-O's doesn't seem appealing either. Being the hero that he is, Dad pops out to pick some up only to be gone
all day
. The store is just down the street, maybe four minutes away, what could he be doing? Did he meet someone he knew at the shop? Did he stop to chat with the grocer? When Dad returns, disheveled, dirty, and wild-eyed (fortunately, still holding the milk) the kids are quite interested to hear his excuse. 
Not only is
Fortunately, the Milk
filled with adventure, action, humor, and wit, but it's an ingenious twist on the classic tall-tale that kids are usually accused of telling. This book is laugh out loud funny, so much so that you might get strange looks from those around you when you find yourself busting up in the middle of the train, or in a coffee shop. I highly recommend this for kids and adults alike. It's a fantastic read aloud for kids too young to read alone and perfect for that picky reader who just can't get into anything. It's also great as a stocking stuffer (Christmas is coming up!) With fantastic illustrations from Skottie Young,
Fortunately, the Milk
 is one you do not want to miss! As my coworker Steven says, "It's like Doctor Who meets Winnie the Pooh" in this epic new adventure from Neil Gaiman!