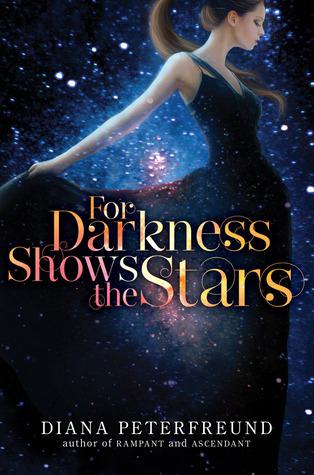 For Darkness Shows the Stars
by Diana Peterfreund
Expected Publication Date
: June 12th, 2012
Publisher:
Balzer + Bray
Page Count:
398 pages
Format:
ARC
Source:
Publisher
Amazon
|
Goodreads
* I received a copy of this book from the publisher in exchange for an honest review. All thoughts and opinions expressed are my own * 
Generations ago, a genetic experiment gone wrong—the Reduction—decimated humanity, giving rise to a Luddite nobility who outlawed most technology.
Elliot North has always known her place in this world. Four years ago Elliot refused to run away with her childhood sweetheart, the servant Kai, choosing duty to her family's estate over love. Since then the world has changed: a new class of Post-Reductionists is jumpstarting the wheel of progress, and Elliot's estate is foundering, forcing her to rent land to the mysterious Cloud Fleet, a group of shipbuilders that includes renowned explorer Captain Malakai Wentforth—an almost unrecognizable Kai. And while Elliot wonders if this could be their second chance, Kai seems determined to show Elliot exactly what she gave up when she let him go.
But Elliot soon discovers her old friend carries a secret—one that could change their society . . . or bring it to its knees. And again, she's faced with a choice: cling to what she's been raised to believe, or cast her lot with the only boy she's ever loved, even if she's lost him forever.
Inspired by Jane Austen's Persuasion, For Darkness Shows the Stars is a breathtaking romance about opening your mind to the future and your heart to the one person you know can break it.
I've always been a fan of Jane Austen's novels; her writing style is just impeccable and she can make a woman weak in the knees with her romantic yet prideful men (and women.) Diana Peterfreund does not disappoint when it comes to this gorgeous novel based off of Austen's
Persuasion
. I have to admit, I haven't read
Persuasion
yet, but it is on my book bucket list. That being said, I don't think you need to have an appreciation for Jane Austen, or have read
Persuasion
, in order to adore
For Darkness Shows the Stars
. This novel blew me away with how amazingly written and heart-wrenching it truly is. Peterfreund drew me in with her elegant writing style and hooked me with star-crossed lovers; not to mention that gorgeous cover!
Elliot is such an admirable protagonist, always putting the good of the people before her own happiness. She's truly reminiscent of a Jane Austen heroine; she's loyal to her family, devoted to her work, and willing to put all others before herself. I loved how compassionate Elliot was when it came to the people who work for her. They may have been her servants, or "posts," but she did not put them beneath her and her deepest friendships developed with these people who are not in her caste. I loved her relationship with Kai, because it's developed throughout their childhood, but the novel starts off four years after Kai has left Elliot's farm. We learn about Kai and Elliot's childhood relationship through old letters at the same time we learn about who Kai and Elliot are now. Although sometimes I really wanted to hate Kai, in the end he always had my heart.
Peterfreund's writing style is absolutely magnificent. With
For Darkness Shows the Stars
she takes me back to reading
Pride and Prejudice
and
Sense and Sensibility
, but with a modern twist. The story starts slowly, building on relationships and developing characters, but it was never so slow that I lost interest. In all honesty, I blew through this book, attempting to devour it at record speeds. It became increasingly harder and harder for me to even put it down for short periods of time. I loved the progression of the plot and the incorporation of letters which slowly reveal back stories and plot twists, adding more and more depth to the overall storyline.
I'm still reeling from the emotional turmoil that
For Darkness Shows the Stars
put me through. Peterfreund had me laughing, crying, and screaming over the course of 400 pages. Despite my lack of familiarity with
Persuasion
, I don't think that having read it would have influenced me to enjoy it more, I just would have been able to make the connections between both books. Even if you have never picked up a Jane Austen novel, you don't need to in order to fall in love with the story that Peterfreund creates.
For Darkness Shows the Stars
broke my heart and put it back together repeatedly, only revealing Kai and Elliot's destiny at the very last moment. Fans of romance, minor sci fi as well as dystopian elements, and Jane Austen will devour this one!