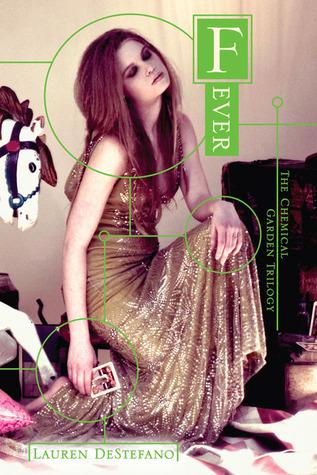 Fever
by Lauren DeStefano
Expected Publication Date:
February 21st, 2012
Publisher:
Simon and Schuster Children's Publishing
Page Count:
368 pages
Format:
ARC
Source:
Borrowed
Purchase from Amazon:
Fever (Chemical Garden)
Rhine and Gabriel have escaped the mansion, but danger is never far behind.
Running away brings Rhine and Gabriel right into a trap, in the form of a twisted carnival whose ringmistress keeps watch over a menagerie of girls. Just as Rhine uncovers what plans await her, her fortune turns again. With Gabriel at her side, Rhine travels through an environment as grim as the one she left a year ago - surroundings that mirror her own feelings of fear and hopelessness.
The two are determined to get to Manhattan, to relative safety with Rhine's twin brother, Rowan. But the road there is long and perilous - and in a world where young women only live to age twenty and young men die at twenty-five, time is precious. Worse still, they can't seem to elude Rhine's father-in-law, Vaughn, who is determined to bring Rhine back to the mansion...by any means necessary.
In the sequel to Lauren DeStefano's harrowing Wither, Rhine must decide if freedom is worth the price - now that she has more to lose than ever.
When Sasha from
Sash and Em
let me borrow
Fever
last month I was ecstatic! I absolutely loved
Wither
, and the cliffhanger ending had me craving more of Rhine and Gabriel. In the sequel to
Wither
, DeStefano shows us the world outside of Linden's mansion and has Rhine and Gabriel fighting for their lives. I absolutely loved where DeStefano took the story, it was heart-breaking, thrilling, and an amazing adventure.
Fever
follows Rhine and Gabriel as they escape from the mansion, only to run into some new villains. The ringmistress who runs the carnival where Rhine and Gabriel are now trapped is a horrifying woman who pimps out young girls to the local men. As Rhine and Gabriel try to figure out how to escape they run into more than one problem. Their relationship definitely develops into something more than it was in
Wither
which I really enjoyed reading about.
The story is incredibly fast paced, with lots of action going on at all times.
Fever
turned out to be a really quick read because I just couldn't put it down. DeStefano had me on the edge of my seat throughout the entire book, and of course it ended with another cliffhanger! As always, her writing is impeccable and poetic, flowing naturally and elegantly. I can't wait to see what she comes up with next!
Overall, I loved
Fever
more than
Wither
 and I'm so glad it didn't turn out to be one of those "bridge" sequels that just sort of carries the characters and plot from book one to book three. I completely immersed myself in the story, unable to tear myself away. The characters are as gorgeous and heartbreaking as ever, and the story is magically written. If you loved
Wither
you're going to want to get your hands on this one as soon as you can.