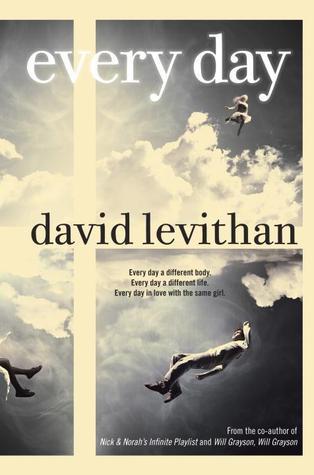 Every Day
by David Levithan
Expected Publication Date:
August 28th, 2012
Publisher:
Knopf Books for Young Readers
Page Count:
336 pages
Format:
E-ARC
Source:
Netgalley

Every day a different body. Every day a different life. Every day in love with the same girl.
Every morning, A wakes in a different person's body, a different person's life. There's never any warning about where it will be or who it will be. A has made peace with that, even established guidelines by which to live: Never get too attached. Avoid being noticed. Do not interfere.
It's all fine until the morning that A wakes up in the body of Justin and meets Justin's girlfriend, Rhiannon. From that moment, the rules by which A has been living no longer apply. Because finally A has found someone he wants to be with—day in, day out, day after day.
With his new novel, David Levithan has pushed himself to new creative heights. He has written a captivating story that will fascinate readers as they begin to comprehend the complexities of life and love in A's world, as A and Rhiannon seek to discover if you can truly love someone who is destined to change every day.
Every Day
 is my first David Levithan novel and I am officially a ginormous fangirl! I cannot stop thinking about not only his elegant writing style, but the mess of emotions I was put through while reading A's story. The idea of living a different life every day while still remaining true to who you are is hauntingly beautiful. Levithan teaches us perspective and compassion all through the eyes of somoene who doesn't have a life of his own. I was crying by chapter one and the tears didn't stop until well after I had closed the book. I had such a hard time putting this book down, the concept is so original and A is an amazing person despite everything he goes through. If you're like me and you haven't picked up something, anything, by David Levithan then make sure you get on that and add
Every Day
 to your TBR ASAP.
A is such an amazing character. He's cursed to live a different person's life every day of his existence and he doesn't once question it or argue it. He never tries to change who he is or what he does. If it were me, I'd be trying to find every way possible to stay the same every day. A's experiences enable him to understand people from all walks of life; drug addicts, severely depressed and suicidal teens, gays, lesbians, transgenders, and everyone in between. His ability to look past a person's exterior and know them for who they are on the inside is exceptional and makes me wish we all had that ability. A struggles after he meets Rhiannon, and even though he falls for her right away, their love is so beautiful and heartbreaking. I struggled to like Rhiannon at first because she's so put off by A's situation, but I really grew to understand and accept to her.
David Levithan's writing style is just so spectacular. He makes you feel all of the feelings with just a few words. Every paragraph's ending is weighted with such emotion I would immediately tear up. His ability to make me think about my own actions and outlook on life is just amazing. Every time A's current life brought up a tough or controversial topic I had to stop and think about my own life and the opinions I have. Levithan weaves reality with fiction and his ability to make me relate with A so completely really had me thinking. The story itself is so original and enticing, it was incredibly hard to put down.
Every Day
is one boy's story about living life on the inside looking out. Levithan offers perspective in a world where we have a hard time accepting others as well as ourselves. If you're like me, you'll grow to love A and hope he gets everything he deserves out of life. You'll be up at all hours of the night and you'll need a box of tissues with you at all times. I loved every minute of
Every Day
. This is a book that will change your life. If you haven't already pre-ordered
Every Day
 you'll want to get on that right away!