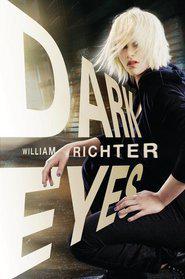 Dark Eyes
by Wililam Richter
Expected Publication Date:
March 15th, 2012
Publisher:
Razorbill
Page Count:
383 pages
Format:
 ARC
Source:
 Publisher/LibraryThing
Purchase:
Amazon
*I received a copy of this book from the publisher in exchange for an honest review. All opinions expressed are my own*
Wally was adopted from a Russian orphanage as a child and grew up in a wealthy New York City family. At 15, her obsessive need to rebel led her to life on the streets. Now the 16-year-old is beautiful and hardened, and she's just stumbled across the possibility of discovering who she really is. "The Girl with the Dragon Tattoo" for teens, this debut thriller introduces a new heroine.
When the synopsis says this book is similar to
The Girl with the Dragon Tattoo
 it isn't lying!
Dark Eyes
 is filled with action, mystery, some romance, and MURDER! I didn't know too much about this book going into it, since the synopsis is short and I haven't read many reviews, but I'm so glad I got the chance to read it!! I know a lot of people aren't interested in it too much, but here is where I'm going to attempt to persuade you to buy it. Right now.
The characters are fantastic! Wally is an awesome female protagonist; she's smart, strong, funny, witty, and despite the fact that she's left her home to live on the streets she still has a great heart! I didn't really connect with her, but I enjoyed following her journey! The different characters whose perspectives we see (Detective Greer, Klesko, and several others) are all pretty different, but I think the way Richter put everything together made the multiple perspectives work really well.
The entire book is definitely plot driven. It's super fast paced, gritty, dark, and thrilling! There was always something happening, a different mystery needing to be solved, and I was on the edge of my seat the entire time! I'm really not a big fan of contemporary fiction, but I really loved reading
Dark Eyes
. The mystery was probably my favorite part; Wally is searching for her birth mom and I had no idea who it was until Wally found out herself! There are definitely a lot of heart breaking moments, and my heart was really torn up by the end.
Overall, I really enjoyed
Dark Eyes
because of it's fast pace and gritty plot. I would definitely be interested in reading more books by Richter, his writing was fantastic and he knows how to tell a story! While I'm not a big fan of most contemporary fiction, I've been reading a lot more lately and this is definitely one of the better ones! I would recommend
Dark Eyes
 to lovers of gritty contemporary fiction, thrillers, mysteries, and anyone who enjoyed
The Girl with the Dragon Tattoo
!