CAU. An Argentine restaurant opened recently in Birmingham, in a prime spot in the popular Brindley Place. Focusing mainly on beef and steak, CAU is a clever play on words, but actually stands for Carne Argentina Unica. The restaurant is a chain, and there are plenty dotted around the country but I was still intrigued to try it out.
We booked CAU through OpenTable. It's easy and simple to do, and has the advantage of emailing and texting you the booking details, and sending you a reminder the day before, perfect for me that always forgets to write these things down and ends up often having to call the restaurant again to check when we booked for! I didn't realize you can also buy OpenTable gift cards, which might be a great idea for a present for that foodie in your life!
We headed in early on a Friday evening and was pleased to fine the restaurant already buzzing and about half full with a mouthwatering smell of grilling meat drifting about. I was surprised by the decor of the restaurant, I'm not sure what I was expecting, but what i found wasn't it. Lots of dark wood interspersed with murals of blue sky, clouds and grass both on the walls and built into the ceiling and light fittings. Presumably to represent the plains of Argentina, it's somewhat eclectic but it worked and I liked it.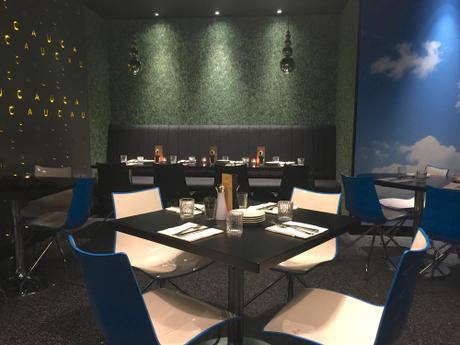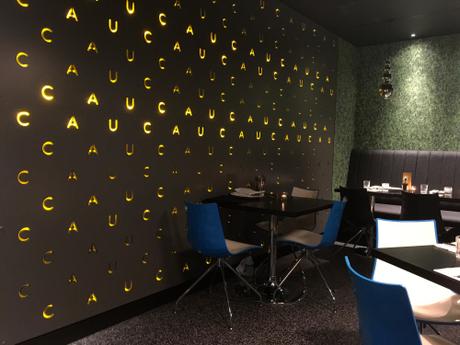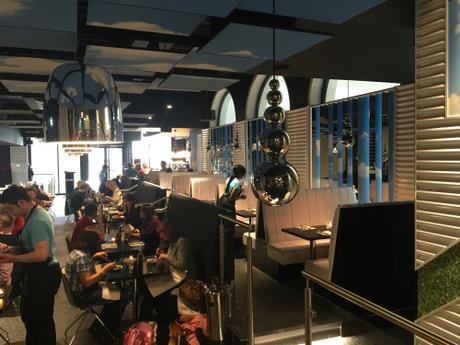 I tried the non alcoholic Cau Cooler to drink –  a mix of Raspberry, Passionfruit, Apple and Grape. A very refreshing and enjoyable drink. Lee chose a 'pot' of Malbec – somewhere between a glass and a bottle at 500ml this worked well for him and lasted him nicely through the meal. For wine lovers theres a good choice of wine, including a large range of Malbecs which for a red wineophile like Lee was a big plus.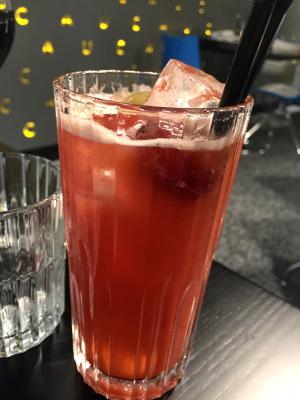 The menu consists of Small Plates, Salads, Steaks, Burgers and Large Plates. Its quite a wide selection but just stops at being too long in my opinion. Theres a few choices for non meat eaters but not a wide range.
We started with a couple of plates from the small section which made good sized starters.  Lee chose  POLLO DE CHICHARRON – Crisp soy-marinated thighs & wings with smoky aioli. These were well cooked and crisp but didn't have the most flavor to them, nevertheless when combined with the aioli they worked well.  I had the Beef short rib & coriander ANTICHUCO skewer. The meat was very tender and doused in a sweet, slightly sour sticky sauce which I really enjoyed. They were also served with a dollop of aioli which I didn't think was needed, either nothing or perhaps a dip that cut through the sweet stickiness would have worked better.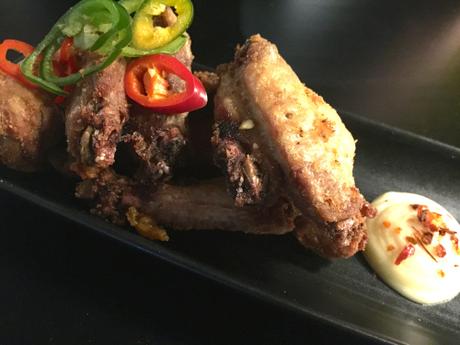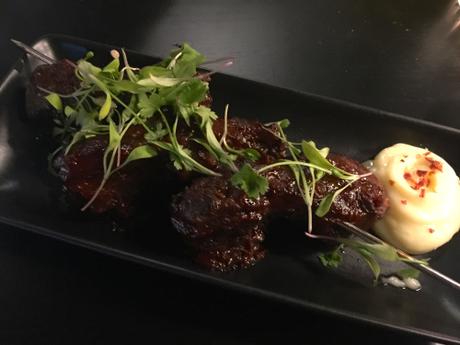 Moving on to the mains, Lee obviously chose a steak. There were quite a few cuts to choose from, the standard ones and some a little more unusual like ASADO DE CHORIZO – a sirloin steak in a churrasco marinade of smoked paprika, ají molido, garlic and parsley or TIRA DE ANCHO, a spiral cut marinaded in Chimichurri. Lee doesn't like his steak being messed with pre cooking, so went for an unadulterated one in the Rump, choosing it with thin chips, a  pepper sauce and a side of Truffled Mac & Cheese. He asked for the Rump medium rare. It arrived more rare than medium rare, and bled quite a bit on the plate  when cut leading us to believe it hadn't been rested well, but luckily Lee happily eats a rare steak and the flavor was very good. He also found the pepper sauce to be of great quality and loved the mac and cheese side. His thin chips thought were inferior to my thick cut chips which were crispy and fluffy.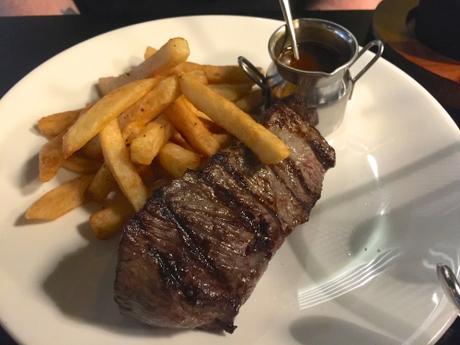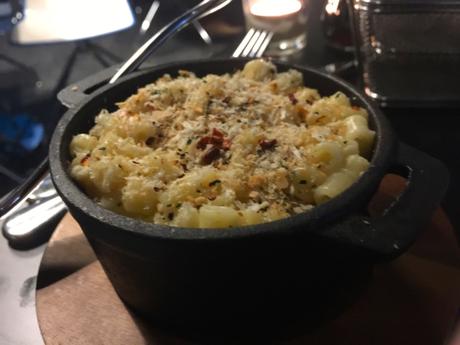 I had the BRICK–GRILLED HALF SPATCHCOCK CHICKEN – Coal-grilled and maple-glazed with pico de gallo salsa. This was a really lovely piece of chicken, the chargrill flavor was really prominent which I loved and the salsa was vibrant and tangy working really well with the chicken. As just mentioned, my side of Triple Cooked Chunky Chips were a big success and I also like the CAUslaw side I chose too.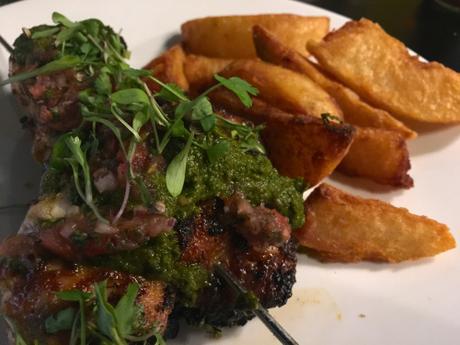 I think we both agreed the choice of steaks isn't as good here as it is at fellow Argentine restaurant Fiesta del Asado or Andersons Bar and Grill, but we still very much enjoyed the mains.
Not to be defeated by so much meat already we decided we could manage pudding too! The choices were quite mainstream (choc fondant, parfait, cheesecake etc) but they did all seem to have thoughtful twists on the flavours that made them that bit more interesting. I chose the CHURROS with dulce de leche whilst Lee liked the sound of the CAU CORNFLAKE ICE CREAM SUNDAE –  layers of cornflake-flavoured ice cream, cornflakes, crumbled chocolate brownie and dulce de leche. The desserts didn't let us down. They're not going to rock your world, but they both delivered on what you would expect for this kind of pudding and rounded off the meal very nicely indeed. Particularly I enjoyed the liberal dusting of cinnamon on the churros and the caramel worked so much better than chocolate sauce to dip into.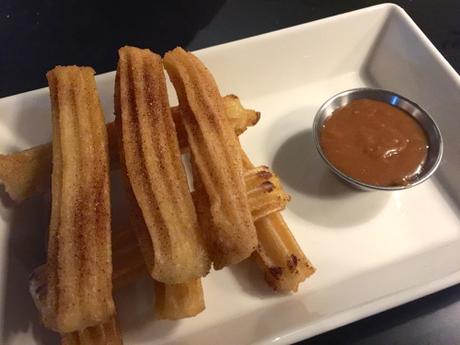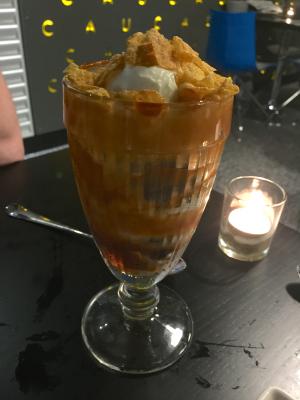 This meal cost us £87, but for 3 courses with some wine I didn't feel this was bad value – not cheap, but not over the top either. You could really push the boat out with some of the steaks and their price tags though, so that is something to watch. I couldn't fault our service, it was great all the way through which was pleasing since the place was pretty heaving by the time we were about half way through. I'd certainly return again, I'd like to try some of the steaks and other sauces and the more unusual starters such as the salmon tiradito as well as their brunch.
If you want to visit CAU you can book too through OpenTable or check out the other restaurants in Birmingham you could try!
Disclosure: This post is in collaboration with Opentable who reimbursed the bill. The restaurant was not aware we would be blogging about them.