Hello! ~

♥

This is a review of the Canmake Colorful Nails nail color in shade #52 Sandy Brown. This is my first nail color from Canmake and so far all Japanese nail colors I have tried have been rather disappointing due to their sheerness.  Luckily this one proved to be an exception. Canmake's Colorful nail line is probably their biggest, with 44 different colors available, as well as 3 topcoats and bases. Each comes in a crystal-shaped bottle and costs 360Yen.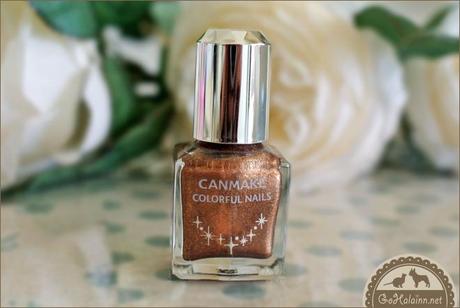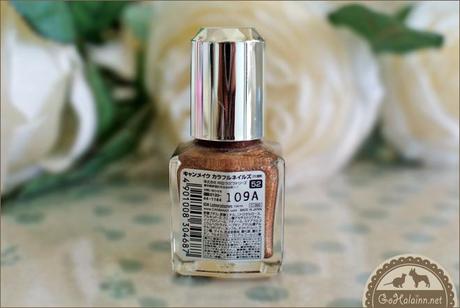 No. 52 Sandy Brown probably got its name from all the tiny different sparkling particles in it, and not from its color, because the brown shade does not look like the one of sand at all, but is instead a rich copper brown. It is supposed to be "a sedate pearly brown that's perfect as an accent to the marine theme. For a sophisticated, fashionable look", according to Canmake.
The bottle is rather small, but I could not find out how much nail polish it actually contains as neither the bottle nor Canmake's official website gives any information on that. Fitting the small size of the bottle the brush is also rather tiny. At first I thought it would make applying the nail color very difficult, but it turned out to work just fine. Canmake claims that it is
2mm longer than conventional nail polish applicators and therefore very easy to use.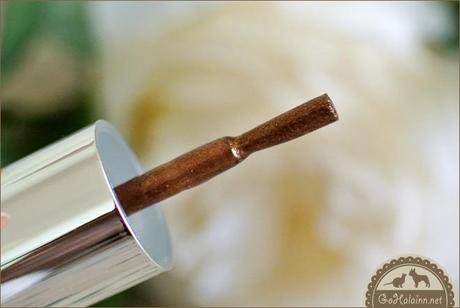 According to Canmake this line "uses a long-lasting base formulation that has superb shine and is easy to apply" and it is also supposed to be quick-drying.
For me the Canmake Colorful Nails turned out to be a surprise because of its really good coverage, compared to other Japanese nail colors. For my very low nail polish standards one layer is completely satisfying to me, if you are more demanding you will probably find two layers to be perfect for an even coverage. The color is also really pretty. Beware, the accurate color is a bit hard to capture on photos, because the pearly shine makes it look a bit different depending from what ankle you look on your nails.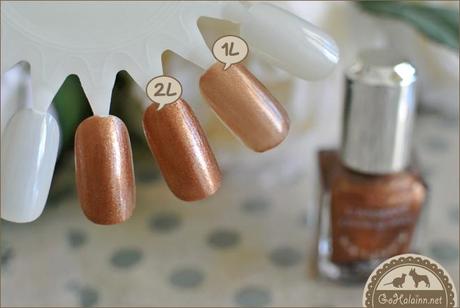 The only thing I could possibly complain about is that the nail color isn't more long-lasting than most other ones I have tried, but since nowadays all nail colors claim to be long-lasting, that was probably to be expected. I think if I ever plan on purchasing more nail colors from Japan, I will stick to the Canmake ones, because so far they are the best ones I have tried.

Affordable price
Beautiful color
Easy to apply
Good coverage

Not "long-lasting", but average
PS: Don't forget about my Giveaway! ;)