Hello everyone!
Today I wanted to share with you all a review of two products from Burt's Bees new sensitive skin line, the Daily Moisturizing Cream and the Facial Cleanser.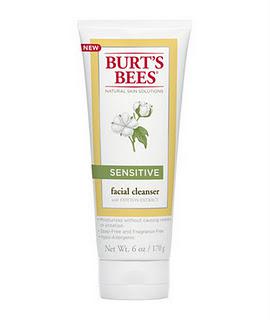 These products were specially designed for people with sensitive skin! They are:
Soap Free
Hypo-allergenic
Allergy-tested
Fragrance Free
Non-Comedogenic
Dermatologist-Tested
99.0% natural
Paraben, Phthalates, and PetroChemicals free
So they pretty much covered the whole shabang. The point is, nothing in these products should irritate even the most sensitive of skin. 
Both also include cotton extract to soften skin :)
So what do I think? Let's get the details!
I'll start with the rather large facial cleanser, coming in with 6 oz of product (170g). Unfortunately, this is not a favorite of mine. While I wanted to love it so badly,  when I wash my face with it, I feel like it leaves a weird residue on my face that makes me feel.. dirtier than it was before. My face feels smooth (must be the cotton), but it doesn't feel clean. :/ 
This was a no go.
With that being said, I do actually really like the moisturizer! It has a delightful little pump, and it's very moisturizing. I don't feel like it makes me particularly oily, and it absorbs into my skin really well. My skin feels smooth and soft :)
This one's a go!
So, while the cleanser wasn't a favorite of mine, it might just work for you. I would definitely recommend the daily moisturizing cream though. 
You can find these products at Target, or anywhere they sell Burt's Bees. They are a tad more on the expensive side, with the moisturizing cream at about $14.99, and the facial cleanser at $9.99. But you do get a decent amount of product, and for all the natural ingredients, I'd say its worth it :)
Let me know if you try these out!
FTC: I received these products from a BzzAgent Campaign. It does not, however, affect my opinion of these products, and my review is 100% honest.