Hello beauties!
Happy Monday! Hope your day is going great. :)
Today, I wanted to do a review of a facial brush that I actually received from Body Essentials. I've been on a quest lately to find a Clarisonic dupe, and a good one at that, so I was super excited to try this one out. And, I have received a couple questions from you guys about facial brushes, Clarisonic dupes, microdermabrasion, etc. It seems they're all the hype lately.
First, let me just add a disclaimer:
*I do not own the Clarisonic, and have never tried one, so I can't tell you how it compares exactly. I can tell you, however, how this brush in particular performed on me. It is my honest opinion, regardless of the fact that it was sent to me.*
With that out of the way, let's take a look!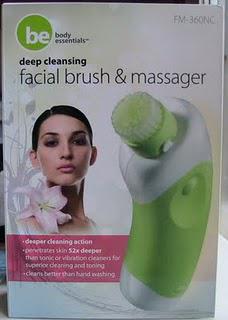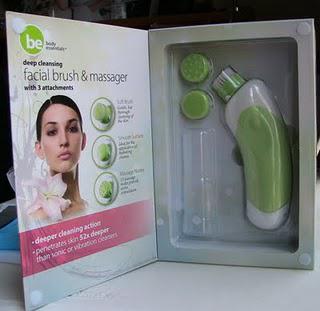 Here's what it comes with: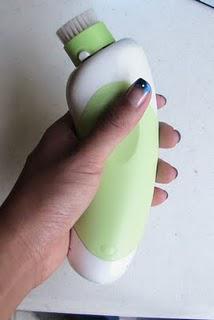 The actual brush, of course, which fits nicely in the hand. It is actually quite a bit heavier than I expected, but still very comfortable.



It also comes with two other heads: a massaging node for extra stimulation, and a smooth surface for applying creams.
It claims to clean 52x deeper than sonic or vibration cleaners, aka the Clarisonic etc.
The first major difference you will see between most facial brushes and this one... is the size of each of the brush heads. Above, I have a quarter pictured, and you can see each of the brush heads is only slightly larger. While most people might find this odd in a facial brush, I actually find this is a great quality of this brush. It allows you to get into the smaller areas of your face - around the nose, chin, and cheek area - really well. I actually prefer this small head to some of the bigger rounder brush heads I've tried.
To just get it out of the way first, I'll talk about the two more minor heads: the massaging and smooth surface. I actually really didn't use these much at all. While the massaging node does do what it claims and massage, I don't find that it particularly makes a huge difference in my skin, and I'm content to put it aside. 
I also tried using the smooth surface one to apply my nighttime facial moisturizer, but I find that it was kindof... unnecessary. I feel like the head concentrated the lotion in one area, and even though I used the same amount of lotion I would have used to cover my entire face with my hands, I would only get maybe one cheek moisturized. By the time I got to my forehead, I would have to add more lotion. It felt like a waste of moisturizer to me. 
With that said, let's move on to the main feature: the actual facial brush.Here's some more up close shots: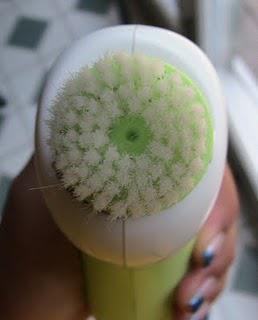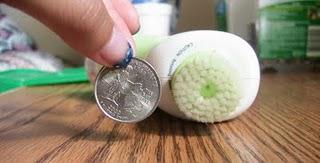 The brush itself is very soft, and I didn't find it to be too rough for my face. 
But another major difference between this brush and most other facial brushes is...the way it moves. While the Clarisonic and other facial brushes just vibrate, in this brush, the brush itself spins while also simultaneously moving in a circle. I can't explain it very well, so I took a video for you guys, so hopefully you guys can see:

It sounds and looks a lot scarier in the video, but it's actually not very loud in person.It has 3 speeds that get progressively faster. I usually just stick to the first speed though.
A little downer for me is the fact that it's powered by 3 AA batteries, and not waterproof, aka you can't take it in the shower with you. But it's a pretty minor complaint.
Okay Belle, now that you've described the whole thing and thrown up a whole bunch of pictures, how well did it actually work?
Personally, I feel like this little tool is fantastic. Although its not quite your run from the mill facial brush like many other Clarisonic dupes and facial brushes, it works really well. I love the small brush, because I used to have some problems with some clogged pores in the area between my cheek and nose, and I feel like this has really helped to get in there and unclog them. And anytime I have dry skin from an acne treatment, I can buff it right off with this guy. It really has helped my skin become smoother. My skin did however, feel a little irritated after a couple days of consecutive usage, so I would recommend maybe using this only at night every other day, or only a couple days a week. 
And, if you want direct scientific proof, here are some studies conducted by the company: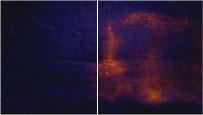 Body Essentials Brush Cleaning vs. Hand Washing
See the difference?
And a comparison between some other facial brushes in terms of vibration: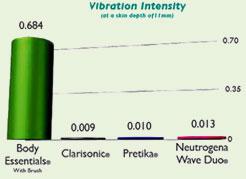 You can buy this for just $49.99 on the Body Essentials website, http://www.bodyessentialsforyou.com/ or http://www.amazon.com/ which is considerably cheaper than the Clarisonic and many other facial brushes. You can also get some more information from the website as well.
Let me know if you have any questions!
Love,Belle




FTC: This product was sent by Body Essentials for review consideration. It does not, however, affect my review or opinion of this product. My review is 100% honest. I did not receive compensation for this review, nor will I ever accept compensation for a review.