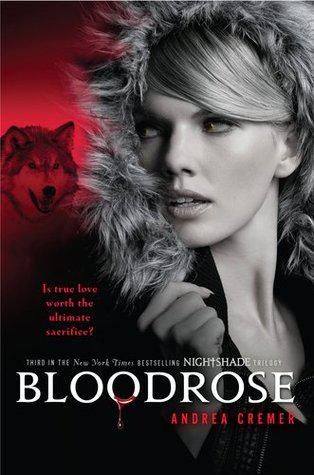 Bloodrose
by Andrea Cremer
Expected Publication Date:
January 3rd, 2012
Publisher:
Philomel
Page Count:
 414
Format:
ARC
Source:
Borrowed
My Rating:





Purchase from Amazon: 
Bloodrose: A Nightshade Novel
The Ultimate Sacrifice.
Calla has always welcomed war. But now that the final battle is upon her, there's more at stake than fighting. There's saving Ren, even if it incurs Shay's wrath. There's keeping Ansel safe, even if he's been branded a traitor. There's proving herself as the pack's alpha, facing unnamable horrors, and ridding the world of the Keepers' magic once and for all. And then there's deciding what to do when the war ends. If Calla makes it out alive, that is.
In the final installment of the Nightshade trilogy, New York Times bestselling author Andrea Cremer creates a novel with twists and turns that will keep you on the edge of your seat until its final pages. A dynamic end to this breathtaking trilogy.
First off, I have to start this review by saying that this book was horrific, heart-breaking, and amazing. The ending was so bittersweet I'm still crying over it. However, I am completely satisfied with the way Cremer decided to end her series. Overall, the story was amazing, exciting, and all of my questions were answered.
The characters were as fabulous as ever. I loved them all, especially the fabulous love triangle between Calla, Ren, and Shay. I love the way Cremer wrote this particular triangle because it's not a girl pining over the perfect guy who loves her back so much it hurts, and then there's some outsider best friend who's also in love with her, but Calla truly doesn't know who she wants to end up with. She's constantly going between both of them, trying to decide, and I feel like that makes things so much more realistic. The side characters are also just as interesting; Adne and Connor are hilarious and adorable, Sabine is as feisty as ever, and Ansel and Bryn are so traumatized but they're still so strong and in love.
Cremer's writing is as amazing as ever. She has this incredible ability to weave an intricate story that makes you feel like you're actually in the pages of the book. When she talks about injuries during battle, I could almost feel myself bleeding and hurting along with the characters. When she writes those gorgeous descriptive paragraphs that set the scene I can smell the trees and the ocean right along with Calla and the others. The story itself was fast paced and exciting as always. The book is over 400 pages and I would end up reading through about 200 without even realizing it. It's basically non-stop action and adventure and I was never bored or wanted to put the book down!
I absolutely love this series, it's an awesome take on werewolves and I love the romance and the suspense that Cremer creates with her writing. While I'm sad that it's over, I really love the way Cremer ended her series. I can't wait to see what she writes next. If you've loved the Nightshade series from the beginning you're definitely going to love Bloodrose!