I'd heard fantastic things about the Rum Kitchen from colleagues at work and some of my friends here in London, and I couldn't wait to try it out. So when Kim and I planned one of our regular dinner catch-ups, we both decided we had to give it a go.
Nestled in Kingly Court, a fab foodie location just off Carnaby, The Rum Kitchen is a cute restaurant giving off Caribbean vibes throughout. With dark wood tables, beach style wooden signs hanging on the walls, and an open bar, it almost makes you feel like you're on holiday.
We settled in at our little table and chose a cocktail each from the happy hour menu – I do love a happy hour, especially in London, as cocktails can be so expensive.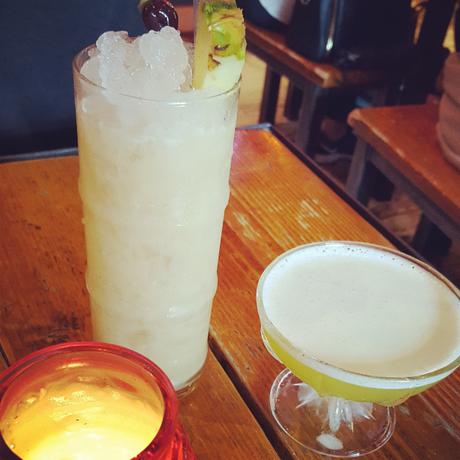 We soon ordered – Kim opting for the Coconut, Cauliflower and Sweet Potato Curry, whilst I finally settled for the Jerk Chicken Bowl – and it wasn't long before the food was delivered to us. Service was really quick and efficient, and the waiter and waitress were both really friendly too!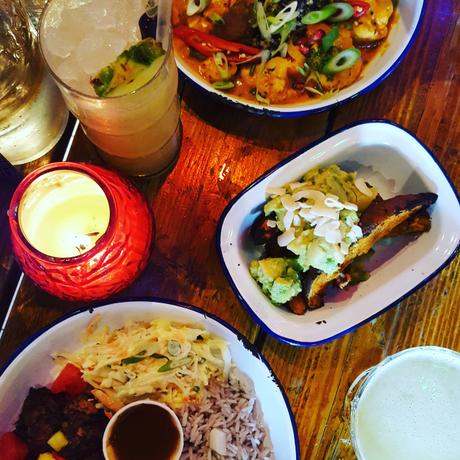 My jerk chicken bowl was served with rice, peas, Caribbean slaw, and a little pot of jerk gravy too. The chicken, boneless, was extremely flavoursome and tender, pulling apart with ease. With a rich jerk seasoning, the chicken wasn't too spicy making it perfect for those who don't like the heat as much as I sometimes do. I'd never had jerk served with watermelon either, but the refreshing fruit went extremely well with the jerk spice – an incredible taste sensation! The rice was the perfect consistency and really fragrant – I do love a Caribbean rice, it's always so much better than rice in other cuisines – and the slaw tasted fresh and crisp. Overall, it's up there with the best jerk dishes I've eaten.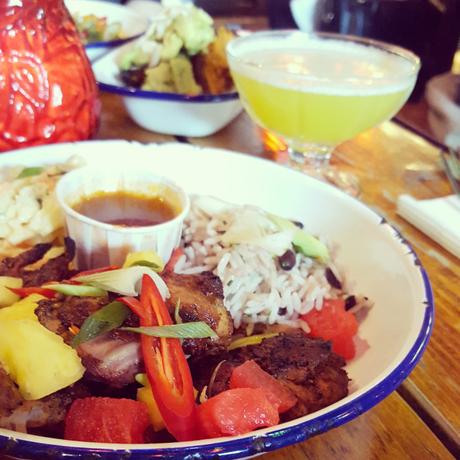 Kim's curry looked incredible. Served with quinoa, pomegranate and roasted nuts, she said the flavor was just delicious. I never would have thought of serving curry with quinoa, but it seemed to go really well together, and if I hadn't opted for Jerk Chicken, this definitely would have been my next choice!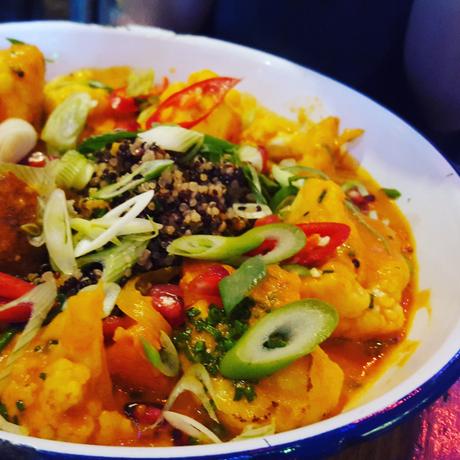 We also both shared a portion of the sweet potato wedges with avocado and coconut, the combination of which was amazing! This is a dish I'm definitely going to be recreating, the mix of avocado and crisp coconut was SO good.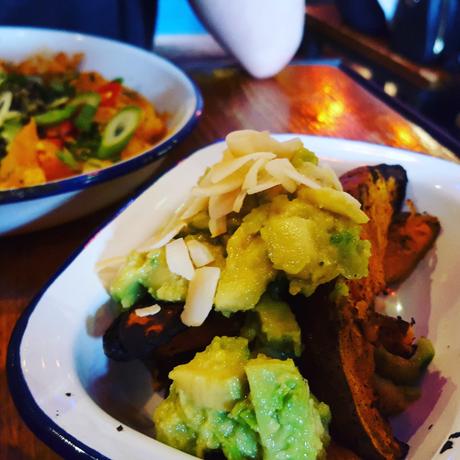 We were too full for dessert, but did stay for another drink. Kim had a cappuccino – I don't know how she wasn't up all night after😛 – and I had a coconut water, which was really refreshing.
Overall, we both really enjoyed our evening catch-up over dinner. The food was absolutely delicious, the drinks were fab, and the service was great.
If you want to try somewhere new for dinner, or if you do enjoy a Caribbean meal, The Rum Kitchen is a must for your to-do list. I would recommend booking a table as it always seems to be really busy – a sign of a great restaurant! They do have a branch in Notting Hill too, so if you're over in West London you're covered too.
Kim and I always look for somewhere new to try out each time we meet for a catch-up. I can't wait to try the next place, I wonder where we'll choose …
Where have you been recently that completely blew you away?
Chloe xx