For our vacation, we spent the week at the Majestic Colonial Resort in Punta Cana, Dominican Republic.  Since they tout themselves as being really family friendly, I figured it'd be a good thing to share my thoughts in case you have been looking for a vacation destination.  Keep in mind that I am reviewing this from the view of someone who DIDN'T upgrade to the Colonial Club, which was adult only.
Location
The resort is located in Arena Gorda (Playa Bavaro) next to Macao and 30kms away from Punta Cana International Airport.  It is attached to the Majestic Elegance Resort as well, but does not have cross-usage privileges.  The resort is All-Inclusive.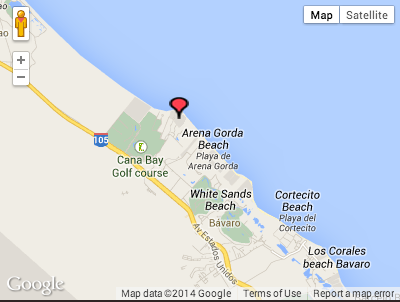 Room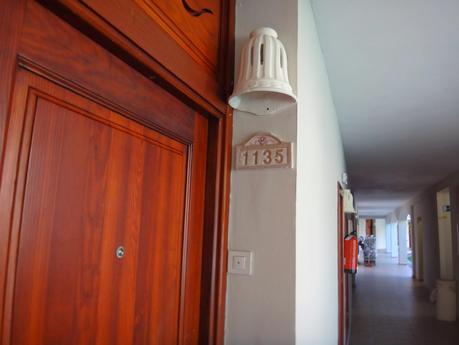 Our room was a good size.  We had two double beds, a single bed and a sofa, plus the television and desk.  The television was mostly in Spanish, but English channels could be found if you looked hard enough.  The girlies were happy to just watch Spanish cartoons on Disney Junior.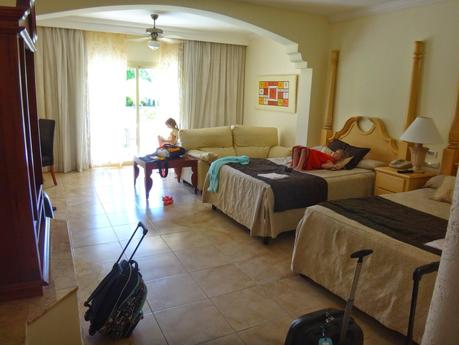 The bathrooms were odd.  The sinks and jacuzzi tub were out in the open and the toilet and shower were behind frosted glass doors.  The toilet cubby was teeny and claustrophobic to me.  And not very private since if someone was seated, you could almost see everything through the door.  I was glad I brought air freshener, as well.  Just saying.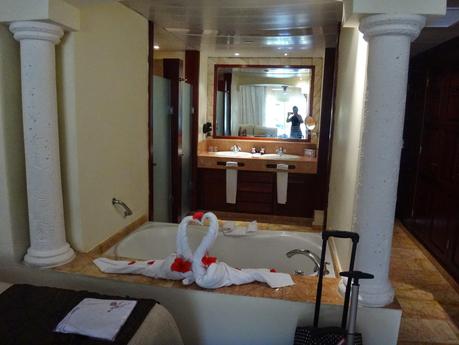 We were on the ground floor in a Gardenview room.   We had a small terrace and almost a "yard" between two hibiscus hedges.  There was no drying rack or line in our room or terrace.  This made drying laundry and swimsuits somewhat of a challenge.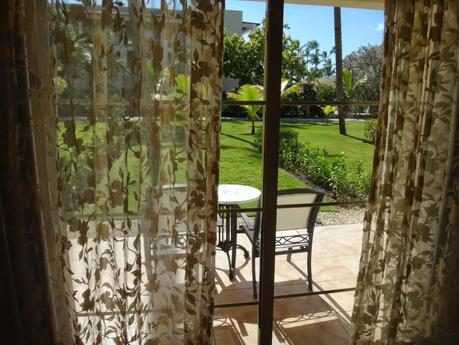 Our room was basic and seemed to be the norm - even for those in our group who had upgraded to the colonial club.   I did have a chance to tour one of the upgraded rooms, since my cousin (the bride) had been seriously upgraded on check in to the presidential suite.   That had a living room, dining room, bedroom and a solid door for the bathroom...and a terrace that was easily the size of my yard back home (and I live on a fifth of an acre).  It was impressive, though perhaps excessive for a week in paradise.
Public Spaces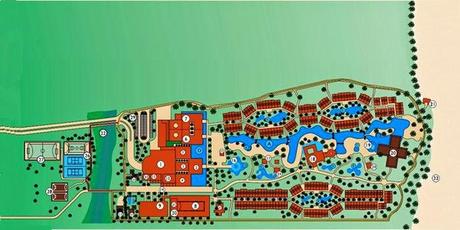 The resort was very clean in the public spaces.  There was a constant presence of gardeners tidying up and pruning things.   There were fountains and palm trees everywhere and hibiscus and other flowering shrubs lined all of the walkways.  If I had to hazard a guess, the property was about a kilometer long so it was a HUGE amount of walking.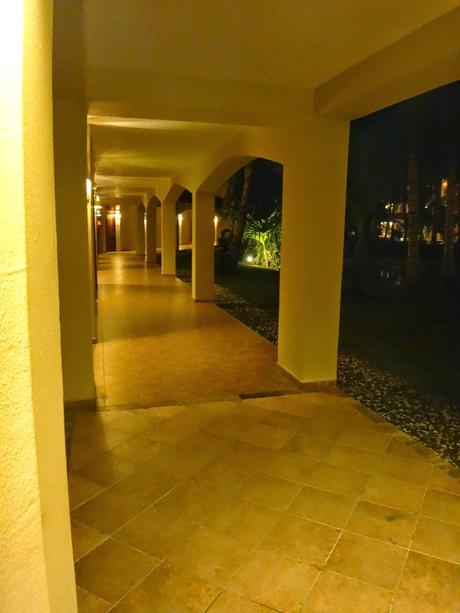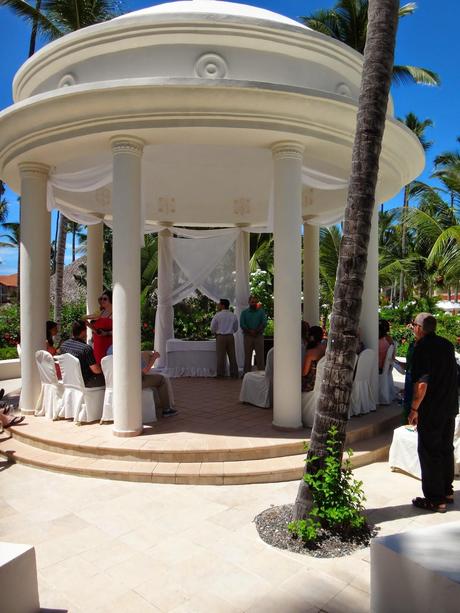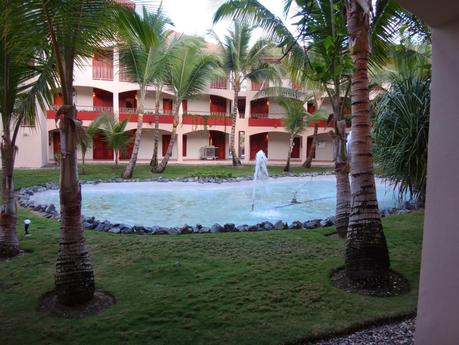 The pathways throughout are not restricted to walkers.   And they are not well-lit at night.   We didn't realize this as we walked home one night and the girlies were ahead of us and suddenly a truck came barreling toward them at "not walker friendly" speeds.  We literally got the girls out of the way JUST in time.  In fact, Buggie's shoes got run over when she lost them as she bolted out of the way.  I would recommend bringing a flashlight (or four).
Beach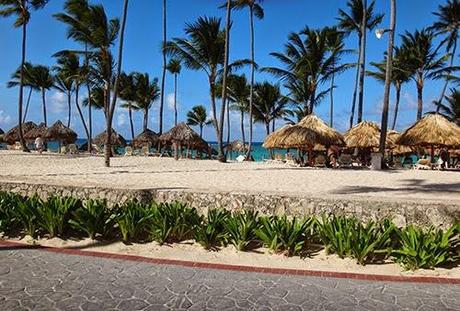 The beach is AMAZING.  Gorgeous, super clean, sand like powder under your toes.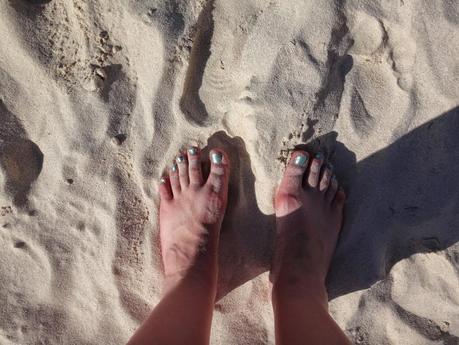 NO SEASHELLS!  None. Zip. Zero. Nada.  If you want a shell, there are guys selling large ones on the beach in the morning.
The resort beach has two sections - one adults only and one family friendly.  They are divided by the beach wedding pavilion.  There is security on site to enforce this, as we found out when we tried to hang out with my family one day.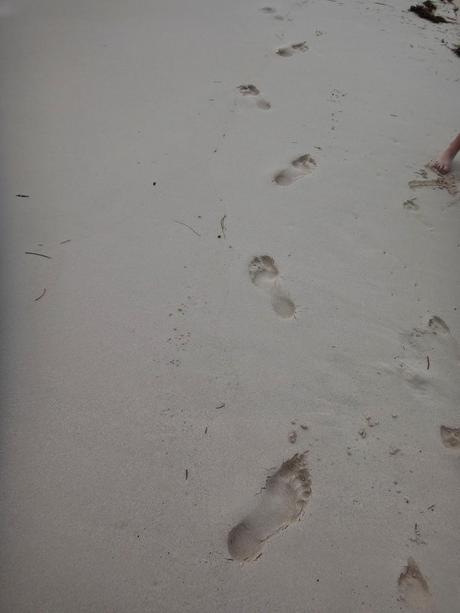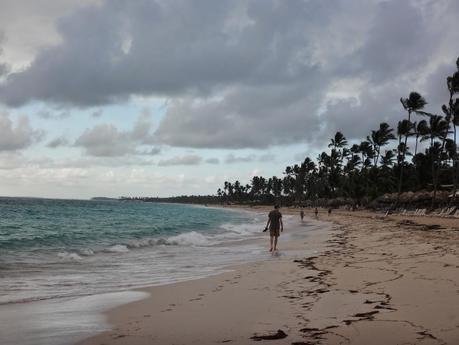 The water was lovely and clear.  There were reefs within the swimming area where you could watch the fish swim around the coral.  For the most part, it was pretty calm - calm enough for us to let the girlies swim in there with us.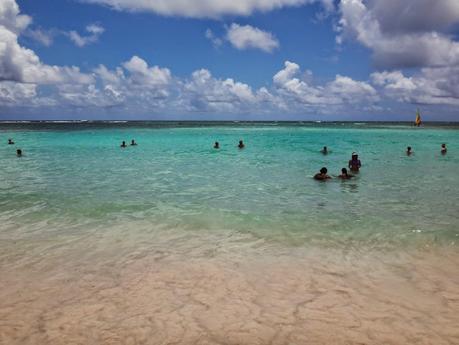 There were plenty of watersport options, though we didn't end up using any of them.  Catamarans and Windsurfing was available...and the upsell for tubing or banana boat rides was quite strong.
There are vendors that troll the beach selling sunglasses or jewelry or offering to braid your hair or to do a henna tattoo.  I didn't find them to be as aggressive as the vendors on the actual resort and they would move on as soon as you lacked interest in what they were offering.
Pool
The pool is amazing.  Longest in Punta Cana at nearly 400m long.  The deck is dotted with loungers and palapas so shade is always to be found...and because of the size and shape of the pool, we nearly always had a section of it to ourselves to splash and noisemake at will.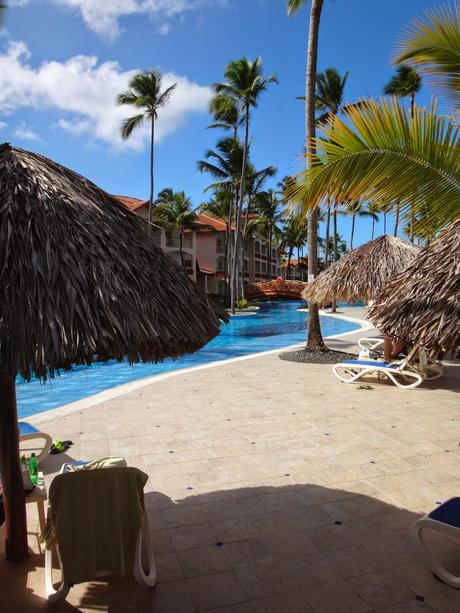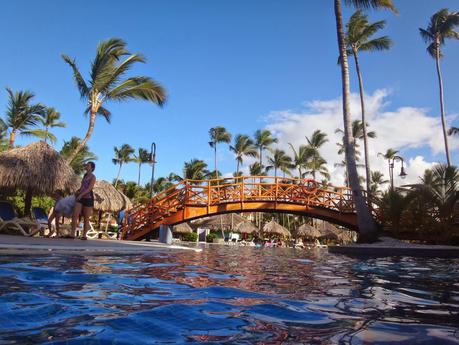 The towel shack is located in a green palapa-roofed building by the pool.   The hours that are posted are meaningless, as it routinely closed at least a half hour early everyday.
Food
The food was pretty standard fare for an All-Inclusive.  Coming from a vegetarian point of view - there wasn't much there except side dishes.  There was a custom omelet bar at breakfast and custom pasta stations for lunch and dinner.    Most of the other restaurants didn't appear to have veg options and we found the buffet at the beach to be rather gross.  The main buffet was nice in that it was inside, air conditioned and didn't have birds flying at us like we'd experienced at previous resorts.  The meat eaters in the group said the food was fine for them, but that it all started to taste rather blah by half way through the week.  Pretty much everything meat-wise was also apparently overcooked.
We didn't really drink much while we were there so I can't comment much on the drinks.  On the other hand, we did make full use of the specialty coffees.   It was lovely to be able to order a cappuccino with breakfast, though I suspect that the machines that made them were automated, rather than barista operated.
The water at this resort were non-potable, but bottled water was readily available at any of the bars.  Each room had a drinks fridge which was stocked with water, pop and beer.  The rooms also came with a bottle of "champagne".
On beach party night, the main buffet was closed and we were pretty much forced to attend the beach party, which had mediocre food at best.
Activities
We did not really partake in any of the activities.  The evening programs didn't start until 10pm and, by that time, we were usually sound asleep (we are such partiers!)
There was a big activities board up near the lobby that detailed what was happening each day and there seemed to be no shortage of things to do.  I'm not sure how people had time to attend anything since it felt like we spent our days walking the length of the resort.
There were also things like a Beach Party night where everyone got to eat with sand in their food..er, I mean, eat on the beach.   These were the only staff pictures I got the entire stay...these women at beach party night wanted to keep the twins.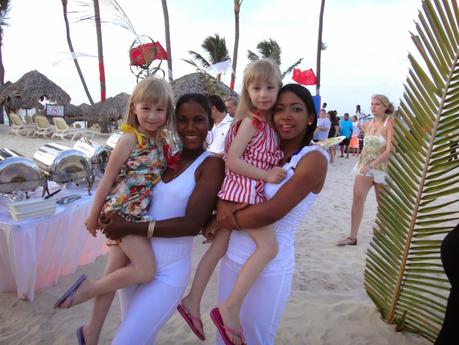 Also at Beach Party night were the fire dancers - they were incredible but I totally failed to get a photo of them.
They had contests during the day like a "Bikini Contest" or a "Mister Sexy Contest" and there would be large banners announcing them.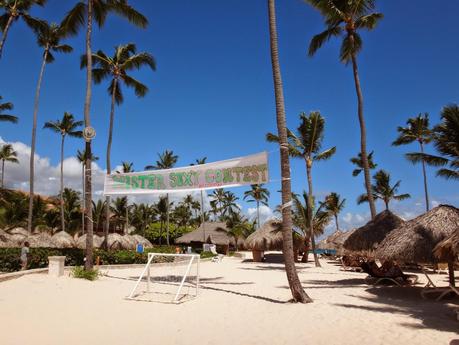 There is also a foam party in the main pool on one of the days.  We avoided THAT like the plague.
Kid's Club
The Kid's club is shared between the Colonial and Elegance resorts.  It is pretty big, with two kids pools, waterslides, an outdoor maze, a beach-like area and indoor playrooms.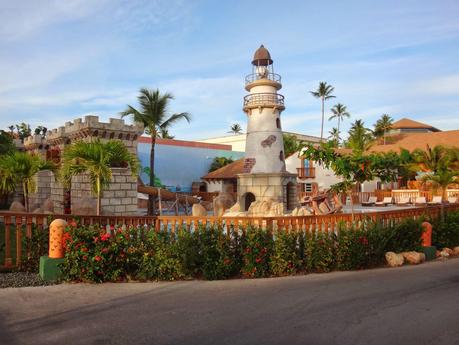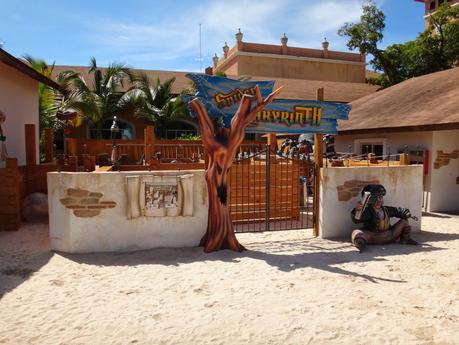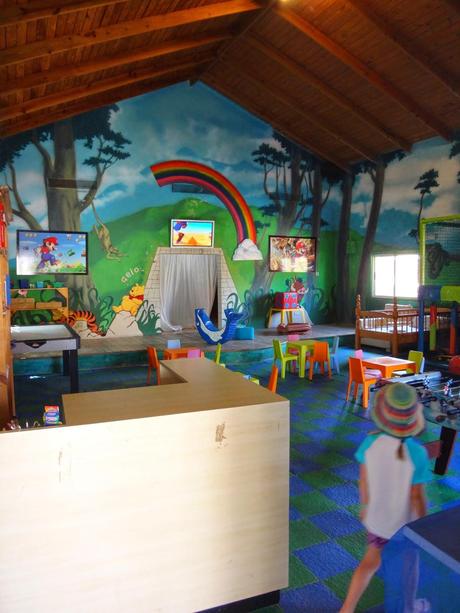 There is not much shade around the pools, but there are loungers for if families want to play in the pools together.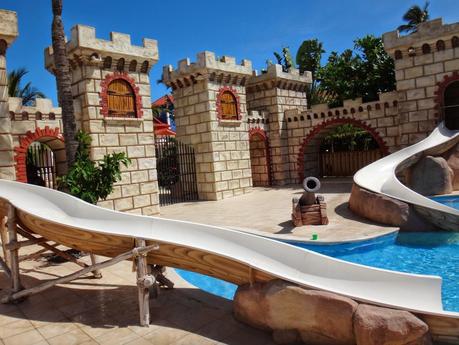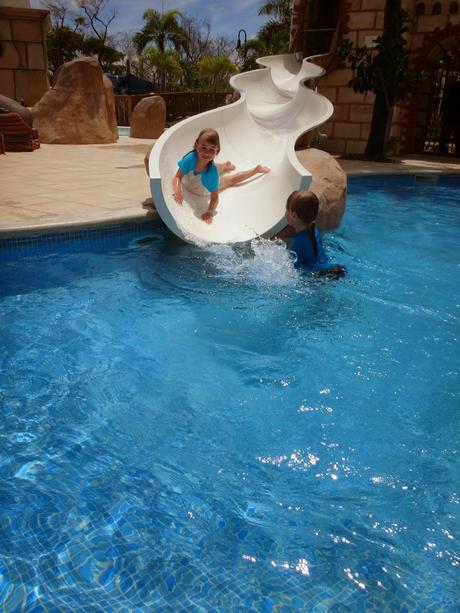 You can drop your kids off between 9:30 and 5:30 and they will care for them.   While we were here, either not many people were there with kids or nobody was taking advantage of the free childcare.  Ours seemed to be the only kids checked in on both of the mornings we used them.
Our only previous experience with kids clubs was in Cancun and at that resort, they gave you a pager in case you were needed.  This resort simply asks you to say where you will be.  It was not reassuring nor convenient as it really limited what we could do while we were kid-free.
The girlies both loved the kids club here, despite the lack of other children present.  We felt they were safe there, but I don't think I would have left them for a full day.  Diligence did not appear to be strong in the staff.  They did do some crafts with the girlies but otherwise seemed pretty hands-off.  Apparently, they also do activities like Spanish lessons for the kids, but we missed those on both days.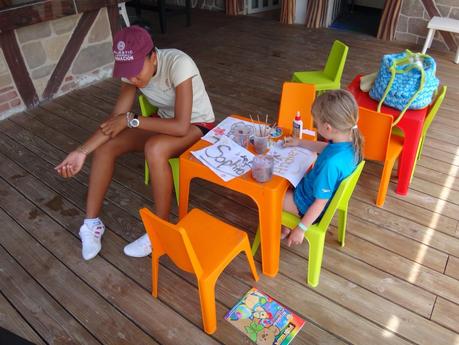 It was good for a short break on those two days, but I am not sure I would have left them everyday or for a full day.
The club also has kids programming in the evenings, like movies, fashion shows, singing etc, in case the parents need a break after dinner.  We saw a few more families take advantage of that.
Amenities
The resort is all-inclusive, meaning your meals and activities are all taken care of.  Do not take this to mean tipping is optional.   The American dollar is universally accepted.   They will automatically convert the price for you.  It WILL NOT be at the current exchange rate.
There are plenty of shops to buy souvenirs, sunscreen etc.  There is a physician and pharmacy onsite that are not run by the resort so you can expect non-partisan care in both.   Sunscreen was $35 USD for one spray bottle.   Prices are VERY HIGH in the resort-run shops.  A couple of the stores had prices in Dominican Pesos and the rest were in USD.  I did a conversion on the iPad to see how much something in DP actually was and when I asked a store clerk - she quoted me a price at double that.  It was a huge part of why we didn't buy anything there.
Thursday night is Market Night and they set up a night market with several vendors selling jewelry and artisan wares.   The vendors are all from the same company and are VERY aggressive.
WIFI is available everywhere on the resort and is free - you just need to log in every time you want to use it.  We found it fairly reliable, if a bit slow at times.
There is a nightclub there that is shared between the two resorts.  I learned there that I am too old for night clubs anymore...and that smoking is still permitted indoors in the Dominican.  Felt just like I was 18 all over again.
Accessibility
This was the first time at a resort where accessibility played a real role for me.  I am seriously trying to heal my stress fracture so I was happy that the resort took that seriously and gave us a ground floor room to minimize my needing to climb stairs for the week.  It was funny when one morning, Buggie sat up in bed and announced that there are no stairs in Punta Cana.  That told me we had met our goal!
There were elevators in each building as well as in the lobby so I was able to minimize the number of stairs I had to take.   The pathways and hallways were fairly wide and easy to maneuver - especially when the housekeeping and maintenance carts would obscure the way.
There were always ramps or elevators available if there were stairs into anywhere and all of the washrooms included handicap facilities.
I would say that this is a very accessible resort.  The showers in the rooms even had a seat and a second showerhead that was handheld.  My only concern might be the wheelchair accessibility of the toilet cubbies in the rooms as they were quite small.
Staff
I am going to try to be delicate here.  The staff at this resort were absolutely terrible.  The jury s still out with me on whether this was a cultural difference or a staff indifference.  We spent A LOT of money on tipping everyone and, unlike similar trips we made to Mexico in the past, the hands were always out but the smiles and improved service were not.  No one made any effort to joke around with us or even to learn the names of the twins.   We found that they would provide us with the service, but often it was quite rude - even when we were making an effort to speak Spanish and to obviously be making an effort to teach the words to the girlies.
At the pool bar, I had a great deal of trouble even getting the staff to talk to me, let alone take my order.
Housekeeping did visit daily, but had questionable cleaning ability.  I'm not sure our tub actually got cleaned at all while we were there.  The day we tipped the cleaners $10, they took away our robes and didn't leave us face cloths.  Ask me if I tipped them again.
Weather and Wildlife
Our visit was in the last week of May, so this is based on then.  The heat here is INTENSE.  We were totally unprepared for how strong the sun is.   It was probably around 30C everyday we were there.  There were a couple of days where there were sunshowers and all I noticed was just a general increase in humidity when they happened.  One night there was a HUGE downpour that lasted several hours.   It was warm enough in the evenings to go without a jacket.
Tip: go nowhere without your flip flops...One day I tried to quickly run back to our room and burnt the bottoms of my feet pretty bad on the pathway.  Respect the strength of the sun.
After being to resorts in Mexico, I was expecting more in the way of wildlife.  Honestly, though - the birds hanging out at the outdoor buffet were the same stinky starlings that hang out in my yard in Langdon.  There were other birds as well, but few came close enough to take photos of...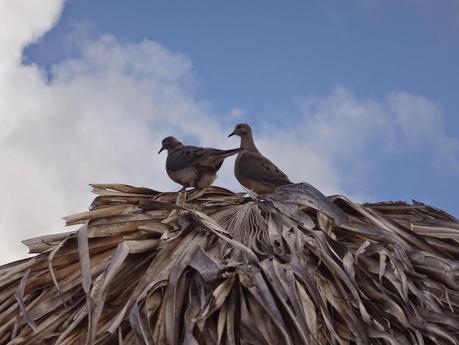 We saw three feral resort cats which I am crediting with the lack of lizards.  I managed to catch a couple of them.  They were friendly enough, though only the range guy would allow us to pet him.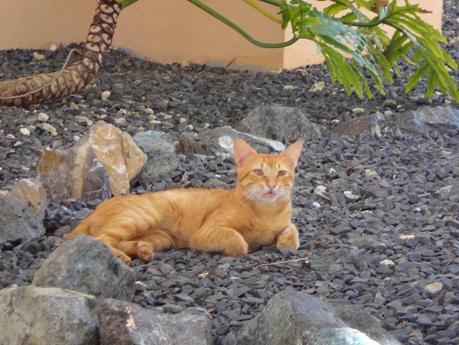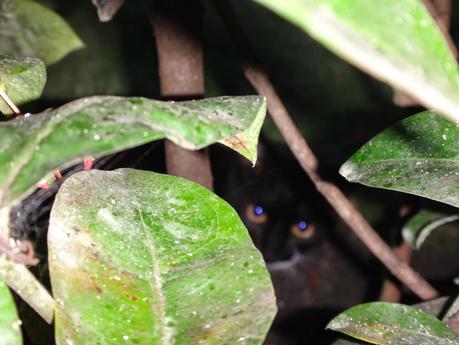 We only saw one teeny gecko for a fraction of a second one evening.   There was also a little crab that lived in a hole he had dug in one of the gardens.  My daughters nicknamed him Dig Dig and he would come out when it was a bit cooler in the day.
Other than that - the resort does have several parrots that the photo shop takes around to entice people to have photo ops with...these live in a giant cage beside the kids club and you can visit them anytime.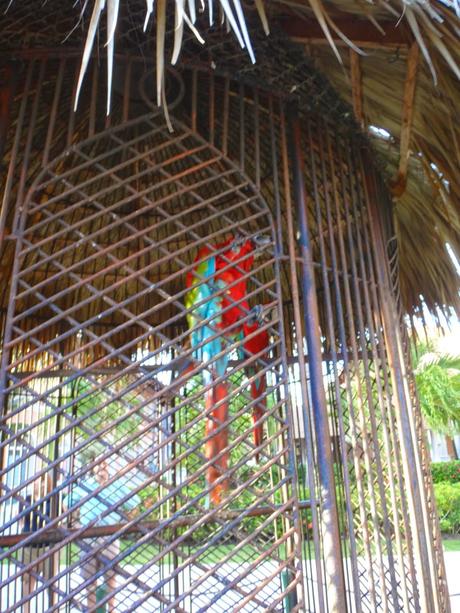 or - you can look for the photographers...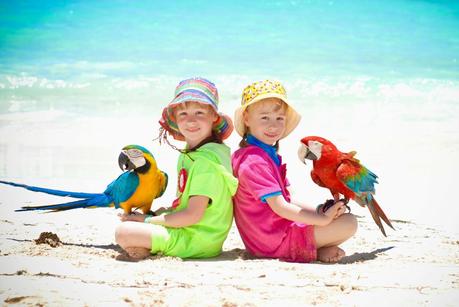 The photographers also had a large iguana they were carrying around on one of the days, but I avoided it.  Large lizards creep me out.
and then there was also a coral reef within the swimming area where, if you had a snorkel and mask (or underwater camera), you could watch the fishes dart around.  Random shot of the coral.  We have a video that shows the fishies but I haven't had a chance to process it yet.


Not really related to weather or wildlife, I should also mention that we did experience a minor Earthquake during our stay.   5.8 on the Richter scale and lasted about 5-10 seconds.
Special Requests
When we found out that my leg was still fractured a week before the trip, I put in a very swift request for a ground floor room, which was totally granted when we arrived.   
When we informed the front desk about the girlie's birthdays - they arranged a cake and door banner and balloons for the occasion.  We did have to pay $18 USD for the cake but it was worth it because they customized it with their names.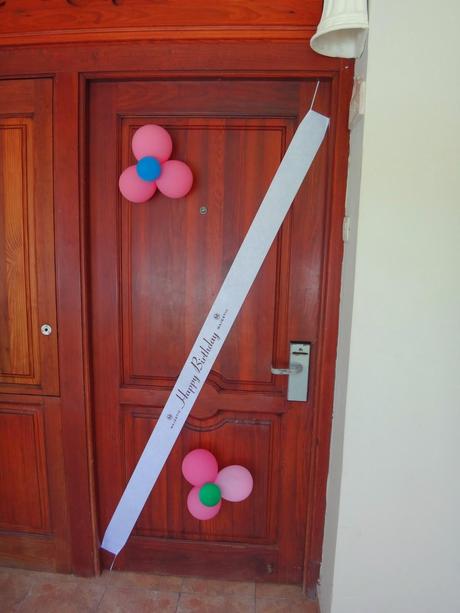 Change could easily be made at the front desk, but I was taken quite aback when the staffer handed it to me and then said "Now, don't forget about me" as he handed me a stack of $1 bills.
Also - we found that calling in a request was pointless.  We called for bottled water and for face cloths and neither request was fulfilled.  In fact - my father ended up getting us extra bottles of water from the adult only lounge one day because we just couldn't seem to get our fridge stocked when we requested it and the bar staff was visibly getting tired of me asking for "Quatro agua, por favor".
I believe anything would be possible for the right price.   They also offered things like romantic dinners on the beach, which sound lovely in principle, but when you'd get down tot he beach and see the setup - it would look rather assembly line as they would be all lined up.  This would be the setup - but there would be 8 of them in close sequence.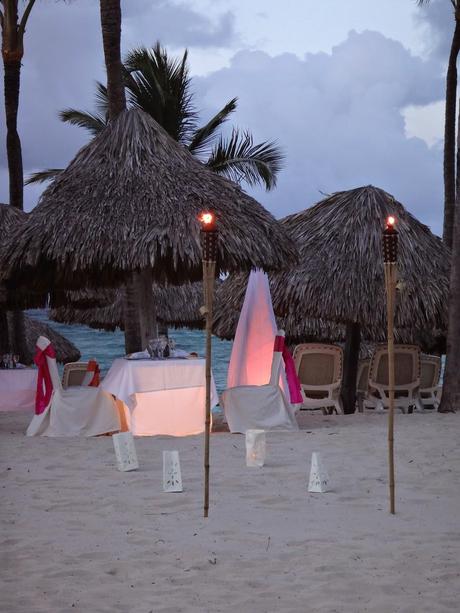 Would we return?
Ah, the million dollar question.  The Dominican Republic was BEAUTIFUL.  Getting off the plane, you could immediately tell that it smelled better than Mexico.  We didn't leave the resort the entire week because we knew in advance that it is not a particularly safe place to go wandering.  On the bus to and from the airport, I couldn't help but notice the extreme poverty and excessive garbage that this little island has.
I want to say that the Dominican was not really for us.   While we loved much that the resort had to offer - the attitude of the staff REALLY coloured our opinions on the place.  It was also very much like a resort that wanted to be adults only and grudgingly kept half of it open for the scourge of humanity - families.   THAT could also have been how we felt about it since everyone we were traveling WAS adults only so we got to see what we were missing out on in every conversation.
My dad and uncle went to the Hard Rock Casino down the road and they both reported back that the staff attitude didn't seem to be present over there, so perhaps it was just on or resort.
Regardless, I'd have to say we won't be going back.  It was lovely to stay there once, but I could never see us taking on another visit.  It is funny to say that, because they are quite obviously drawing repeat customers, given the number of "Welcome Back" banners we saw on the doors.