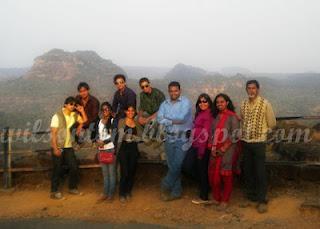 2011 was a wonderful year to me as well as my friends, because we spent a lot of memorable time with each other. While completing our P.G Tourism from Sri Venkateswara College we had lots of fun. Best part of this academic year was our trip to Pachmarhi. This beautiful hill station is located at Madhya Pradesh (India). Pachmarhi is the only hill station of Madhya Pradesh. Pachmarhi situated on a large plateau ringed by hills on the evergreen central Satpura ranges, is known as the Queen of Satpura for its spectacular beauty. The hill station at a height 3550 ft. is located in Hoshangabad district, Madhya Pradesh. The place is surrounded by low lying rugged hills, ravines, beautiful forests, 12 breathtaking waterfalls, serene pools and quiet glades.
The saucer shaped valley of Pachmarhi, was discovered by Captain James Forsyth of the Bengal Lancers in 1857, and was developed as a sanatorium for the British troops. Dense forests and its inaccessibility for normal person had made it a safe place for hideout for freedom fighters like Rani Jhansi, Tatya Topa etc. Presence of 5 ancient caves had made it famous with the name of Pachmarhi where "Panch" means five and"Marhi" means caves. Its scenic beauty and climate had made it popular among Britishers during pre-independence era in summer season. The valley with it's 'not too cold but pleasant weather' served as the summer capital of the central provinces during the British regime. The Victorian churches, bungalows and cemeteries left behind bring back remnants of the colonial past.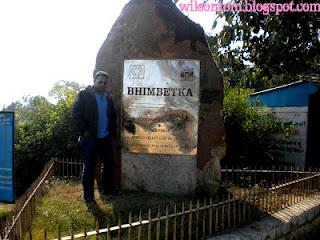 Feb-12-2011 we were off to Madhya Pradesh, before we left to board our train we didn't realize that our trip may be that much exiting one which I still remember. If anyone asks us that which was your most memorable part of your college life, I bet that all will say the trip to Pachmarhi! Our train Bhopal Express Train No: 5432 was at 8: 00 pm and for that first Shanky reached my house by around 5:00 and we went to buy some snacks and stuff for our trip. As per plan Booze arrangements were to be done by Vikram, Sandeep & Shakeb. They arrived at my house and we all had a small shot of Vodka before going to station. After that all of us went to Hazarat Nizamudin railway station where rest of our mates was waiting. Raveena, Bhavana, Manisha and Aswathy along with her family were waiting for us in entry gate itself. After we reached we all went to platform No: 5, were our train supposed to come. As we were waiting for the arrival of our train our sir Mr. Alok Srivastava, who was accompanying us came and hand over our tickets and give some instructions but the all instructions were simply waste as none of us were in a condition to obey rules. We were so excited that while travelling, our co-passengers were simply tired of us and wanted to get rid of us as soon as possible.
By around 8:00 our train reached and we got into it and we all were waiting for it to move. Raveena was much excited about this trip because she was traveling by train for the first time, Aswathy's father and sister were there to send off her. Suddenly the train started moving after all the ta!ta! Bye-bye was done. We all became free from our daily busy studying environment and finally our trip started. I would say that it was our Sir's bad luck that he booked his berth in AC compartment and ours in sleeper, and so he missed all the fun we had. Soon after ticket checker came and checked our tickets Shanky opened the bottle of Magic Moments and soon the magic started. We started sharing our jokes and thoughts and all were in full swing. For the first time we got an opportunity to watch train yoga which was presented by Shakeb. And for that whole night Shakeb was meditating on his berth, but for what and why he was meditating is still a mystery to us as well as to him. Our talks and laugh become nuisance to other as it was late around 3 O'clock we decided to take a break.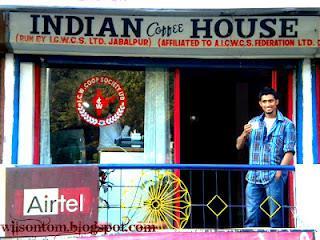 Early morning at 6 O' clock we reached Bhopal. Our trip was arranged by a tour operator of Junoon Travels, Mr. Tamatar(tomato), who was waiting for us at the platform. He welcomed us with bocce of rose and he explained us about the itinerary and gave little introduction about Madya Pradesh. After getting fresh we get into the Tavera. For local sightseeing and transfers an Indica and a Tavera was arranged. Our driver, Panditji was really a nice guy. In Bhopal's Indian Coffee House we had our breakfast. After having our breakfast we went to our first destination which was enroute Pachmarhi, an historical place called Bhimbetka. It took around 1 and a half hour from Bhopal to reach bhimbetka. Before reaching over there, there was a railway crossing and as the Fatak was closed we had to wait for around 10 mins there and we explored the beautiful scenery of that place which was amazing with green farm land.
At Bhimbetka we saw lots of rock shelters which were occupied by the early man, and life depicted in paintings. The Bhimbetaka Rock Shelters are a credible source of information about the pre-historic life of Indian civilization. These paintings boasts of the societal life of the people lived in that era. Mr. Tamatar explained everything so nicely and these rock shelters are included in the prestigious world heritage site lists of the UNESCO. The entire area is covered by substantial vegetation, has copious natural resources, natural shelters, with perennial water supplies. Bimbetka Rock shelters are classified as Lakha Juar group and Bhimbetka group, which depict an incessant progression of Stone Age cultures. These shelters are acclaimed as the oldest stone floors and wall in the entire world itself. The outstanding feature of this rock shelters are its downy nature with implausible contour, stunning tinges and feels.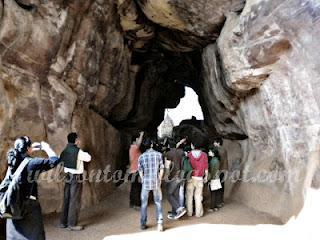 The rock shelters and caves of Bhimbetka have a number of interesting paintings which depict the lives and times of the people who lived in the caves. We saw the lovely paintings and sculptures there and all of them depicted dancing, hunting, horse riding, animal fighting and many household scenes. It was nice to see the disguises and the honey collection, and also the decoration of bodies. Then there were animals like the wild boars, tigers, bison, elephants, lions, dogs, antelopes, crocodiles and lizards that were depicted. There were many symbols which pertained to popular rituals. We took lots of Pics and we spend around 2:30 hours in Bhimbetka and we left to Pachmarhi. Pachmarhi was around 160 kms away from Bhimbetka, we had our lunch in a restaurant at Piparia.
Our rooms were booked in Pachmarhi, at a hotel named Misty Meadows. We reached the hotel around 4 O' clock and we all get fresh and went to explore the market and surroundings of Pachmarhi city and also we went to Pachmarhi Lake. After having some fun and click shots over there we came back to our room and had our dinner. Then in our room we were having some chit chats and that night's show stopper was the classic Teachers, which rocked the party with just 3 pegs(for some it was never-ending). We all started shouting and made the ambiance so energetic, our main motive was to make the night most memorable but it not only became memorable to us but also to the couples who were enjoying their honeymoon turned to a hell just staying next to our room. And we were advised from the hotel staff to be silent as others were complaining. And as all were tiered we decided to sleep. The main part of this night was that we all get to know each other well.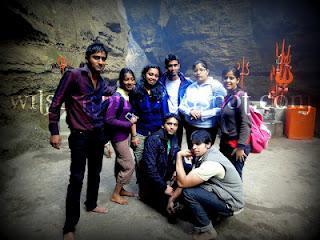 Early morning we woke up out of bed and all were so excited to visit and crawl down the caves. We all get fresh up and get ready for the day, as it was decided that we will be having our bath in the waterfall so we had our breakfast fast. In breakfast we had aloo paratha with curd and pickle and having cup of tea we rush to our tavera and we went to Jatashankar temple. Jatasankar is a sacred cave under a mass of loose boulders situated 1.5 km from the bus stand in Pachmarhi town. As it is not possible to drive over there we have to walk and explore the temple by foot only. The temple was located at around 100 Ft down and we has to get down by stairs, Bhavana and Alok sir was not interested in visiting Jata Shankar infact Bhavna was feared of heights, so they were waiting above and the rest of us went down into the temple. The 'samadhistha Shiva' under a natural formation that resembles the hood of a giant serpent in the cool dark cave is a place of abiding sanctity and the striking rock faces is a wonder of nature. The name 'Jatasankar' itself is derived from a rock formation resembling the matted locks of Lord Shiva. The cool waters of Jambu Dwip stream take its source from this cave. The overcastting little rocks, many of them hanging precariously between the huge walls of rock cutting changes color from green to golden yellow when light reflects on them. The place has a serenity about it which could attract tourists. On the way to JataShankar, there is a temple of lord Hanuman, in which the idol has been carved out of a piece of rock. While coming back you will find lots of vendors selling ayurvedic medicines and honey which are famous of Pachmarhi, this are made by the tribes of nearby forest of Satpura ranges.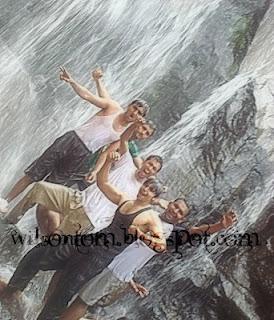 After this we went to visit Bee Fall, the best destination as well as most awaited place of the trip. Bee fall was really awesome, Situated only 3 km from the town, Bee fall is a sensational water fall in the stream which provides drinking water to Pachmarhi, as our tavera was not allowed to go after certain point so we got there by a Jeep. By that open jeep we explored not only a glimpse of the fall from above, but also the beautiful scenery as well. The bathing pools here are very popular. There is half a kilometer pathway down to the fall. We all get down through the path and get into the pool. The water falling from the top is so chilled that when it touches the body it feels like a bee-sting, that the reason why it named as bee fall. It was really great fun in the pool, and as the water was so cold that one can't stay long inside the pool. After the Great Bath we were getting ready go back to our room, after that we left to our hotel and we had our lunch after that we went to see the sunset point at Dhoopgarh.
On the way to Dhoopgarh we go to explore a cave Bhrant Neer which was also known as Dorothy deep. This cave is depicting of animal paintings. At the time of excavation in 1930s, many microlith and pottery shards are found. The cave was similar to Bhimbetka. As it was said that we have to trek as well as crawl and all Bhavna stayed in the car itself, but we went. Here Shakeb lost his Ray Ban aviator and he became tensed. There was no lights in the cave so it was very difficult to find, even though we started searching for his glass and at last Sandeep found it but he didn't gave it to him. We started playing prank with him and at last he began to cry then he gave him back his glasses.
After playing prank we left to the sunset point at Dhoopgarh which was the highest point in Pachmarhi.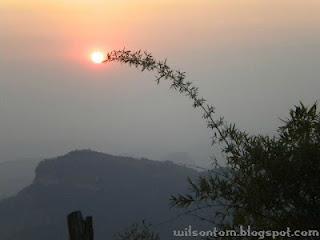 Earlier it was called as Harvatsa Kot. Here people came to enjoy the view of sunrise and sunset from this point. Nobody missed the chance to be in dialog with the sun god, when it is innocently cool. Dhoopgarh is 4429 feet above the mean sea level. Once you are stop you desire to stay there forever. To see the sun rising and setting is unique experience beyond verbal expression. From the top we get explore full landscape of pachmarhi. There is a museum which was a hub of detailed information about pachmarhi with wonderful photographs of each surrounding destinations. The sunset was really astonishing and we had taken lots of photographs as the scenic beauty was really wonderful. Here we got an opportunity to see sunset in different phase as we got to see sun setting for 4 times, (a geographical phenomena).
After sunset we were going back to our hotel and Alok Sir was sitting in front of the jeep and we were having some chit chat. When shanky lighted his cigarette spark fall at Alok sir's trouser and he got really panic at that moment, and which made all of us laugh for a while. When we reached hotel, Alok sir announced that he is going to organize a gala night for us. We were surprised as well as exited by hearing that news. We had some fun in the garden by riding cycles and swinging and all. After having fun in the garden all get ready for the party. We reached at the party Alok sir was at his full mood. Alok sir had made all the arrangements for the party.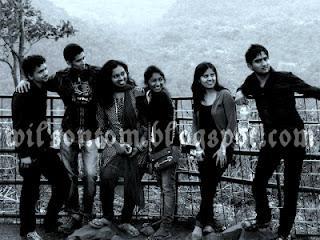 There was bon-fire with chairs surrounded by it, Dj was playing there was snacks and beverage stall and started the party with a cheers. All started dancing and the ambiance was really energetic, all were coming in their mood. Alok sir started making drinks for us and our driver panditji also joined the party as he didn't drink but danced and enjoyed the night. There was a special dance by shakeb being topless. Our party came to end when vikram started vomiting. He was flat, I took him to the washroom and simply put him into the bathtub. He was sleeping there for around 1 hour and by that all abounded the party and came back to the room. Bhavna also got crazy after her 2 shots of vodka; she started telling her emotional story and started being flirting. Somehow we made her sleep and all of us also went to sleep.
After a hangover we woke little late by around 10'O clock and all of us got fresh up and we packed up our luggage as it was our last day in Pachmarhi. After having our breakfast we went to visit Handi Khoh , it's An imposing canyon with a 300 feet high crag amidst a dense forest, Handi Khoh in Panchmarhi is endowed with marvelous scenery. The clinging rock face of this gulch is a haven of large beehives. Bounded by a deep woody forest, this lovely place is closely associated with Lord Shiva. The popular belief is that Handi Khoh was a lake earlier. An evil snake, which actually was a demon, was guarding the lake. Lord Shiva killed the snake and the fury of the divine battle dried up the water in the lake and the empty space assumed the shape of a handi (pot). The locals used to call it Andhi Kho that later took its present name. A magnificent ravine, Handi Khoh is a recommended place for those who love to be in a lonely place, where one could hear only the buzz of gushing water. Here there was a game stall in which we have to aim on a bottle with gullel, and only Alok sir won that competition.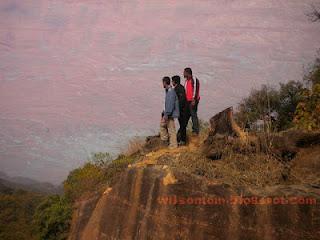 Priyadarshini point, formerly known as Forsyth point, named after Captain James Forsyth of the Bengal Lancers who discovered the valley in 1857, from this point. The view from this point is spectacular especially at sunset, when the three dominating peaks; Chauradeo to the left, Mahadeo in the center and Dhupgarh, the highest point in the Satpura ranges to the right; appear glowing red and fiery in the setting sun against the purple background of the sky.
After Priyadarshini point we went back to our hotel and as our bags were packed we checked out from hotel and had our lunch and said good bye to Hotel Misty Meadows. All of us were playing anthakshani on the way back to our railway station. As we reached near Bhopal we became dizzy as well as, we not at all want to go back Delhi. Our train was departing at 8:00 pm and we reached there around 7:30 and we had our dinner from Rush n Bite from Bhopal railway station. We get into the train and our 3 seats were far but somehow we manage to sit together.
Finally, the trip was coming to an end. We were not ready to accept this reality since we had such a lovely time. At the beginning of the trip we all were all acquaintance and by the end we became friends. Some of us were sleeping, some were drinking, some wanted to cry but were content, the trip was moving towards its last segment but there was something unique at this time. A vague silence, as if troops have lost the battle…….it is unexplainable! But, this is life, and as King Solomon quoted, 'to everything there is a season, and a time to every purpose under the heaven: A time to weep, and a time to laugh….'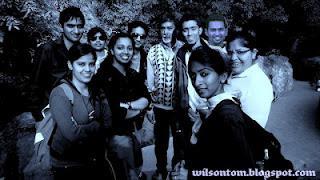 Oh when I look back now
That summer seemed to last forever
And if I had the choice
Yeah, I'd always want to be there
Those were the best days of my life
Bryan Adams (Summer of '69)
This was a great and memorable trip that none of us will and can never forget. Till this date when most of us are busy working for the daily bread this trip is the wine that helps us enjoy the meal.