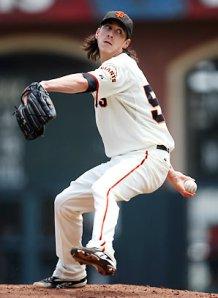 Tim Lincecum: a one-time ace who still teases greatness.
Giants fans got teased again last week. In the midst of a dreadful, team-wide June Swoon, Tim Lincecum took the hill against San Diego and fired a no-hitter – his second in as many seasons.
This isn't the fireballing Lincecum of five years ago, however. Watching him today, it's increasingly difficult to recall "The Freak" that burst upon baseball in 2007 and went on to back-to-back Cy Young Awards in his first two full seasons in the big leagues in 2008-09. That flame-thrower led the National League in strikeouts three straight years, posted remarkable WARs (Wins Above Replacement) of 7.9 and 7.5 in 2008-09, and was widely regarded as the game's most dominant pitcher and a future Hall of Famer.
In 2010, as the Giants shocked baseball by winning the World Series, he pitched one of the more dominant games in post-season history, stifling the Braves in the Division Series with a complete game, 2-hit, 14-strikeout gem, and he won both his World Series starts, including the clincher.
Lincecum continued his dominance in 2011, posting a 2.74 ERA and striking out 220 despite a 13-14 record. He made his fourth consecutive All-Star team that year, and his career trajectory was unparalleled.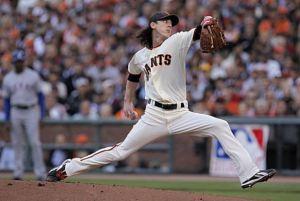 Lincecum's career is a tale of two eras: 2007-2011, and 2012-present
Then came 2012: another unexpected title for the Giants, but a truly awful season for Lincecum, with a 5.18 ERA and a league-worst 15 losses. His fastball velocity was down markedly, his WHIP skyrocketed, and all the sudden he was a negative-WAR pitcher who was bumped out of the rotation for the Giants' post-season run. Some stellar relief work that post-season (including 4 2/3 hitless innings in the World Series) gave fans a glimpse of the old Timmy…but rather than showing he'd rediscovered his magic, it was just enough of a tease of the Lincecum of old to coax fans and perhaps the Giants into believing he'd figured it all out.
Lincecum was nominally better in 2013, but still a negative WAR pitcher, and the same has been true in 2014 – despite throwing a no-hitter both seasons.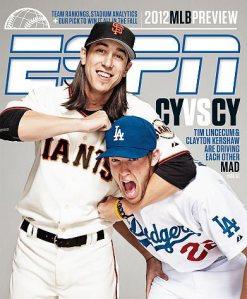 Tim Lincecum and Clayton Kershaw: Cy Past and Cy Present
All of us who are Giants fans remember "The Freak" fondly, but those days of dominance are long gone. Clayton Kershaw is now the dominant pitcher in the National League, and Madison Bumgarner has earned that distinction on the Giants staff. The Tim Lincecum of the past three years has been but a shell of his former self, and though every now and then he rediscovers the magic for a few innings or maybe even an entire game, he's yet to truly make the transition into the pitcher he needs to be – a consistent control pitcher who tops out at 92 most nights and has to change speeds and mix up his pitches to be effective. The Lincecum of 2009 could fire 98 mph fastballs by most hitters. The Timmy of today doesn't have that to fall back on.
The good news is Lincecum is "only" 30 – theoretically he still has time to figure it out. And the Giants have shown no lack of patience as he does. No doubt the fact that Lincecum is still perhaps the Giants' most popular player (rivaled only by Buster Posey) factors into that.
Lincecum's performance last week was markedly different (i.e. more efficient) than last year's no-hitter, in which he struck out 13, walked four, and threw 148 pitches. He was much more economical in his most recent gem, striking out just six, walking only one, and throwing 35 fewer pitches. Perhaps this is a sign of a new Lincecum…or maybe it's just another tease to be followed by yet another baffling stretch of inconsistency that has plagued him since 2012.