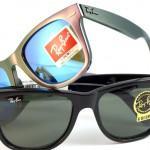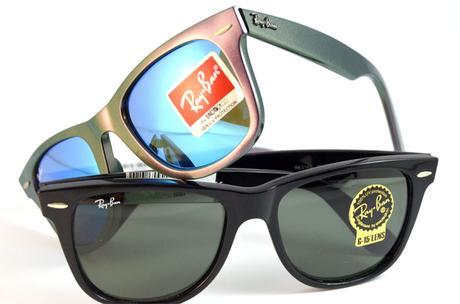 Wayfarer sunglasses are one of the Ray-Ban's undeniable icons and the sunglasses industry's too. They've become an important part of pop culture and so they are one of the most frequently picked up designs.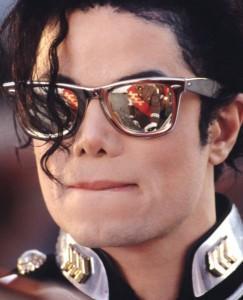 Created in 1952, the Wayfarer Classic model was first popular among musicians, celebrities and artists and later it was turned into a symbol. Their invention meant a break with old and heavy metallic frames.
Nowadays anybody with a minimum of sense of style has their Wayfarer as part of their basic wardrobe. No matter if they are the classic black ones or whatever new color and material combinations, there are many alternatives to define your own personality.
[Tweet "Wearing a pair of Wayfarer is a statement about seduction, style and personality".]
Their distinctive shape is the key to their success: a slightly trapezoid-like silhouette that breaks with tradition and issues a challenge to some extent. Robust thick temples provide a balance that finish the design.
Black Wayfarer glasses are the most traditional and adaptable. In this case, the elegant black color – that goes with everything – gives up the main role to the frame shape.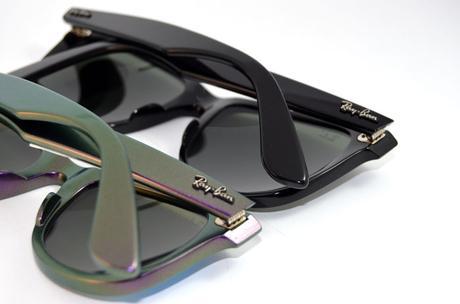 Reinterpreted Wayfarer: the Cosmo collection
One of the collections that take up this iconic model and reinvents it is the Original Wayfarer Cosmo. The finish touch of these glasses is surprising: they change colour, having an effect never seen before.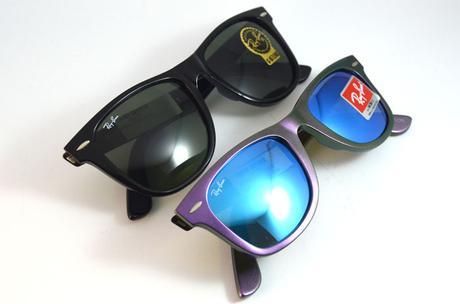 Black Ray-Ban Wayfarer and Wayfarer Cosmo sunglasses
Their iridescent surface changes from one color o another inexplicably depending on the angle you're looking from. This flashy and futuristic effect is available for certain color combinations.

At Optical H you can find two models from this collection: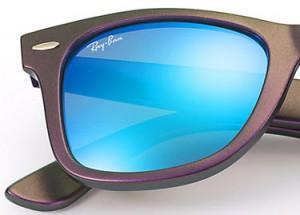 The Original Wayfarer Cosmo Saturn
, with a colour-changing frame from Green to violet and mirrored blue lenses.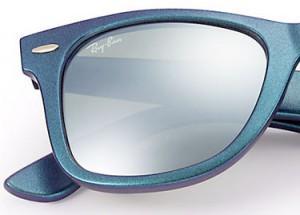 The Original Wayfarer Cosmo Mercury, with blue and violet frame and mirrored silver lenses.
And about the Wayfarer's lenses, they can be the classic green lenses G-15, mirrored lenses or the most modern polarized ones.
Ray-Ban G-15 lenses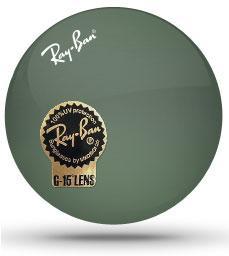 These special lenses developed by Ray-Ban are green and ensures better clarity of vision. They absorb 85% of visible light and block out most of the blue light. Besides these lenses offer 100% protection against UV radiation, protecting our eyes from many conditions.
The cutting-edge technology of these lenses provides a remarkable color contrast, a better definition and more natural and comfortable vision. The result is a nice feeling, as if you weren't wearing glasses, but without light excess.
Choose the Wayfarer that best fits your style among all the options we're offering at Optical H!