I will always remember when my mum and dad had the kitchen done and they lived off microwave meals. Not the type you buy from the supermarket ready-made, stab the plastic and pop in for 10 minutes. But just meals you can easily whip up in the microwave. In fact, even after the kitchen was done and the new induction hob and oven was in, she still tried to use the microwave as much as possible. Which changed my perspective completely. I started thinking about the microwave dinner recipes I could be whipping up. Easy, quick yet delicious dinners which could be perfect for after a long day, or evening gym session. But also everything else I could be making using small appliances. We have a bread maker in the loft and I'm dying to try some easy gluten-free bread recipes to take home for mum.
Anyway I had always done the odd bit of dinner prep in the microwave, and obviously used it for reheating or melting cheese on my favourite pasta dishes. But I started experimenting a bit more, and have three fab dinner recipes which can be made just in the microwave. So I wanted to share them with you, so you could try them too and maybe even find a new microwave meal, you could make from scratch, for yourself too...
Bean Chilli
I love a chilli! Something spicy and warming. Especially with it getting colder - you just want comfort food, right?! I don't always have time to do meal prep, so this bean chilli is a great substitute.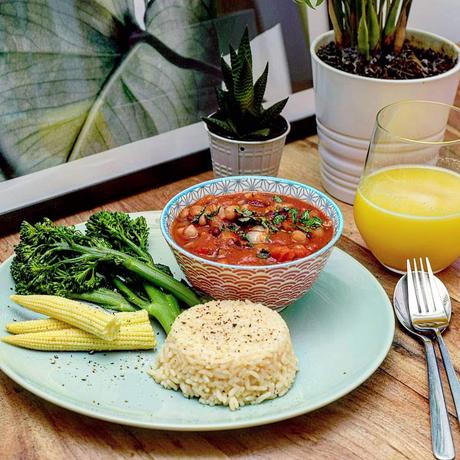 Serves 2
Ingredients:
½ onion
1 tsp butter
Tin mixed beans
Tin chopped tomatoes
½ tsp paprika, ½ tsp cayenne pepper, ½ tsp chilli flakes, 1 tsp cumin, salt, pepper
Microwave rice
Tenderstem broccoli and baby corn
Chop the onion, place with the butter in a small ramekin and heat on full power for 2 mins, until soft. Stir regularly to spread butter throughout and achieve an even cooking. Remove from the microwave.
Place the tenderstem and baby corn in a steaming container with a little water, and cook on full power for two mins until almost a la dente. Remove from the microwave and leave in the container to the side to continue steaming.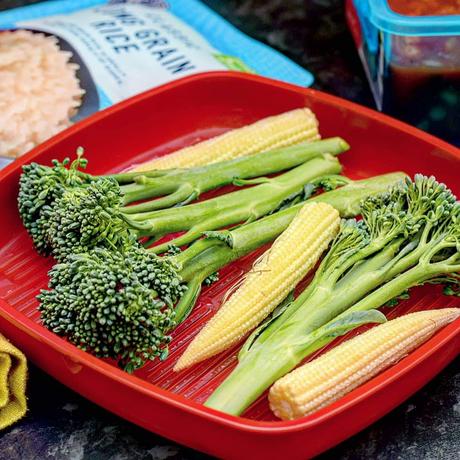 Combine the mixed beans, chopped tomatoes, seasoning and onions in a microwaveable container. Stir to mix the ingredients well. Heat on full power for 5-6 minutes, stirring regularly, until piping hot throughout. Remove from the microwave and leave to the side with a lid on to keep the heat in.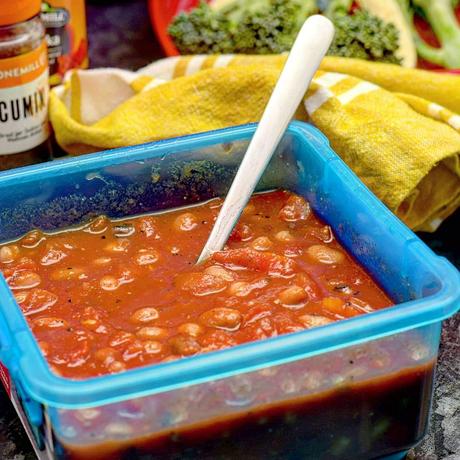 Finally, cook the rice as per the instructions. You can also cook easy cook rice in the microwave if you have that in the cupboard. Serve the chilli in a bowl, alongside the rice and steamed veg. Top with coriander and even a little parmesan if you fancy. Enjoy.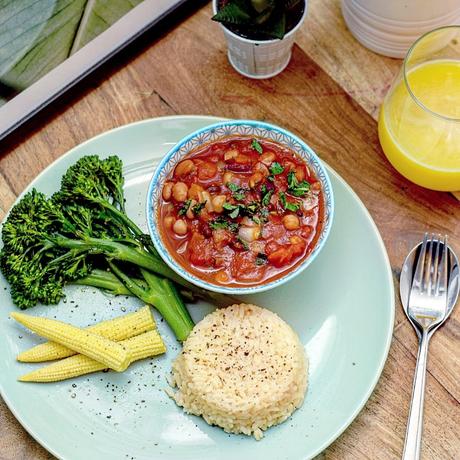 If you prefer a meatier chilli, you can always stir in 1-2 tsp of bisto beef gravy after cooking. This will add a delicious beef flavour but also thicken the sauce up.
Lemon and mint risotto with greens
Another comforting meal, but this time a little more fresh and zesty, yet creamy and delish. It's a fab quick option, delicious served with a salad - and great for leftovers for work the next day too.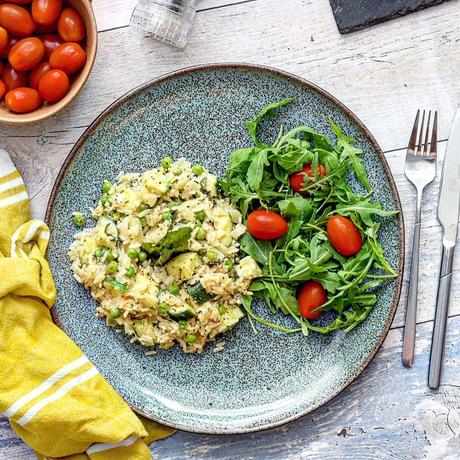 Serves 1
Ingredients:
60g easy cook rice
¼ tsp all-purpose seasoning, salt and pepper
¼ onion
pinch garlic powder
1 tsp margarine
½ medium courgette
60g frozen peas
½ tbsp. low fat cream cheese
splash white wine
juice of one lemon
a handful of fresh mint, chopped
Pop the easy cook rice and seasoning in a large microwave-proof bowl, stir to combine. Add 120ml hot water and cover the bowl in clingfilm. Pierce the clingfilm a couple of times and pop in the microwave on full power for 5-6 minutes, stirring halfway through, cooking until the rice is a la dente. Remove from the microwave and put to the side.
Finely chop the onion, put in a ramekin with the garlic and margarine and microwave for two minutes until softening.
Chop the courgette into chunks and place in a steamer with the frozen peas and just enough water to cover the bottom of the plastic tub. Cover with lid and cook for 2 minutes until just cooked.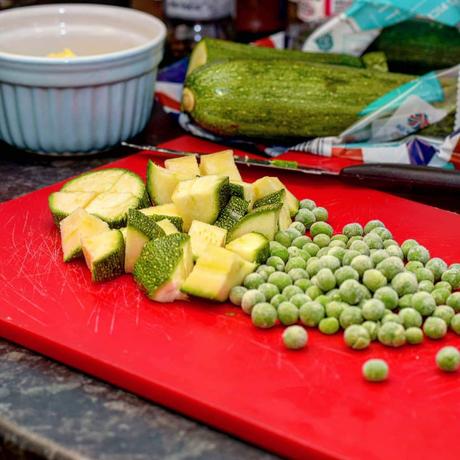 Combine the green veg with the onion and rice in the large microwaveable dish. Add the cream cheese, white wine and lemon and pop back in the microwave until hot all the way through. Stir through the chopped mint and serve alongside a salad, with a couple of mint leaves atop for presentation. Enjoy!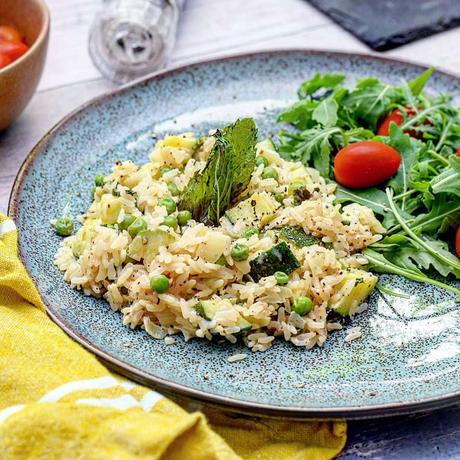 Shakshuka
I know what you're thinking, this is a breakfast dish. But being an adult means you can have what you want right? And I know, there are quite a few of us who actually quite like a cheeky breakfast for dinner. It's like going against the rules. But also, it means this recipe can double up as a dinner or brunch recipe for the weekend - whichever you prefer. Either way, it's a fave and I loved mine last weekend with a side of fresh, crusty olive bread!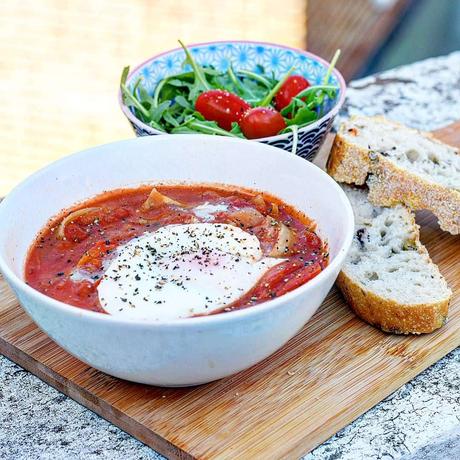 Serves 1
Ingredients:
½ medium onion
½ Red Pepper
Pinch garlic powder
1 tsp margarine
½ tin chopped tomatoes (200g)
2 tsp tomato puree
¼ tsp Paprika, ¼ tsp cumin, ¼ tsp mixed herbs, pepper, salt
1 egg
Chop the onion and pepper into chunky long strips. Place in a bowl with the garlic powder and margarine. Cook in the microwave, uncovered, for 2-3 mins, stirring regularly to ensure the margarine and garlic is covering the veggies.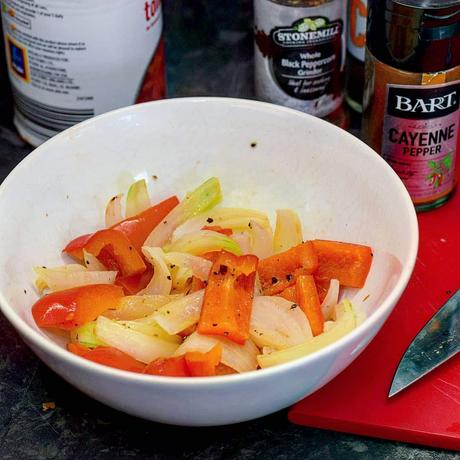 Add the chopped tomatoes to the bowl, as well as the tomato puree and seasoning. Stir well and microwave for 3-4 minutes until piping hot. Remove from the microwave and place to the side.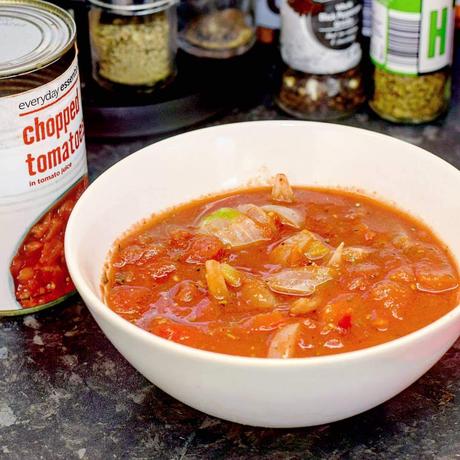 Use an egg poacher (we absolutely love ours!) to cook the egg as per instructions. Serve atop the bowl of the spiced tomato, pepper stew, with an additional sprinkle of black pepper if desired and crusty bread and salad alongside. Enjoy.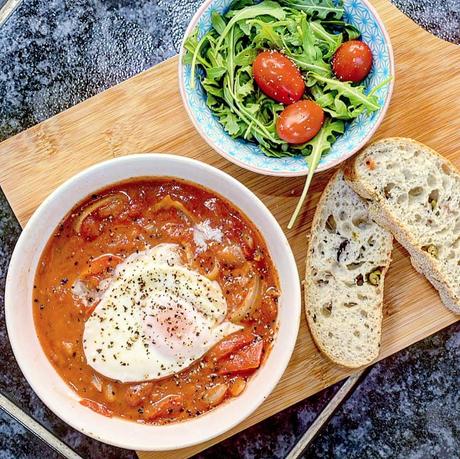 There you have it. My three favourite microwave dinner recipes for a speedy, tasty midweek meal. What are your go-to speedy dinners? Do you cook much in the microwave or using other small appliances?
Chloe xx
*This is a sponsored post