Last week I earnt some ultimate girlfriend brownie points with some delicious homemade falafel I made for lunches.
On a spur of the moment whim after work, I decided I need to make lunches for the rest of the week  – I always try to pre-prepare so I don't spend a fortune and get overwhelmed with the masses of lunchtime options near work. I do work near Covent Garden after all. 
I wanted to try and create something new, but something I knew Alex would enjoy for lunch – In other words, I wanted to wow and make a good impression to others too. I mean how good am I, making him lunch? 
Alex has always enjoyed a falafel and actually is the one to have introduced me to them since moving to London – they aren't such a big thing back home. We all know I love a bit of spice too, so looking for a simple recipe to try and recreate myself, I decided to take some aspects from a number of recipes online and go solo blagging my way through, and the result – some super tasty falafel bites with a bit of a kick.
Alex even got one of his colleagues tasting them, and apparently they were impressed.
If you're looking for something a little different for lunches, these are fab with salad and hummus, or you could even serve it all in a pitta.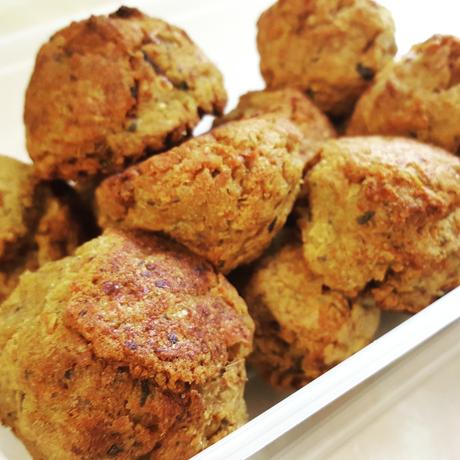 Here's how I made mine:
Ingredients (makes 20-25 falafel balls):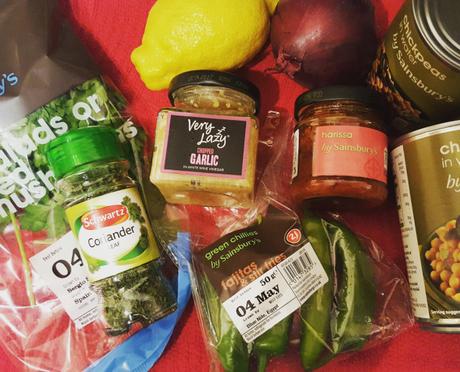 2 x 400g cans of chickpeas in water, drained
a large handful of flat leaf parsley
1 tsp. cumin
1 tsp. coriander
1 1/2 tsps. harissa paste
2 green chillies, chopped
1 lemon
1 red onion
2 garlic cloves, peeled and chopped (I used 1 tsp. of very lazy garlic)
4 tbsp. flour
Method:
Fry the garlic and onion in a small frying pan until the onion starts to turn golden.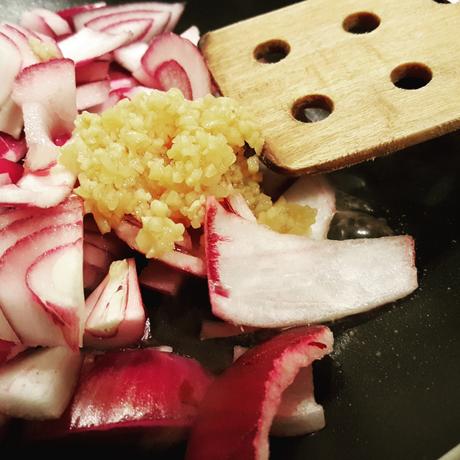 Place the flat leaf parsley, cumin, coriander, harissa paste, green chillies, onion and garlic in a large mixing bowl and use a hand blender to blitz until well combined.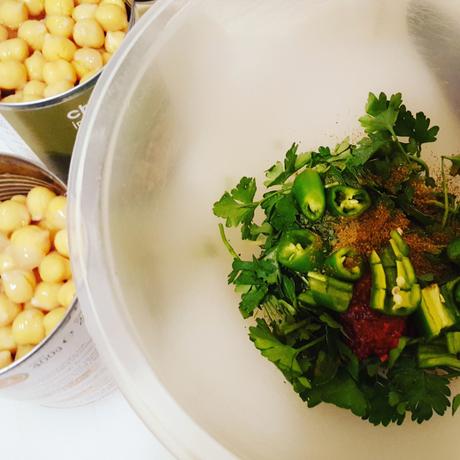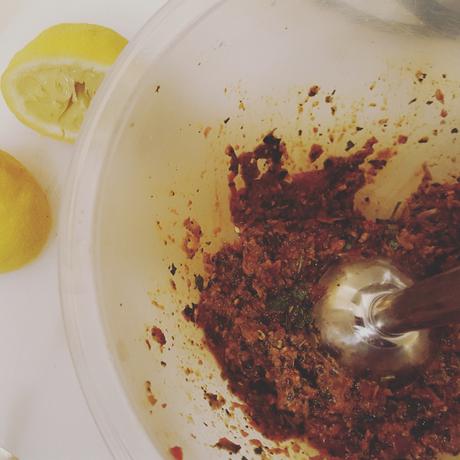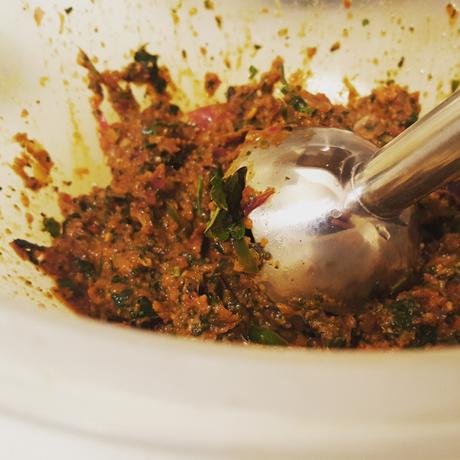 Give it a good stir and empty the drained chickpeas into the bowl. Continue to blitz to desired consistency –
I like mine to be a bit lumpy, so I when I bit into my falafel I do get the occasional whole chickpea. 
Add the juice from the lemon and the flour and combine well.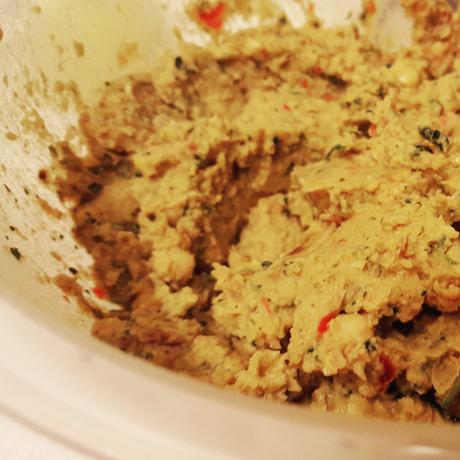 Pre-heat the oven to 220 degrees celsius. In a frying pan, heat a little oil.
With a teaspoon and your hands start making balls out of the mixture, roughly the size of a ping pong ball. Over a low heat, fry the falafel balls until they start to brown on the outside, turning to brown all edges.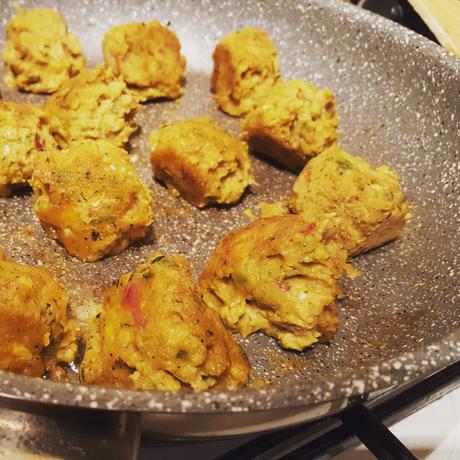 Transfer the browned falafels to a lined baking tray. At this point, if they have lost their roundness in the frying pan, you can re-shape to make them more ball-like – be careful though as they will be hot.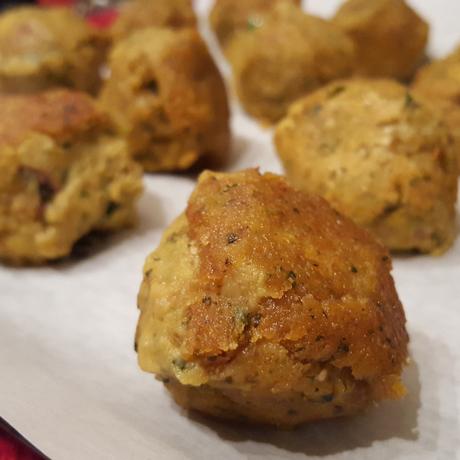 Bake in the center of the oven for 30-40 minutes, until they're crispy on the outside, i.e not squidgy to touch.
Leave to cool.
Store in an airtight container in the fridge once cooled, and eat within a few days. Ta da!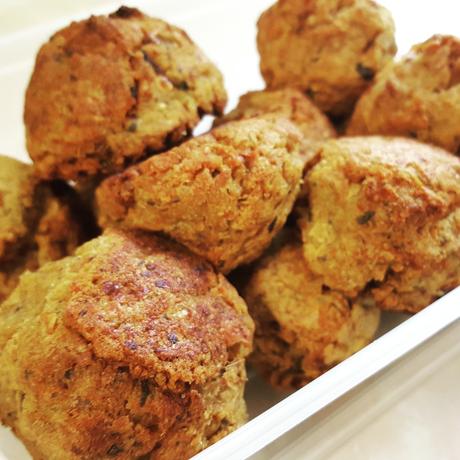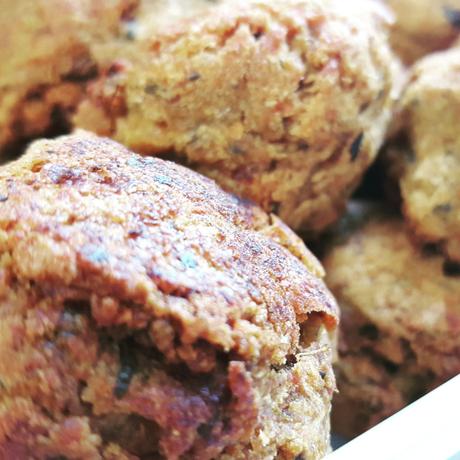 I've heard you can also freeze falafel so I will be making a huge batch next time, so I can just defrost when I need to stock up – perfect!
I hope they go down in your household as well as they did in mine. How do you enjoy yours?
Chloe xx