I seriously impressed myself with this one. Ok, it's really not that difficult. In fact, it's super easy and helps to use up stuff in the cupboard too! But I came up with this idea so quickly. It worked really well, and I am most definitely making my simple mushroom tortilla pizza recipe again. I reckon you should give it a whirl too.
Do you ever buy those fajita kits? You know the ones, the boxes with everything needed to make your own fajitas at home. The ones complete with tortillas, seasoning and salsa? Just add onion, peppers, meat and you're good to go. Well apart from the guacamole and sour cream, which occasionally we add to the mix because those really make fajitas even more superior! We only sometimes pick up these kits. But being a two, we don't get through eight wraps. I know, the boxes are made for three to four people, but we still manage to use up all the seasoning and salsa! So I'm often left with a couple of tortillas wondering what to do with them - because food waste in my house is a no go area. I don't remember the last food item I threw in the bin, which makes me so proud!
Well, obviously the first thing which comes to mind with a tortilla is the classic wrap. Yes, I did have one of these this week. I tried to stuff mine with creamy mushrooms and salad, which was seriously messy but very tasty. Another quick idea, but very much whipped together with whatever ingredients I set my eyes on. Sometimes these really are the best. Don't get me wrong, I do love a classic sandwich or wrap. In fact, I'm a huge sandwich person. But this week, it just wasn't cutting it.
I'd had a hard week of work and just fancied something a little more special - something which felt like a treat, you know?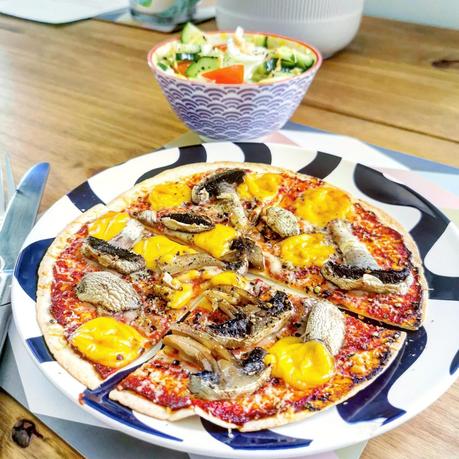 So later this week, I whipped out the last tortilla and stared in my fridge for all of five minutes before the lightbulb moment came. I grabbed the tomato puree, mushrooms and cheese and got to work. At first, I thought I might make a pizza wrap and grill on the outside, but think it definitely works better this way. A simple tortilla pizza with mushrooms.
All the tortilla needs is a light spread of tomato puree, a sprinkle of cheddar (I really didn't add that much), 3-4 mushrooms (sliced), and maybe a little extra cheese (whatever type you fancy) atop. Black Pepper too, because black pepper goes on everything in this household. All things you've probably got in - sorry if not, they're all staples in my house.
I mean, you can obviously add any additional toppings you fancy. But I think simple works very well on a tortilla pizza. With such a thin crust you don't want to overload it, or you won't get that pizza taste from the tomato and cheese. The mushrooms add just enough classic flavour without overpowering the pizza-ness of the rest.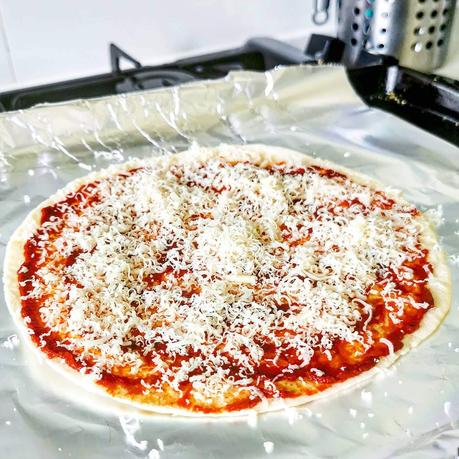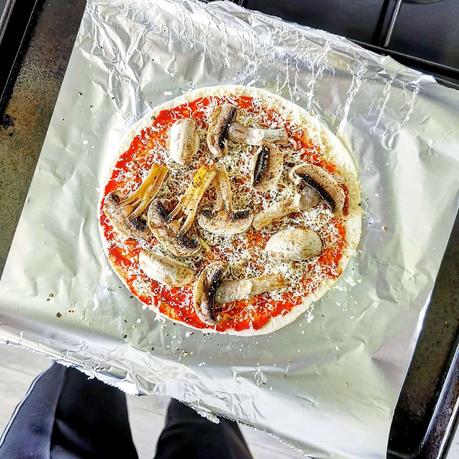 After just 5-8 minutes in the oven, it turns a little crisp, the cheese goes all melted, the mushrooms wilted. It's ready.
Cut this beauty with scissors - it's so much easier especially as the tortilla is so thin - and serve. Please tell me you use scissors for most pizza? It's so much easier!
I served mine with a little side salad in a separate dish because you have to get some green in too. Keep those nutrients coming, especially whilst we're all stuck indoors. It was a great lunchtime meal. Also, so simple so I really could just whip it up quickly and then enjoy my lunch break away from my laptop and not in the kitchen!
The full method and ingredients for my mushroom tortilla pizza recipe is below if you fancy giving it a go.
What have you been enjoying for lunch whilst at home?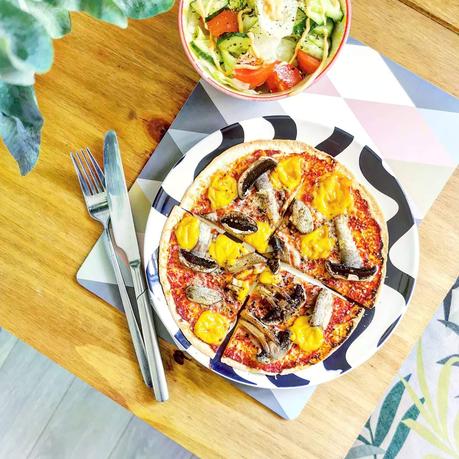 Chloe xx
Mushroom Tortilla Pizza