Recently I've really lost my kitchen mojo. You know, the creativity. I've loved a speedy diner. Similarly, anything which can be whipped up in the microwave. But anything which takes too long after the gym has been a no-go. I haven't had many evenings in, with just time. Time to stand in the kitchen and let the creative juices flow. That has really impacted my motivation to try new things. Equally at the weekend, as I've been the one to sort the dinners in the week, I then leave Chris to do the breakfasts/brunches and dinners. I mean, he does an amazing garlic scramble so I'm certainly not complaining. But recently, his cooking has definitely been better than mine. This is not on.
I need to up my game. So, with me having made a vow to slow things down a touch, I'm going to start getting back in that kitchen to try new things.
Last weekend, I had a whole afternoon and evening to myself, and it was just the start of me getting that kitchen creativity back. One of the dishes I'd been dying to try for a while, which turned out beautifully is this brunch omelette wrap.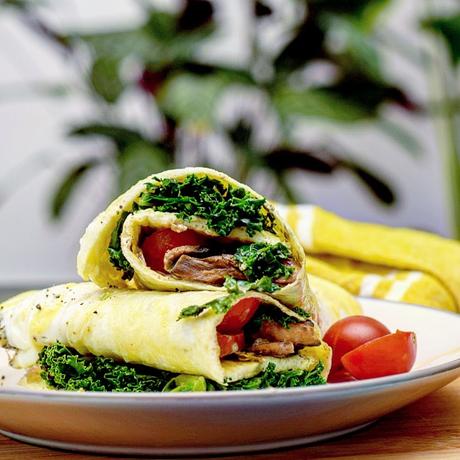 It's so tasty. The mushroom adds a meatiness, the spices an aromatic flavour, the kale a bit of green, and the tomato a natural sweet juiciness. This is all inside a thin omelette, cooked with a sprinkle of parmesan and seasoned with salt and pepper. There's also a thin spread of soft cheese, because you can never have too much cheesse. The flavours and textures work together so well. It's definitely a fab alternative to a mushroom and scramble on toast if you're fancying something a little less carb-y. I'd already had peanut butter on bread before the gym, which was absolutely dreamy.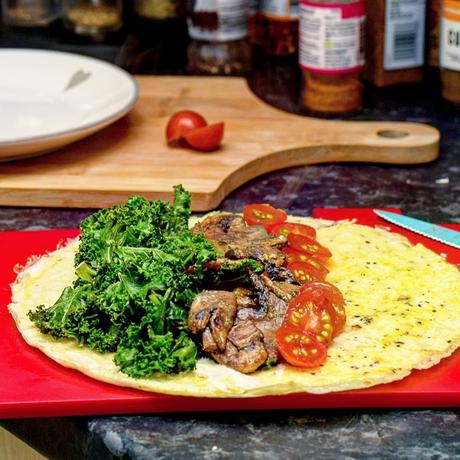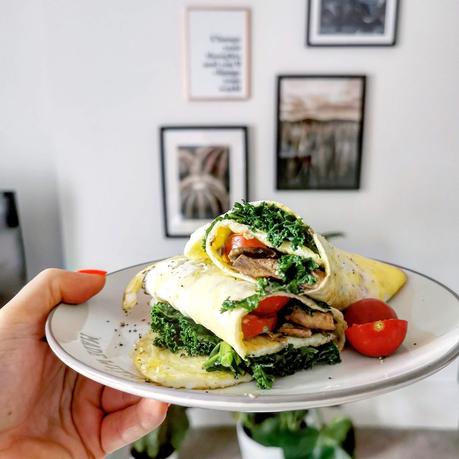 It's super simple, and pretty quick too. So Yes, I could have made this recently - it's all about mind-set isn't it!? If you fancy giving this omelette wrap a whirl the recipe is below. Enjoy.
Chloe xx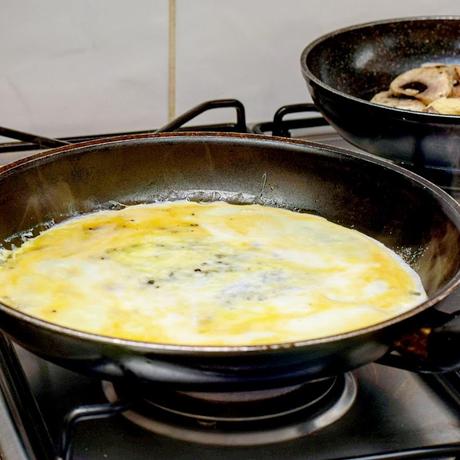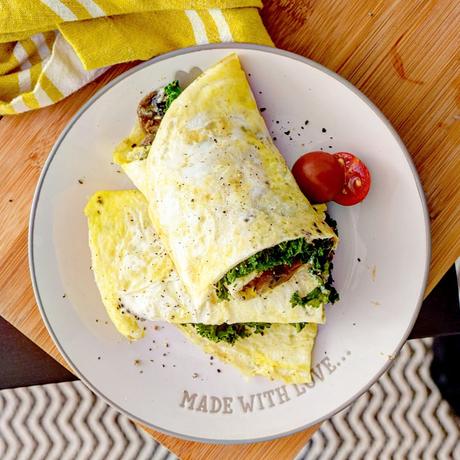 Mushroom, Kale & Tomato Omelette Wraps