Lockdown dinners. We're smashing them. With more time at home (obviously), and plenty of time on our hands (around work of course, yes feeling very lucky to still be working), we're spending more time on getting creative in the kitchen with new recipes. Chris and I have been taking it in turns every other night. Don't get me wrong, some dishes are still super quick and easy, just like this one. You have got to keep some time free for the Netflix binge-watching sessions too! I made this Lemon, Dill & Black Pepper Baked Cod recipe a little while ago. However, I didn't take any pics. So I thought I'd try it again (always got to keep testing), and snap some pics to be able to share with you. Because this simple dish is great for those nights when you can't really be bothered to do too much, but still fancy something fantastic.
The Lemon, Dill & Black Pepper Baked Cod recipe only uses five ingredients - those in the title and a little extra virgin olive oil. It's really that simple.
As for how to make it, place the cod fillets on a large piece of foil, big enough to make into a parcel with the fish inside. Drizzle with oil, sprinkle with black pepper and dill, and drizzle with lemon juice - you could add slices of lemon for a stronger lemon flavour. We did this the first time around and it was great. But we couldn't get lemons this time due to shopping right now, but that's ok - makes us more creative finding alternatives all the time. Then fold the foil into that parcel, squeezing the edges to seal. Bake in the oven for 20 minutes and voila!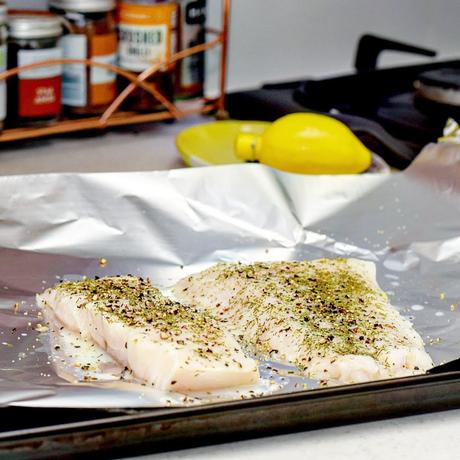 When it comes out of the oven, it's flaky and light, with a light herbaceous flavour and a citrus edge. Definitely add an additional drizzle of lemon juice when serving!
It'd be great with roasted potatoes and veg. But we've been loving rice. As it's not a saucy dish, I couldn't face plain boiled rice - even how I've been serving it, tossed with butter and black pepper. Nope. It needed something else. So we went with Fried Rice.
Fried rice quickly became a favourite dish when we went to Vietnam last month.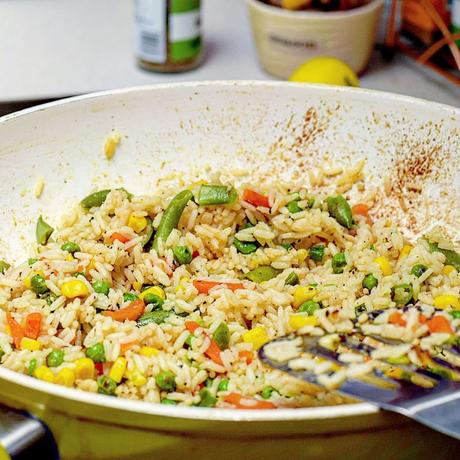 Don't worry posts on that will come in time, but it just doesn't feel right posting about travel right now. Since we've been back, Chris has been trying to nail the fried rice technique. He made a fabulous fried rice dish with bacon a couple of weeks ago, so I thought I'd try my hand at it. Taking his tips of making sure I use cold (cooked) rice, I fried off some frozen mixed veggies first with some spring onion and garlic, with plenty of oil, then added the rice to the pan. I turned the heat up and allowed it to cook through, trying to draw as much water out as possible too. There's nothing worse than soggy rice!
I also added some all-purpose seasoning, salt and pepper too - because they're for adding to EVERYTHING!
Ok, without the scrambled egg which is used in Vietnamese fried rice, it's not quite as good. But was certainly delicious in its own way.
Together it was one superb dish if I do say so myself.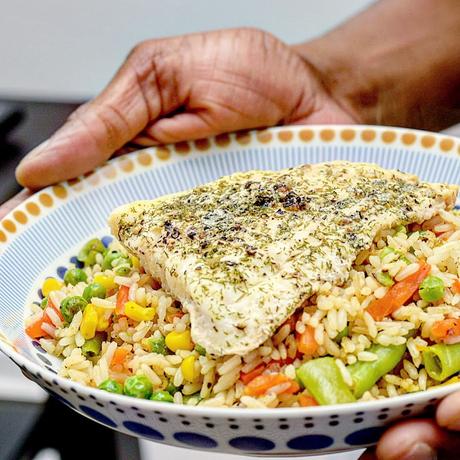 Cod fillets are on the shopping list again for next week - and I'm hoping to get some actual lemons next time too, rather than using the leftovers of the squeezy lemon from pancake day. Oh having that little lemon in the fridge is a lifesaver though!
And there you have it. My Lemon, Dill & Black Pepper Baked Cod recipe, as well as a few tips on whipping up some fried rice to accompany the dish too. The full recipe for my baked cod is below too (with fresh lemons as that's how it's best served!). Hope you enjoy!
Are you trying to enjoy cooking a little more during this time?
Chloe xx
Lemon, Dill & Black Pepper Baked Cod