The Real Techniques 'Powder Brush' is a big boy! In fact I think it is the largest drugstore powder brush I have ever come across.




It has the tell tell RT packaging, with its chunky self standing aluminum handle. This particular brush is part of the base collection & so has a gold handle.





Before owning any RT brushes myself, I had heard that the size of their thick handles was bit of a down point & now I own some myself I can see why. If like me you like to neatly store your makeup brushes in pots, be prepared to buy some more because these big brushes won't just slide into your original brush stash. but if you are after a few essential brushes & are happy to have them free standing on display then they are perfect for that.




Now that really is the only down side this brush has.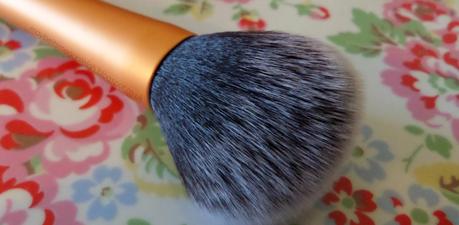 The brush itself is made of 100% cruelty free synthetic taclon bristles, that are soft enough to please anyone. In fact it is so soft that while I'm writing this review I can't help but stroke the brush along my face haha, TMI?! 




The powder brush works perfectly for dusting setting powders or bronzers evenly over the face. RT also promote this brush for the use of applying powder foundations. As I'm a liquid foundation gal I haven't tried that out, but from the look of the large soft bristles I assume that it would give only offer a sheer coverage.




After being washed the powder brush has not lost one hair & it has dried back into shape amazingly well.





So it seems that the RT brushes really do live up to the hype. For me they are now my #1 drugstore brush brand.







Average price for Real Techniques Poweder Brush is £9.50+