Hello beautiful people..I hope you all are having a nice day..if not then it will get better trust me, it always does..Okay so for today's blog post I am going to be sharing my review on the famous dupe of the Beauty Blender.. the real techniques miracle complexion sponge. Weather or not is it a dupe I cant say as I dont own a beauty blender but I own the real techniques miracle complexion sponge and I can review that for you guys. So lets begin.
I was wanting to try the much raved beauty blender for a long time but couldnt take the plunge as I didnt know wheather or not to spend so much on a sponge that I would have to replace sooner than I replace my foundation brush. So as an alternative I thought lets try the cheaper version hence I got the real techniques version of the beauty blender.
It comes for around $6.99 but on Ulta.com you can always find some or the other offer and can get it for cheaper than this. In India you can purchase it online from various websites Amazon, Flipkart to name a couple.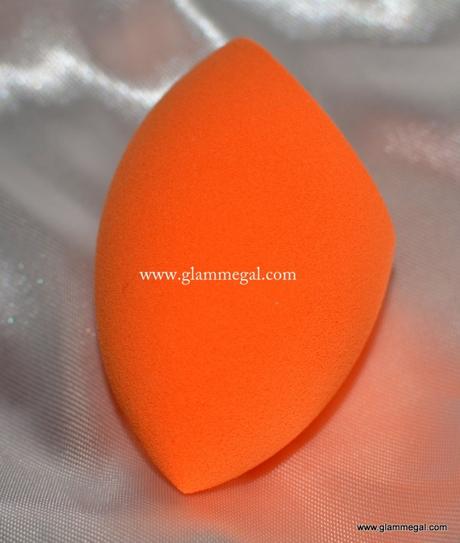 Real Techniques Miracle Complexion Review
So from the price perspective its a winner for sure. Next thing was how to use it. Now one basic thing with sponges is, be it any kind, you dont use it dry, it absorbs all the liquid product if you use it dry, there will be nothing to use. Always use the sponge damp. The correct way to use it is to wet it completely and then squeeze out the excess water to an extent where it is still damp and no water is dripping from it. Then go on apply/dot the foundation on your face and then use the sponge to blend it. If you want it to use a sponge for baking that is applying powder then you use it dry.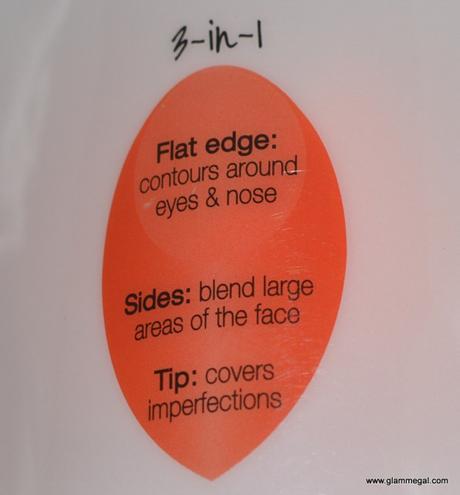 Real Techniques Miracle Complexion Sponge review
Now here is where it gets tricky for me. It took me a while to get used to it, the first application wasnt as easy as I thought. But after the initial hiccup I got used to it, I was amazed at the finish it provided. I mean my foundation brushes do the job very well but it was just so easy and so flawless to do it with and the finish was like air brushed makeup, okay not that much but still it was very nice.
HOW TO USE IT :
I use it damp. I keep it under running water once it doubles in size then I keep draining the water out. I do this three to four times and then at the last squeeze I make sure there is no water dripping from the sponge and then I roll it on a towel to make sure it not excessively damp, and then its ready to use.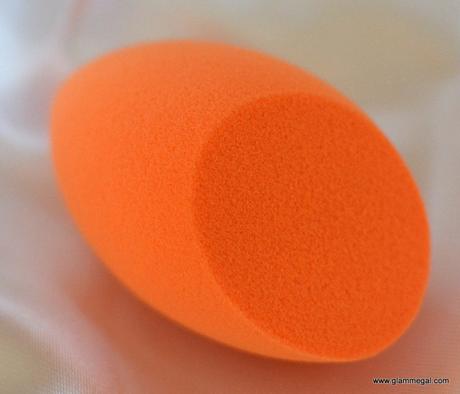 Real Techniques Miracle Complexion Sponge review
The best part is its so fast to blend your foundation with this, and the different edges on the real techniques miracle complexion sponge makes it ideal for applying your concealer under the eye seamlessly.It really gets into the difficult to reach places easily and is easy to maneuver.  I also use it to do cream highlight and contour and I am so happy I dont have to use 5 different brushes while doing my base makeup. As long as you use the contour last you can basically do your entire base makeup with one sponge so it makes it very very travel friendly too. You do not need 5 makeup brushes for your face.
I also like to use this for applying my highlight. The frost finish if my Colourpop Highlighter and The Balm Mary Lou Manizer exemplifies but at the same time it looks very blended when used with a damp sponge. Try it.
That being said cleaning it is easy but time consuming. It takes a while to get all the soap out of the sponge, thats is only negative I have to say about this sponge, but then I guess its the same with any sponge product.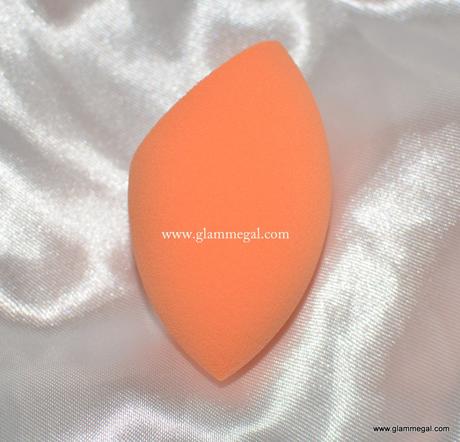 Real Techniques Miracle Complexion Sponge review
I can not comment weather or not its a dupe for beauty blender but if you want to try this one before trying the beauty blender or you simply dont want to spend $20 for a sponge then go right ahead and use this wonderful miracle complexion sponge from real techniques I am sure you wont be disappointed.
Until next time..
Related
You Might Also Like
FACES EYESHADOW BRUSH : AFFORDABLE AND GOOD QUALITY MAKEUP BRUSH
VEGA MAKE UP PROFESSIONAL FOUNDATION BRUSH REVIEW
COLORBAR SMUDGER BRUSH REVIEW AND USES
KRYOLAN MAKEUP BRUSH REVIEW : ART NO. 1717
KRYOLAN ANGLED EYELINER BRUSH REVIEW
SMOKEY EYE TIPS AND TRICKS
EYESHADOW BRUSH : COLORBAR REVIEW AND USES
ELF BLUSH BRUSH REVIEW 4 IN 1 BRUSH
Tags:
beauty blender dupe, cheao dupe for beauty blender, dupe for beauty blender, how to use makeup sponge, Indian beauty blogger, real techniques, real techniques beauty sponge, real techniques miracle complexion sponge review, rt beauty sponge review, RT miracle complexion sponge vs beauty blender