If you're currently planning a wedding, then chances are you're already a reader of Elizabeth's fantastic Bridal Musings blog – and if you're not, what are you waiting for? Head over there! Well, after reading this, first – full of wedding day pretty and inspiration. I'm honoured to have Elizabeth sharing her fabulous Phuket honeymoon with you today, which she captures so evocatively. If you're thinking of heading to Thailand for your own honeymoon, then look no further than here for some fabulous inspiration.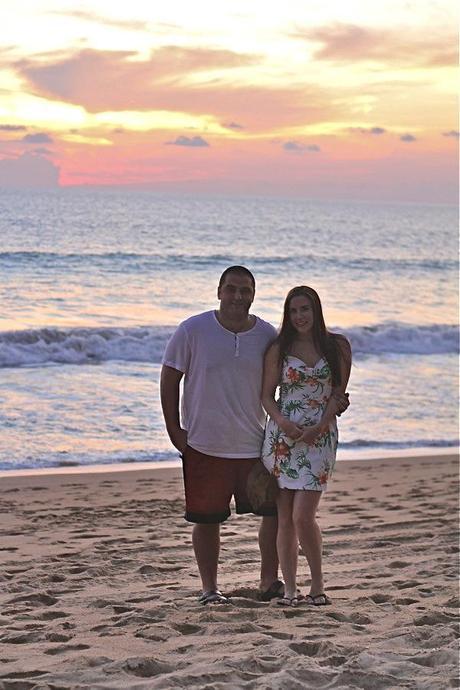 Since uni, Zee and I have seen many friends hoik massive backpacks onto their backs and jet off on their adventures in Thailand to return with pictures of elephants, turquoise waters and tales of exotic food and wild, full moon parties.
However, we weren't really that keen on backpacking and 'roughing it' on our honeymoon. Zee likes his creature comforts and comes out in a cold sweat if he's too far away from a wifi hotspot while I am partial to a spa treatment or two!
One of my closest friends, Kelly, was getting married in Phuket and I was maid of honour, so we thought we'd kill two birds with one flight! We planned a two week trip so that our first week was spent with the rest of the wedding party at the 4 star Amari Coral Beach Resort near Patong.
Then we intended to live it up in the lap of luxury for the second week of our stay, just the two of us, on our honeymoon proper at the 5 star Sala Phuket Resort.
Here are some of the highlights of our trip:
We arrived in Phuket during Songkran, the 'water festival' to celebrate Thai new year. Locals and tourists alike crowded onto the streets of Patong with 'super soaker' water guns, buckets of water and flour and they proceeded to soak each other, passing pedestrians and vehicles. It was an incredible sight!
Kelly and Kenny's wedding was held in a stunning villa on the other side of Phuket, which was part of Trisara, a luxury hotel and complex of villas overlooking the ocean. Their wedding was absolutely beautiful, with help from the fantastic Trisara events team, and a spot of warm Thai rain didn't dampen anyone's spirits during the evening!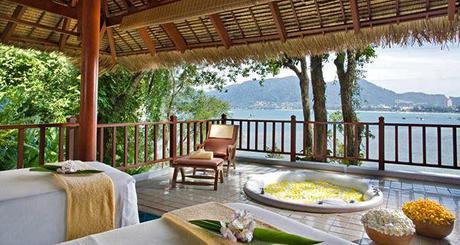 Massage hut at Amari
While we were at the Amari hotel, Zee and I had a couple's massage. It was my first Thai massage and one of the most intense and relaxing massages of my life. The spa is so welcoming ~ when you arrive you are handed a menu of treatments and delicious tea to sip while the treatment rooms are prepared. The rooms are actually thatched huts on stilts overlooking the ocean. There was no tinkly music, just the sound of the waves. It was blissfully relaxing and afterwards my skin felt so smooth from all those aromatic oils. Zee was not as impressed as I was, he felt the massage wasn't hard enough but he was certainly in a state of relaxation when I heard him snoring 10 minutes into the treatment!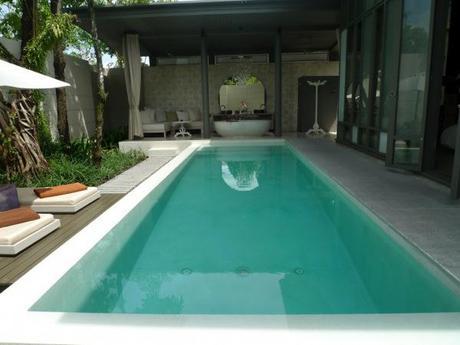 Private pool at Sala Phuket Resort
Our stunning pool villa at the zen, minimalist Sala Hotel and Resort was absolutely incredible. We had our own private swimming pool, an outdoor bath, shower and toilet and a huge bed covered in rose petals in honour of our honeymoon! We also got a complimentary bottle of wine to enjoy and delicious lychee fruits. There were lots of other special touches ~ we got to choose what sort of pillows we'd prefer and what aromatic body lotion and soap we'd like to use throughout our stay. We felt like total and utter rockstars!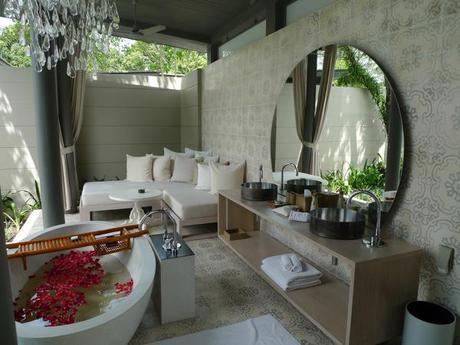 The luxurious bathroom/living room area
The Sala Hotel and Resort is located on the pristine, white sands of Mai Khao beach on Phuket's northwest shoreline, which was more often than not, blissfully empty, except for us. The resort is very minimalist, with lots of modern lines and manicured gardens. There are two pools, spa facilities, a small gym, an excursions desk and a restaurant overlooking the beach. The food at the restaurant was very good (if expensive) but it's also where breakfast was served, so we were pleased to discover that there were other hotels just a bike ride/golf cart ride away for a bit of variety.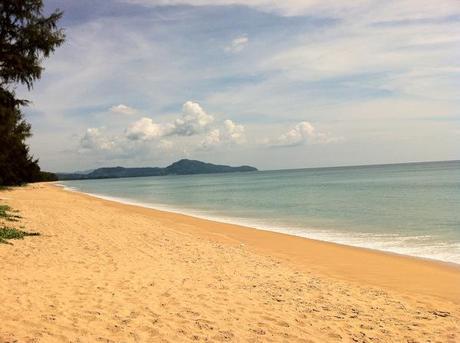 Mai Khao Beach
A few days after the wedding, Zee and I met up with the happy couple again for dinner and drinks in Patong, then we walked along the infamous Bangla Road just for the experience. It was bustling with tourists and we were invited to watch numerous 'ping pong' shows by some of the local and very pretty lady boys but politely declined! I'm glad that we went, as Bangla Road has to be seen to be believed ~ but I wouldn't go back in hurry!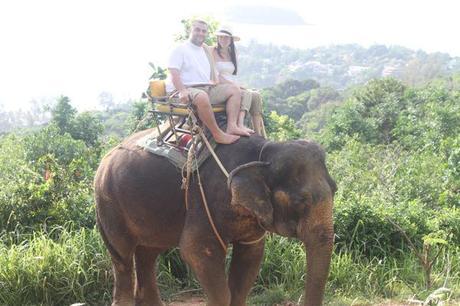 Elephant trek
We also went on an elephant trek through the jungle. Our elephant was 40 years old-(did you know they live to 100?!) and her name was 'Chom Po' which means 'pink'. We were so pleased to see that the elephants were treated well. We did our research and avoided the tours recommended by our hotels which had 'elephant and monkey entertainment shows' ~ how horrible. The tour we went on was the Kok Chang Safari.
Zee and I also attended Phuket Thai Cookery School. It was so much fun BUT I was the only person in the group who didn't like spicy food. Which meant a lot of readjusting the chef's recipes. His motto was 'no chili no fun' so you can just imagine how hot the dishes were!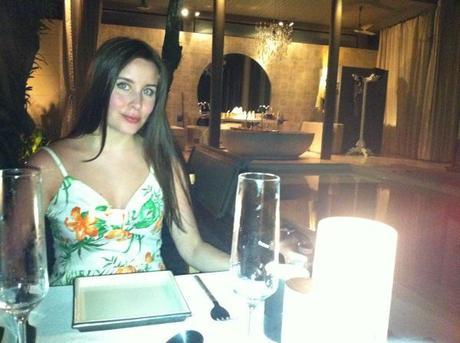 Private barbecue in villa
On our last night, we splashed out and had our own private barbecue in our villa. We had a chef and a waiter serving us at our little candlelit table, overlooking our pool with our favourite music playing in the background ~ it was the best meal of our whole trip. Absolutely delicious and oh so romantic; it was the perfect end to a perfect trip. The only thing I would have done differently would be to go on a boat trip with Zee. I went on a spectacular boat trip around Penang Bay as part of Kelly's hen party and really wished I could have shared that experience with him too. So that's top of the list for our next visit!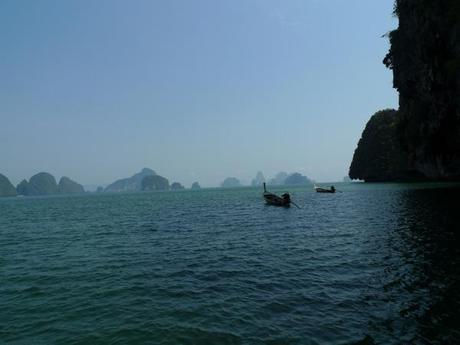 Penang Bay
All photographs courtesy of Elizabeth at Bridal Musings