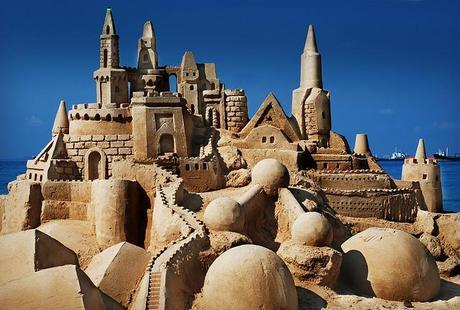 Hi,

We are due to go on our Honeymoon some time in the first couple of weeks of January (I need to be back by the 16th) and by that point will have a six month old baby.  We've heard that's a good time to travel with a young child as they are still pretty static and low maintainence (here's hoping anyway!)
We are thinking about heading to the Canary Islands as the weather looks OK, it's a fairly short flight and is close to the UK time zone.  The problem we're having is finding suitable accomodation.
There are lots of options there, but we haven't been able to find what we're looking for (a luxurious apartment or villa which isn't in a large resort).  We have to take into account that our baby needs to be in bed by 7-ish, so we need somewhere we can relax in the evening while she's sleeping, thus self-catering accomodation seems perfect.
We've found this, which looks good, but it's not the real luxury we are hoping for.  To give you an idea our budget for flights and accomodation is around £2000 – £2500.
What do you think?  Can you suggest any other destinations, or maybe a travel agent or other resource that might help?
Many thanks,
Tom (Janey and Lucia)
Choosing a destination that isn't too far from home but still guarantees a bit of winter sun is a great idea – I think the problem you're coming up against is that self-catering accommodation unfortunately isn't always the most luxurious, especially on islands like the Canaries that are rather populated by large resort complexes. That said, there are some gems around – it's just a case of having a good old search. For self-catering properties, I always find HomeAway-Holiday Rentals a good bet, but it's also worth checking out Owners Direct, James Villa Holidays, and AirBnB.
In addition to the Canaries, it's also worth considering Morocco, Madeira, and Andalucia in Spain – the latter may be a little cooler than the Spanish islands, but you should still be able to enjoy very pleasant, sunny days. The following are just a few properties I came across that might tickle your fancy and are within your budget:
Villa Chic, Tias, Lanzarote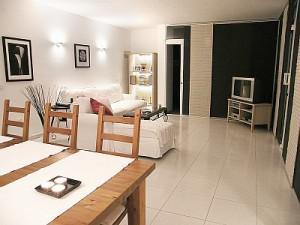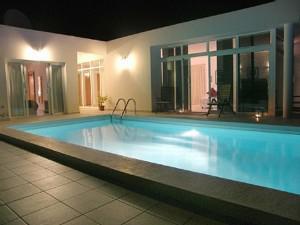 This is a smart, modern villa, situated in a quiet village on Lanzarote, so perfect for not feeling like you're in the thick of resort culture. There are three bedrooms, but it's still a bit of a steal for your budget, and I'm sure with a young baby you'll appreciate having a bit more space. It's all very cool and white, and the pool is obviously a big bonus; if you end up fancying meals out then you'll find plenty on offer in the village, or it's not too far from the seaif you want a day at the beaches. From £645 a week.
Dar Lazuli, Essaouira, Morocco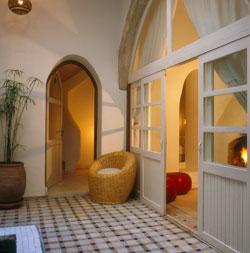 Moroccan riads are incredibly atmospheric places to stay, and Dar Lazuli, in the laid-back beachside town of Essaouria, has been converted into four sweet, beautifully decorated apartments that could be just right for the three of you. The apartments ooze traditional style, with traditional textiles and other decorative features, but, with touches like rainfall showers and ipod docks, they won't feel old-fashioned. Though they're self-catering, you can also opt to have meals cooked for you – ideal if you don't want to go out but don't fancy cooking every night. i-escape recommend booking one of the apartments that have a fireplace for during the winter months. From £420 a week + £5 a night for a cot.
Quinta Falcoes, Madeira, Portugal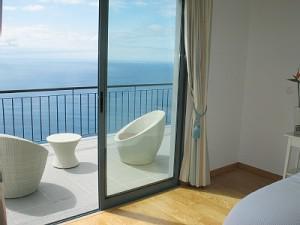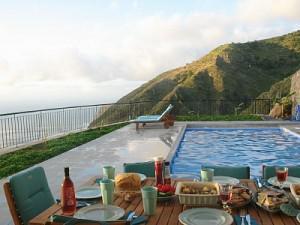 The Portuguese island of Madeira is a really understated honeymoon (and holiday) destination – it's absolutely beautiful, and feels a world away from mainland Europe (not so surprising as it's closer to North Africa than the continent). HomeAway-Holiday Rentals has a great selection of places to stay across the island. Quinta Falcoes is far bigger than you need (it sleeps eight!), but falls well within your budget, and enjoys some truly spectacular sea and mountain views from its pool terrace; this could well be the kind of luxury the two of you are looking for. From £700 a week.
La Estrella, Andalucia, Spain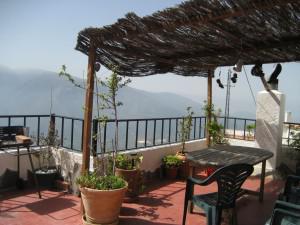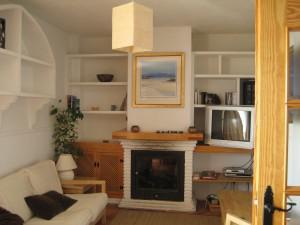 This is a personal favourite of mine, which I can whole-heartedly recommend, having stayed here myself a few years back. Tucked away in a mountain-top village in the stunning region of Las Alpujarras in Andalucia, La Estrella feels like a real treat, decked out in cool whites and creams, and with stupendous views over the surrounding area. One of the highlights is the rooftop terrace, complete with a hot tub (perfect for those cooler January days, and for sipping a glass of Spanish wine), and the village shop is stocked full of fantastic local produce. The owners have a number of other properties (both in the village and elsewhere in the vicinity), which are also well worth checking out. From £288 a week.
Images courtesy of: William Cho; Villa Chic; Dar Lazuli; Quinta Falcoes; Emma Gibbs